Caroline Wood
Field Campaigns Manager, U.S. East Coast
Oceana Staff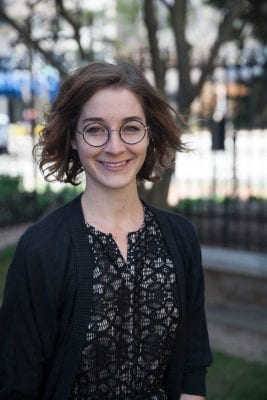 Caroline Wood has held several roles at Oceana since starting as an intern for the Climate & Energy Campaign in 2012. As the Mid-Atlantic Campaign Organizer, she successfully defended the Atlantic against expanded offshore drilling along with Oceana's other veteran field organizers and partners. She now serves as the Field Campaigns Manager for the U.S. East Coast.
In her current role, she serves as a liaison between Oceana's policy, science, and communications experts in Washington, D.C. and Oceana's team of campaign organizers on the East Coast. She also helps craft national strategy for the Climate & Energy Campaign and supports Oceana's Responsible Fishing, Seafood Fraud, and Defense Campaigns.
Prior to joining Oceana, Caroline worked at the War in the Pacific National Historical Park on the island of Guam, leading student groups on hiking and snorkeling trips and teaching them about sustainability, citizen activism, and coral reef ecology. She grew up in Virginia Beach, Virginia and spent her summers working at the Virginia Aquarium in between exploring the swamps, marshes, and creeks of her childhood. She holds a Bachelor's Degree in Anthropology and Environmental Policy from the College of William & Mary and currently lives in Washington, D.C. In addition to managing her team, Caroline loves napping with her cat, learning about bugs, and spending as much time as possible outside.