November 17, 2014
Oceana's New Report Highlights Uses, Benefits of Global Fishing Watch Technology
Plate: AC 1850? Former trawler. Trawler signal on Reported to the Coast Guard ¿Matrícula: AC 1850? Arrastrero convertido. Señal de arrastre colocada (Dos conos opuestos) Denunciado a la Guardia Costiera *** Local Caption *** Unidentified illegal driftnetter -hidden license number and name- approaching the Ranger. Soutwesth Cetraro, Italy. Oceana Ranger Mediterranean Expedition. June 2006 Redero ilegal sin identificar -matrícula y nombre tapados- acercándose al Ranger. Suroeste de Cetraro, Italia. Expedición por el Mediterráneo del Oceana Ranger. Junio 2006
Illegal and unsustainable fishing activity is taking a tremendous toll on the world's oceans, stripping them of healthy fish populations and damaging precious ecosystems. Not only does the United Nations Food and Agriculture Organization estimate that nearly one-third of assessed marine fish stocks have been overfished, but they also estimate that 90 percent were either fully fished or overfished in 2011. And in addition to overfishing, illegal, unreported, and unregulated (IUU) fishing takes a perverse toll on the oceans—estimated to have led to losses in 11 to 26 million tons of fish and $10 to $23 billion in economic losses each year, according to a 2009 study.
Since millions of people around the world rely on the oceans' bounty for subsistence and their livelihoods, the need for more aggressive and widespread monitoring of the world's fishering activities could not be timelier. For that reason, Oceana, Google, and SkyTruth partnered to release a new big-data technology platform that addresses the serious problem of IUU fishing by tracking commercial fishery activity around the world. The first technology of its kind, Global Fishing Watch will help citizens, fishery managers, scientists, and others to have a voice in fishing activity.
"The key to bringing back healthy fish populations is to engage the governments in 29 countries and the European Union where 90 percent of the fish are caught, put effective policies in place and enforce them," says Oceana CEO Andrew Sharpless. "We have begun to put those policies in place, and where they have been enforced, the fish are coming back. Now we need to broaden those measures, and Global Fishing Watch can help us do that."
To complement the announcement of Global Fishing Watch last week at the 2014 IUCN World Parks Congress in Sydney, Australia, Oceana released a new report describing the new technology, and how it can help to tackle illegal fishing. "Global Fishing Watch: Free Worldwide Information for Citizens Seeking Effective Enforcement of Ocean Conservation Laws" explains how Global Fishing Watch works to tackle illegal and unsustainable fishing.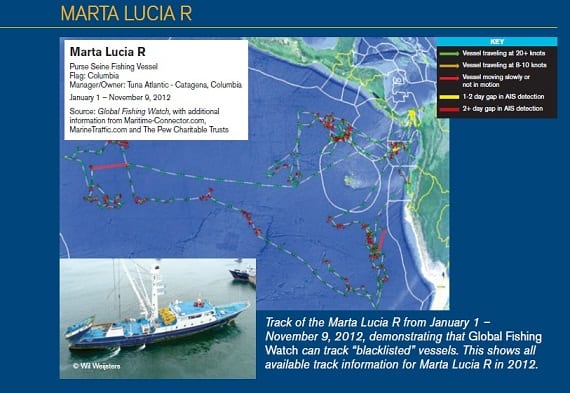 The Marta Lucia R, a purse seine fishing vessel registered in Colombia, has been added to several blacklists over time. The Colombian government requested that Marta Lucia R be removed from the lists, but AIS data tracked Marta Lucia R's movements while the vessel was reported to be "in port." (Photo: Global Fishing Watch, with additional information from Maritime-Connector.com, MarineTraffic.com and the Pew Charitable Trusts)
As detailed in the report, some specific applications include:
Identifying vessels operating illegally or without a license;
Identifying vessels that may be under-reporting or falsely reporting their catches;
Tracking vessels that have been "blacklisted" by governments or NGOs for having engaged in illegal or suspicious activity;
Identifying areas where large numbers of vessels converge, indicating the need to increased surveillance in those areas;
"Global Fishing Watch is an unprecedented technology that can help to tackle illegal fishing and other unsustainable fishing activities around the world," says Oceana vice president for U.S. oceans Jackie Savitz. "By shining a light on the problem, we can help citizens demand action from their governments, which is the key to getting things done in many places."
The practicality of Global Fishing Watch stems from its use of the Automatic Identification System (AIS), which the International Maritime Organization requires on ships greater than 300 gross tons. This navigation system reveals identities, types, and locations of vessels, and is picked up by satellites and packaged into data that Oceana and its partners can analyze.
Because Global Fishing Watch overlays data with exclusive economic zones, protected areas, and fishery management areas with vessel activity, users can view and extract data to better understand fishing activity worldwide. And since Global Fishing Watch will be free, open to the public, and easily accessible, it will serve as a tremendous tool to help citizens everywhere have a say in the management of their country's fisheries.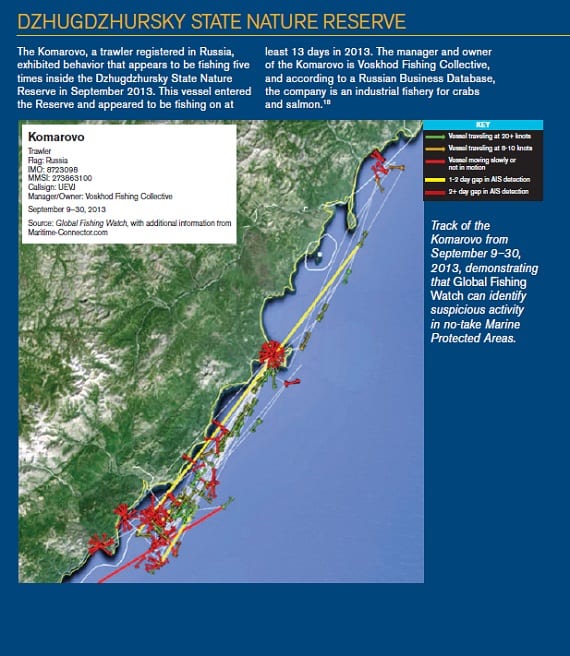 This map uses AIS data to show the behavior of Komarovo, a trawler registered in Russia that was found to be fishing in the Dzhugdzhursky State Nature Reserve in 2013—a no-take Marine Protected Area. (Photo: Global Fishing Watch, with additional information from Maritime-Connector.com)
"Global Fishing Watch can empower governments to enforce fishery laws in their territorial waters, empower fishery management organizations to make sure that vessels fishing in their waters are supposed to be there, and empower the fishing industry by giving companies a way to show their customers and consumers they are fishing legally and have nothing to hide," says Oceana policy fellow and report author Daniel Hess. "Global Fishing Watch can become a force for accountability that results in an even greater virtuous cycle, not only helping the public, but helping our oceans as well."
While the Global Fishing Watch prototype provides a glimpse into its numerous capabilities, the upcoming full public release of the technology will include near real-time tracking, increased satellite coverage, and better near-shore reporting of vessel movement. Stay tuned to The Beacon for more updates on Global Fishing Watch throughout the next few months!