October 3, 2014
As California Drift Gillnet Fishery Continues to Kill Marine Mammals, Oceana Pressures for "Count, Cap, and Control" Approach
In September, the National Marine Fisheries Service (NMFS) released new data showing the bycatch reported by federal observers of the California-based drift gillnet fishery that predominantly targets swordfish and thresher sharks. Alarmingly, the data indicates this fishery killed an estimated 53 marine mammals from May 2013 through January 2014. In total—using projections for the two-thirds of this fishing effort that went unobserved—drift gillnet gear reportedly killed an estimated three California gray whales, six short-finned pilot whales, nine northern right whale dolphins, nine California sea lions, and 26 short-beaked common dolphins. In doing so, the estimated mortality of six short-finned pilot whales exceeded sustainable conservation limits of four whales per year as established under the Marine Mammal Protection Act.
"Every year that drift gillnets are used off the California coast to catch swordfish, the result is that iconic whales, dolphins, sea turtles, sharks, and thousands of fish are ensnared and killed as bycatch," Oceana California campaign director Geoff Shester said in a press release. "Ultimately this gear type must be fully prohibited off the West Coast so we can have a sustainable swordfish fishery."
Represented by the Center for Biological Diversity, Oceana and the Turtle Island Restoration Network recently sent a 60-day notice of intent to sue NMFS for its failure to implement permanent conservation measures to protect endangered sperm whales killed in this fishery. Without permanent regulations in place to protect endangered sperm whales, the federal government is irresponsibly allowing the fishery to operate. In 2010, drift gillnets killed an estimated 16 sperm whales off California, which exceeds the maximum number of deaths that the population can sustain and still recover.
In a letter sent last month to the regional Pacific Fishery Management Council (PFMC) — the 14-member voting body tasked with advising NMFS on federal fishery management — Oceana requested that drift gillnets—used for the intended catch of swordfish and thresher sharks—be prohibited in all waters off the U.S. West Coast. Oceana also requested that during any transition period that "hard caps," or the maximum number of a species that can be injured or killed in the fishery before it is shut down for the remainder of the season, be established on the total number of whales, dolphins, sea lions, sea turtles, sharks, and other fish that can be killed as bycatch. If such hard caps are reached or exceeded in any fishing season for one or more of these species, the fishery should be shut down for the remainder of the season. Such a management regime embodies Oceana's Count, Cap, and Control approach to managing fisheries with high bycatch.
Last June, the Council established a goal to reduce bycatch in the swordfish drift gillnet fishery, transition to cleaner fishing gears like buoy gear, and put additional safeguards on species that are most at risk. On September 14, under pressure from Oceana, our conservation partners, and members of Congress, the PFMC met to select a preliminary preferred alternative management regime that places hard caps on endangered whales and sea turtles, reduces bycatch of other marine mammals, sharks, and fish, and is enforced with 100 percent monitoring of all drift gillnet bycatch. They will be taking final action on these proposed safeguards in March 2015.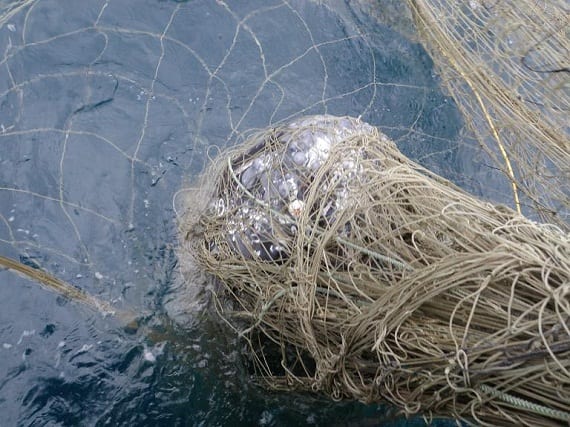 A gray whale killed by a California drift gillnet in 2014. The swordfish/thresher shark drift gillnet fishery killed an estimated three gray whales in the 2013 to 2014 fishing season. (Photo: NOAA)
Over the past seven years the drift gillnet fishery for swordfish has captured, injured, and killed over 650 marine mammals, including gray whales, short-finned pilot whales, sperm whales, minke whales, bottlenose dolphins, long-beaked common dolphins, northern right whale dolphins, Pacific white-sided dolphins, Risso's dolphins, short-beaked common dolphins, California sea lions, and northern elephant seals. This fishery kills more whales and dolphins than all other fisheries off the U.S. West Coast and Alaska combined.
Oceana actively campaigns to promote cleaner gear types and protect marine wildlife from injury or death as a result of the California swordfish drift gillnet fishery. Click here to learn more about Oceana's work.