April 6, 2011
Christie's Green Auction Raises $1.4 Million (So Far)
Last Tuesday evening, the live component of Christie's Green Auction raised $1.4 million to benefit four environmental organizations: Oceana, Conservation International, Natural Resources Defense Council (NRDC) and The Central Park Conservancy. But it's not quite over — the online auction is still accepting bids until tomorrow.
The glamorous event was co-hosted by David and Susan Rockefeller, Graydon and Anna Carter and Salma Hayek and François-Henri Pinault. Attendees included Anna Wintour, David Rockefeller Sr., Diane Kruger, Zoe Kravitz, Alexander Wang, Sam Waterson, Ted Danson and Michael Kors, among many others.
Saturday Night Live's Seth Meyers emceed the auction and even helped officiate amid witty repartee with Lydia Fenet, Christie's Director of Strategic Partnerships. Top lots included a Hollywood experience during the Oscars and a day shadowing President Bill Clinton — each raised $100,000.
After the auction, models strutted down the catwalk in a fashion show that debuted exclusive items by top designers for a "Runway to Green Collection". Pieces from the collection are available for purchase on Net-A-Porter.com, and will be available in stores this fall. The finale of the evening was a surprise performance by Nicki Minaj, who sang several numbers wearing a fittingly half-green bride of Frankenstein wig.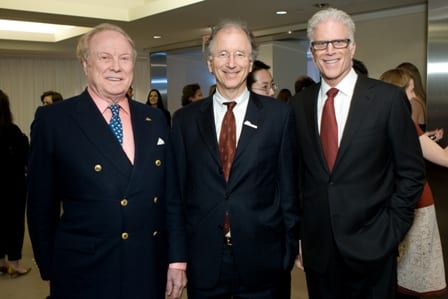 In one of the most dramatic moments of the evening, New York litigator, author and long-time Oceana supporter Sir Thomas Moore made a donation of $100,000 to help Oceana's effort to completely end all forms of trawling in Belize. The generous donation by Moore was part of a "Paddle Raise," in which guests at the Green Auction raised a total of $350,000 for Oceana's work on trawling in Belize.
The ban will protect the Mesoamerican coral reef, a UNESCO world Heritage Site and the largest reef system in the western hemisphere, from the damaging effects of bottom trawling. In December, Oceana persuaded the Belizean legislature to outlaw all forms of trawling, but two bottom trawlers remain sitting idle in Belize. Oceana will now be able to purchase and repurpose the bottom trawling ships before their owners can lobby the government for a repeal of the ban. The money raised will also go to establish a lending program for Belizean fisherman to enable them to purchase sustainable fishing gear and to set up a hurricane relief grant program.
The Green Auction's companion online auction, powered by charitybuzz, will continue through tomorrow, and includes a trip to Tokyo to meet Justin Bieber, a tennis lesson with John McEnroe and a trip to Miami to meet Lady Gaga.
And if you can't afford to bid on a trip to meet Gaga or the Biebster, you can also text GOGREEN to 20222 to donate $10.
Huge thanks to Sir Thomas Moore and the hundreds of others who have helped make this year's auction a success!