December 8, 2017
Coastal leaders travel to Washington, D.C. to defend the Marine Mammal Protection Act and lobby to protect our coast
2017 marks the 45th anniversary of the Marine Mammal Protection Act (MMPA). This iconic law, established with bipartisan support in the early 1970s under the Nixon administration, has been safeguarding marine mammals like dolphins and whales for generations. To celebrate its long-standing success and ensure its continued protection, Oceana and its allies organized an anniversary event in Washington, D.C., featuring a lobby day and special reception on Capitol Hill.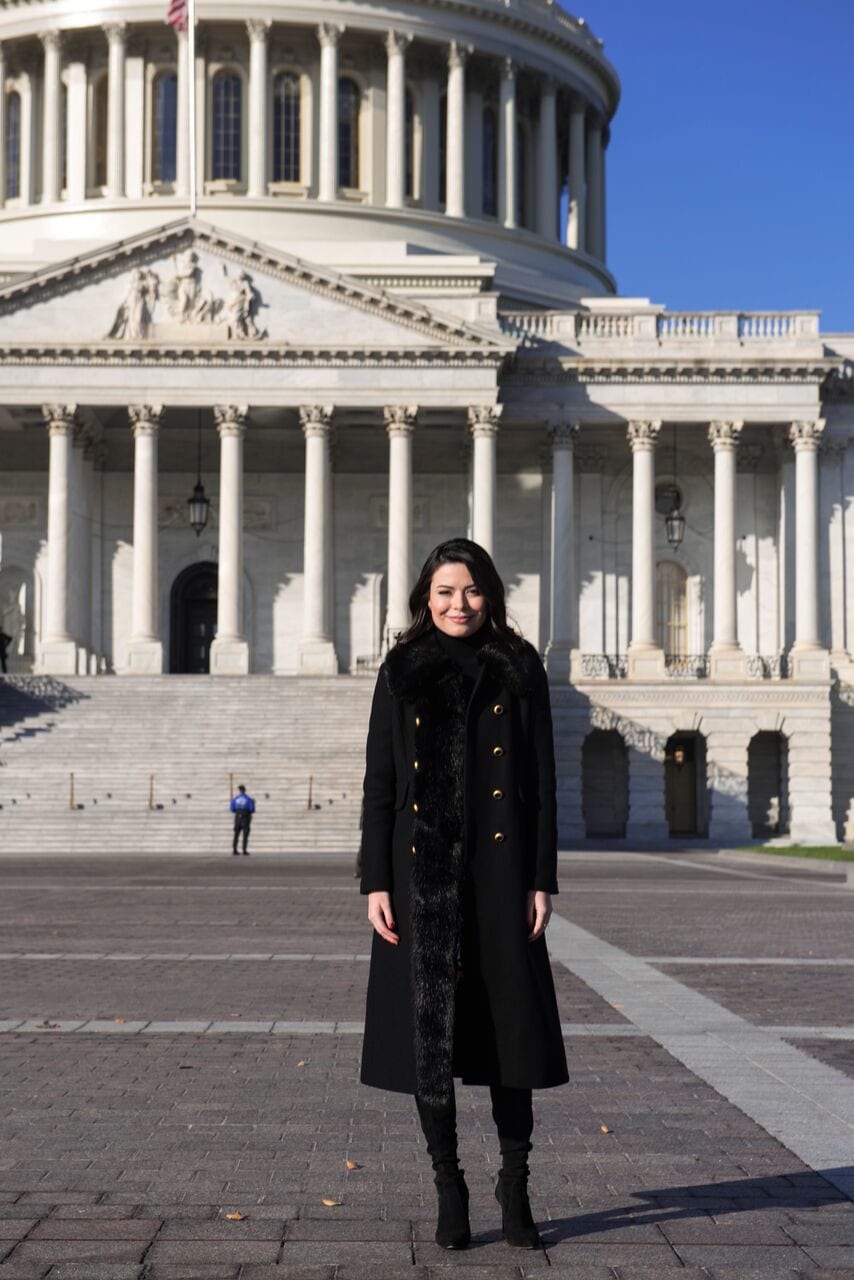 Lobby day participants, who traveled to our nation's capital from across the country and as far as California and Florida, focused their meetings on recently introduced legislation that could spell disaster for marine mammals. H.R. 4239 represents a long list of giveaways to the oil industry that would encourage expanded offshore drilling and exploration in our oceans, risking our coastal economies and marine life. One of the many egregious provisions in the bill would gut core provisions of the Marine Mammal Protection Act in order to fast-track seismic airgun blasting, the extremely loud and dangerous process used to search for offshore oil and gas deposits, and encourage expanded drilling.
Oceana and its allies have been successfully fighting expanded offshore drilling and seismic airgun blasting for years. While we face heightened challenges under the current administration and Congress, we are meeting them with a growing wall of opposition from New York to Florida as well as on the West Coast. As of December 2017, more than 150 municipalities on both coasts have formally opposed offshore drilling activities off their shores, and many of those communities were represented at last month's anniversary events.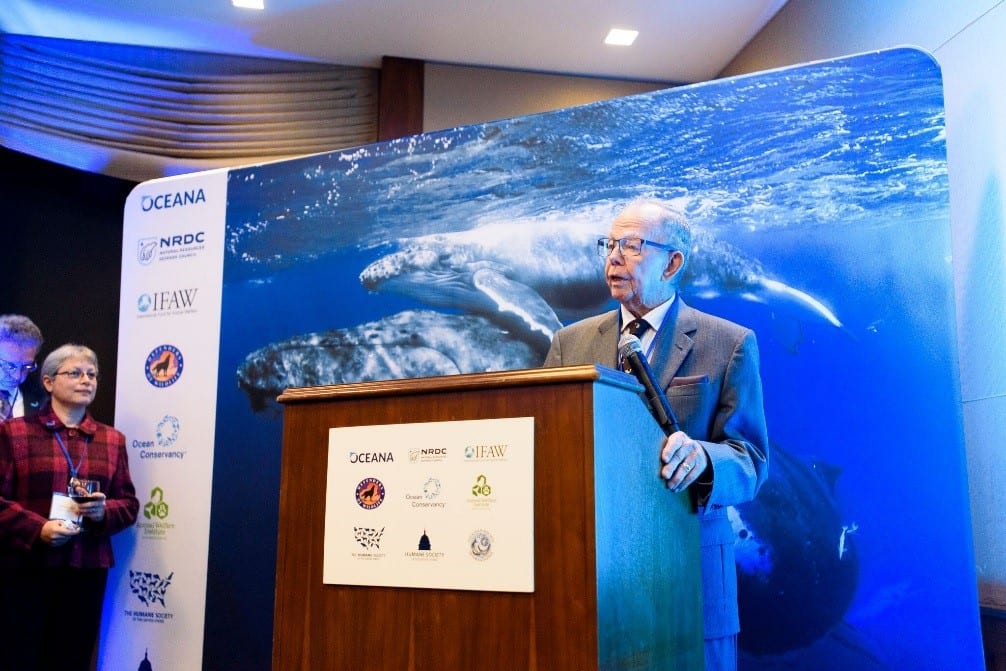 More than 50 leaders from the business and academic communities attended the lobby day to advocate for their constituencies and defend the Marine Mammal Protection Act. In total, these leaders participated in 85 Congressional meetings, urging Representatives to oppose H.R. 4239, reject the expansion of dirty and dangerous offshore drilling, and protect marine mammals.
Advocates included actress and activist Miranda Cosgrove, who visited the offices of her own senators and representatives with other participants from California. Speakers at the evening reception included Dr. Lee Talbot, an ecologist and geographer with over 50 years of experience in national and international environmental affairs, who was one of the original authors of the Marine Mammal Protection Act.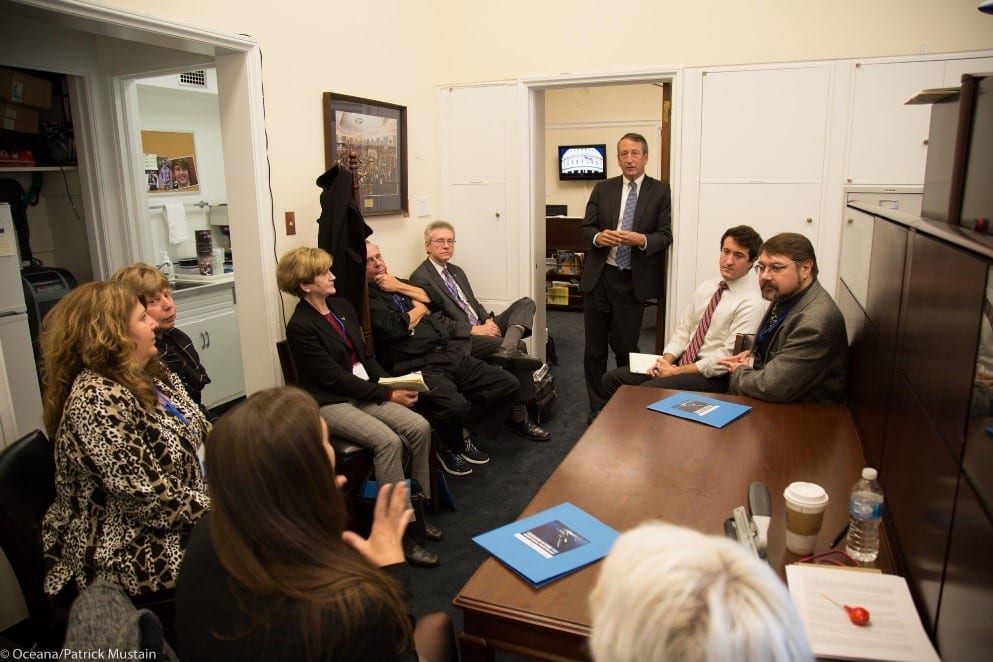 Additionally, long-standing ocean champions like Johnny Miller, mayor of Fernandina Beach, Florida, Frank Knapp, president/CEO of the Business Alliance for Protecting the Atlantic Coast (BAPAC), and Laura Wood Habr, vice president of the Virginia Beach Restaurant Association and BAPAC member, led groups of constituents from their states.
H.R. 4239 is still a threat, as is expanded offshore drilling. Help us fight to protect our coast by joining the nearly 50,000 other voices that have signed Oceana's petition opposing this extreme legislation. This bill is an attack on coastal communities and their thriving economies that rely on healthy oceans, as well as the thousands of endangered mammals that would be at risk from seismic airgun blasting. Together, we can defeat it.