May 24, 2022
Communities Nationwide Stand Together Against Dirty and Dangerous Offshore Drilling
On May 21, 2022, people across the country gathered in-person for the first time since 2019 at their local beaches for Hands Across the Sand where they joined together to symbolically "draw a line in the sand," opposing efforts to expand offshore drilling. This event has been an annual gathering since 2010, following the BP Deepwater Horizon disaster. Attendees included business leaders, elected officials, conservation groups, local activists, and thousands of concerned citizens who called for protecting our beaches, our coasts, our communities, and ocean wildlife from the dangers of offshore oil and gas drilling.
Offshore drilling and spilling could devastate the fishing, tourism, and recreation industries along our coast. An Oceana analysis found that permanent offshore drilling protections for all unleased federal waters could prevent over 19 billion tons of greenhouse gas emissions and prevent more than $720 billion in damages to people, property, and the environment.
Now, President Biden must continue to lead on climate and fulfill his campaign promise to end new leasing for offshore drilling. Ending new leasing will help tackle the climate crisis and protect the millions of jobs that rely on a healthy, oil-free ocean.
Here are a few photos from selected Hands Across the Sand events:
Miami Beach, Florida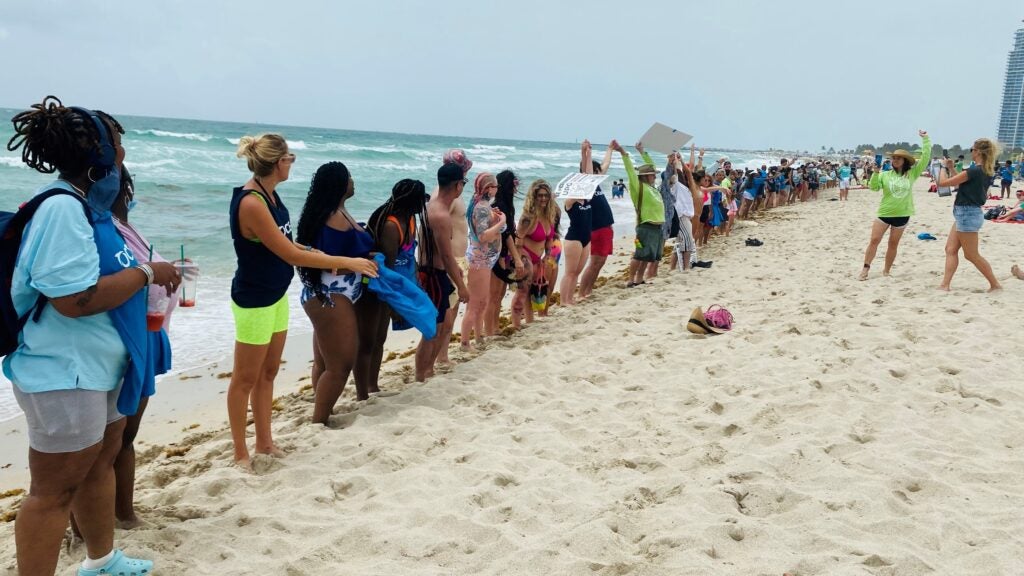 Photo courtesy: Cat Uden, Oceana
In Miami, nearly a hundred activists formed a figurative "line in the sand" extending along the coast of South Miami Beach to demonstrate opposition to offshore drilling and support for clean, renewable energy. Oceana, Surfrider Foundation, and Urban Paradise Guild led the event and roused the crowd as they called on elected leaders to protect their coastline.
Tampa Bay, Florida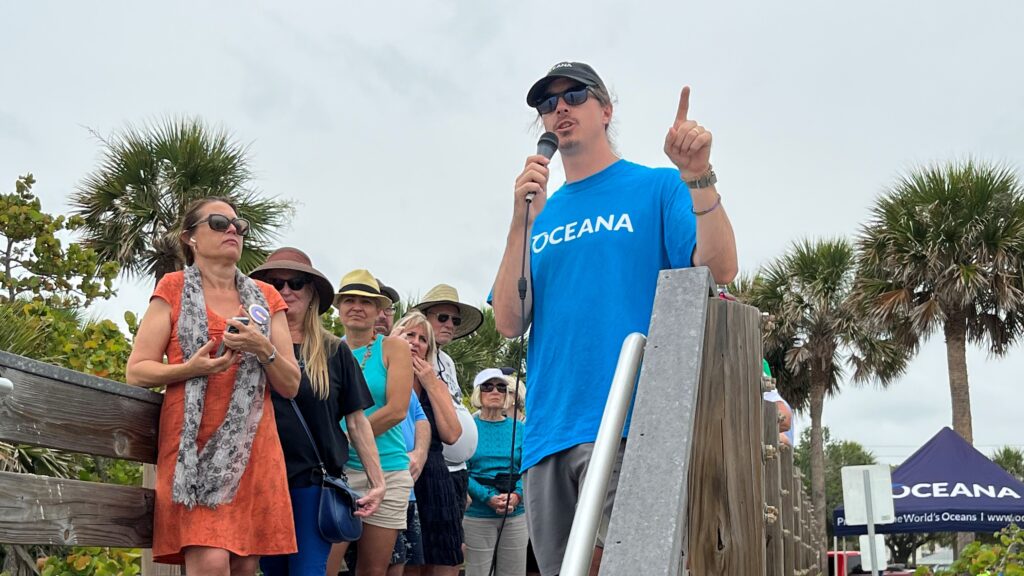 Photo courtesy: Ben Davis, Oceana
Floridians flocked to Indian Rocks Beach in Tampa Bay to voice their opposition to new offshore drilling in the Eastern Gulf. Oceana's Hunter Miller (above) discussed the important role of clean shores in Tampa Bay's thriving coastal economy. The support of groups like Southern Alliance for Clean Energy, Sierra Club Florida, Friends of the Earth, Suncoast Surfrider, and Florida Conservation Voters helped make Tampa's Hands Across the Sand an example of the large coalition of everyday people who oppose new drilling in the Eastern Gulf.
Jacksonville Beach, Florida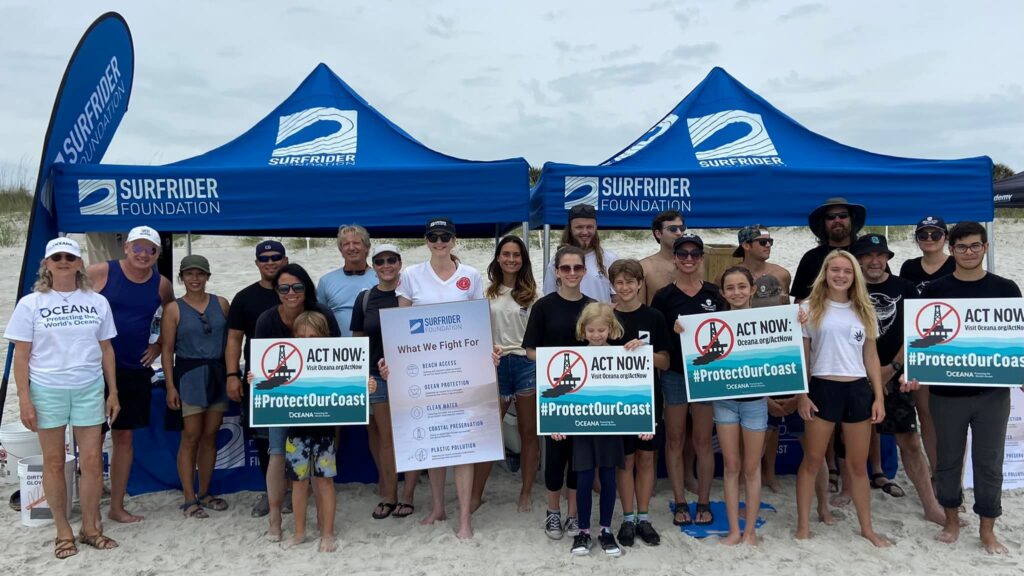 Photo courtesy: Erin Handy, Oceana
Ocean lovers gathered at Jacksonville Beach with Oceana and Surfrider Foundation to demand an end to new offshore drilling. Fishing, tourism, and recreation associated with Florida's beaches support 659,000 jobs and generate more than $43 billion in GDP and Jacksonville residents know the importance of protecting their clean coast economy.
Tybee Island, Georgia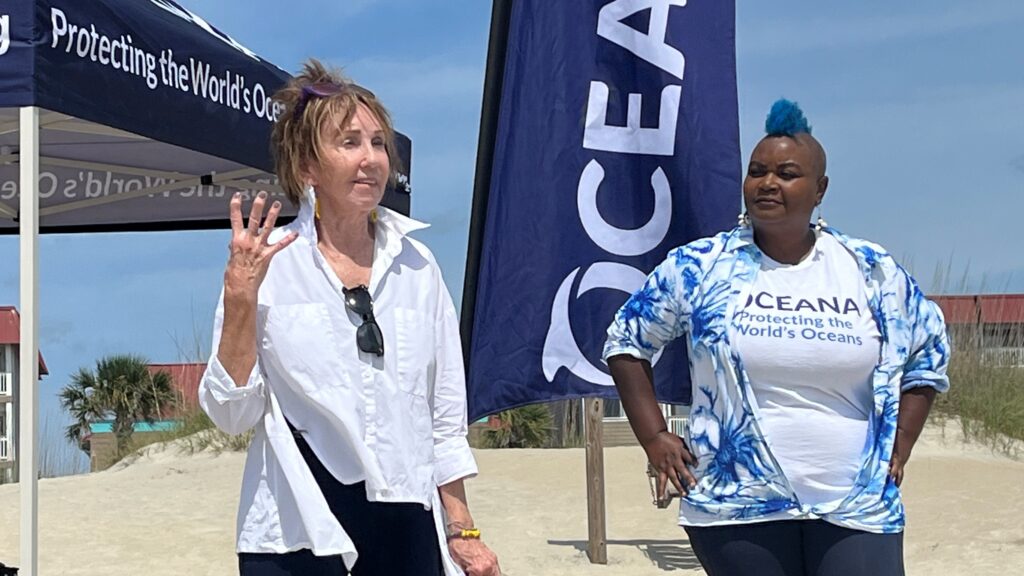 Photo courtesy: Samantha Siegel, Oceana
Georgians from up and down the coast came together at Tybee Island to demand that their coasts be protected from the threat of dirty and dangerous offshore drilling. Oceana's Hermina Glass-Hill (above, right) rallied participants with chants of "Protect our coast!" and "No new leasing!" and attendees also had the opportunity to hear from local leaders including Tybee Island Mayor Shirley Sessions (above, left) and Tybee Clean Beach Volunteers founder Tim Arnold. Local NBC affiliate WSAV covered the event in greater detail.
Encinitas, California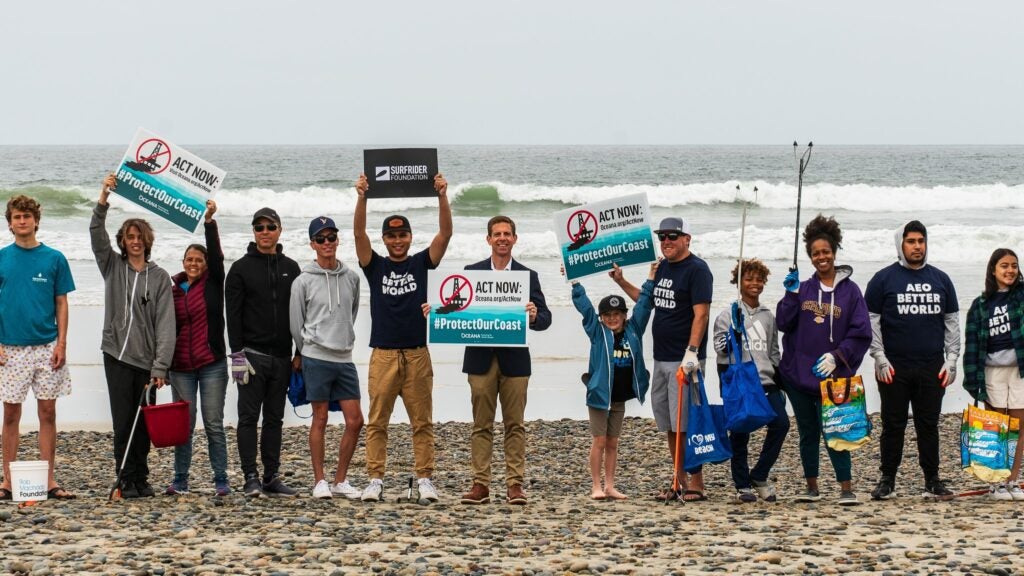 Photo courtesy: Mark Kaplan
Californians passionate about protecting our oceans amassed in North County San Diego at Moonlight Beach to demand their coast be permanently protected from the threat of offshore oil spills. Local leaders with Surfrider Foundation and Oceana as well as Rep. Mike Levin (above, center) spoke to attendees about the need to protect our coasts. Speakers galvanized the crowd with calls to permanently transition away from offshore drilling and dirty fossil fuels, and transition towards clean, renewable energy sources like offshore wind.
Huntington Beach, California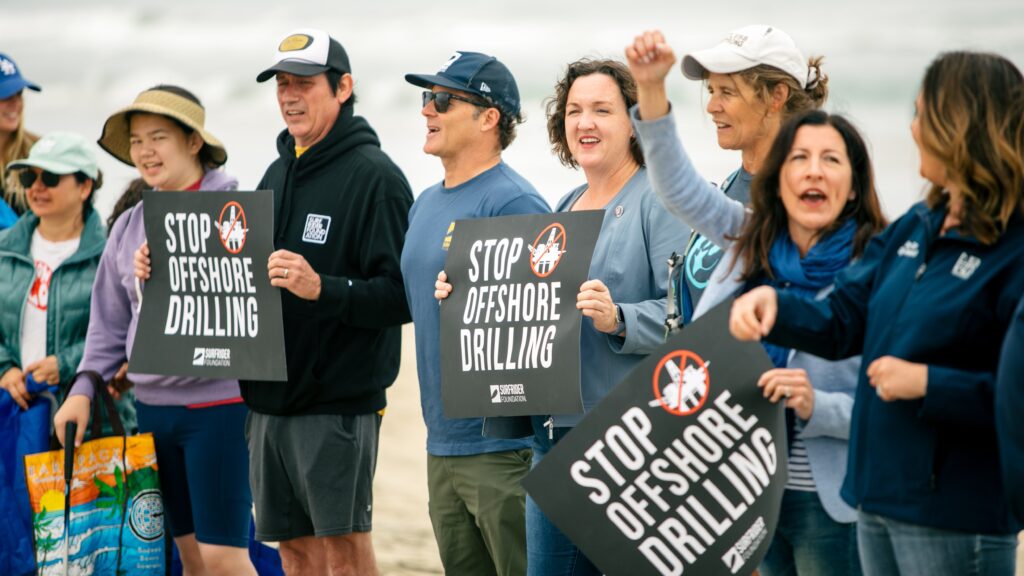 Photo courtesy: Kyle Lishok, Surfrider Foundation
After the oil spill that struck Huntington Beach last October, it's easy to understand why Orange County residents, including Surfrider CEO Chad Nelson, Rep. Katie Porter, Asm. Cottie Petrie-Norris, and Huntington Beach Councilor Kim Carr (all pictured above), wanted to come together to oppose the dirty and dangerous practices that shut down their fisheries and beaches. California's coastal economy supports around 654,000 jobs and over $54 billion in GDP through activities like tourism, recreation, and fishing and locals know first-hand that oil spills can bring a thriving economy to a screeching halt.