June 24, 2016
Congress Introduces Bill to Ban the Trade of Shark Fins in the United States
Sharks are in big trouble. Between 63 and 273 million sharks are killed every year due to human activities like overfishing and bycatch. As predators, sharks have played a vital role in maintaining healthy oceans for hundreds of millions of years, and any decline in populations can create a domino effect of unintended consequences.
According to a new Oceana report released yesterday, the demand for shark fins is one of the biggest threats to shark populations worldwide. In fact, it's estimated that fins from as many as 73 million sharks are bought and sold in the global shark fin trade every year, although it is unclear how many of those sharks have been finned. Shark finning involves cutting off the fins at sea, often while the shark is still alive, and then dumping the body overboard to drown, bleed to death or to be eaten alive.
Many of the shark species popular in the fin trade are slow to recover from unsustainable fishing because they have long lifespans, mature slowly and produce relatively few young. In fact, of the most common species involved in the Hong Kong fin trade, the historic center of the global trade, more than 70 percent are at high risk or very high risk of extinction.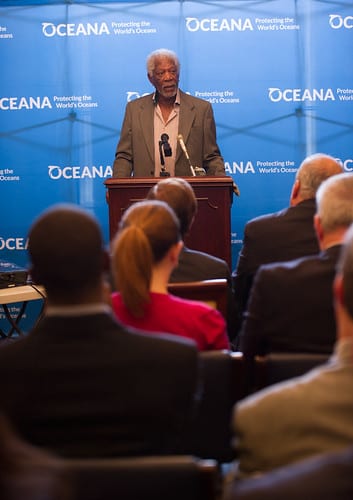 See more photos of the announcement event and celebration at Oceana's Flickr Page
Yesterday, however, the United States took an important step towards removing the U.S. from the shark fin trade altogether. On Thursday morning, award-winning actor and longtime Oceana advocate Morgan Freeman joined Oceana and members of Congress to announce the introduction of a new bill to ban the trade of shark fins in the United States. The bipartisan Shark Fin Trade Elimination Act of 2016 was introduced yesterday by Sens. Cory Booker (D-NJ) and Shelley Moore Capito (R-WV), and Reps. Gregorio Kilili Camacho Sablan (I-MP) and Ed Royce (R-CA).
In 2000 and again in 2010, Congress addressed the issue of shark finning in U.S. waters with the Shark Finning Prohibition Act (SFPA) and Shark Conservation Act (SCA), ultimately making it illegal to remove any fins from a shark at sea, transfer any fin from one vessel to another vessel, or land any fin that is not naturally attached to the corresponding carcass.
Both of these acts were steps worthy of applause from shark conservationists and reaffirmed the United States' rejection of shark finning not once, but twice. But the SCA has gaps that need to be closed.
Although shark finning is currently prohibited in U.S. waters, fins can still be bought and sold in the U.S., and any given shark fin in the U.S. could be from a shark that was finned. Of the 11 countries the U.S. has imported shark fins from since 2010, and five do not have any kind of prohibition on finning.
Ecologically, individual shark species play unique and diverse roles in structuring ocean food webs. Sharks also make a valuable contribution to the tourism industry. In fact, shark watchers spend an estimated $314 million globally on shark ecotourism every year. The one-time revenue a shark's fins bring is considerably lower than their potential revenue over time in the tourism industry.
According to the new report, a nationwide ban on the trade of shark fins would reduce the international fin trade, improve enforcement of the current finning ban and reinforce the status of the United States as a leader in shark conservation. As a nation, the U.S. will join Hawaii, Oregon, Washington, California, Illinois, Maryland, Delaware, New York, Massachusetts, Rhode Island, Texas, American Samoa, the Commonwealth of Northern Mariana Islands and Guam, who have already banned the sale or trade of most shark fins.
This week, the United States took an important step towards reducing the shark fin trade worldwide. Oceana applauds the leadership of the bill's supporters in helping to end the shark fin trade in the United States.