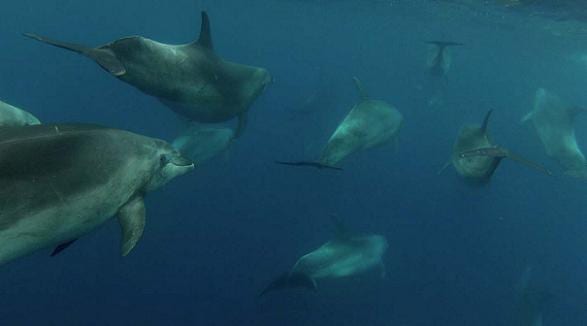 Our team in Chile sent us this stunning picture today from just offshore of Robinson Crusoe Island, part of the remote Juan Fernandez archipelago 400 miles West of mainland Chile. In 1704 Scottish castaway Alexander Selkirk became marooned on the island, serving as the inspiration for Daniel Defoe's fictional Robinson Crusoe character (100 miles west is an another island, Alexander Selkirk Island, named in his honor).
The discovery came as a surprise to our Chilean team as dolphins are somewhat rare to the Juan Fernandez Islands. But marine life is not rare on this volcanic chain of seamounts, where nutrient rich water from the deep comes to the surface, powering a profusion of life.
Last month the Chilean senate voted to ban bottom trawling on all 118 of the country's seamounts, after years of advocacy by Oceana, a move that comes as a special relief to Juan Fernandez and its vulnerable marine inhabitants.
Learn more about about Oceana's work in South America.