July 18, 2016
Drawing a Line in the Sand against Seismic Airgun Blasting and East Coast Drilling
This past May, thousands of people joined hands at beaches all over the world, many on the U.S. East Coast sporting Oceana blue t-shirts and holding miniature wind turbines and signs that read "Protect Our Coasts," "Stop the Drill," Oil Free Seas," Clean Energy for All," and "Think Outside the Barrel." For the past six years since the 2010 BP disaster, beach lovers and ocean advocates across the country have come together at local beaches to participate in Hands Across the Sand—a simple day of action with a powerful message: say NO to filthy fossil fuels and YES to clean renewable energy! For 15 minutes on the 3rd Saturday of every May, participants join hands to form a symbolic line in the sand against the expansion of offshore oil and gas exploration and development.
This year was one of the most successful Hands Across the Sand yet, nearly doubling the number of events as last year to 87. Oceana's campaign organizers, volunteers, and partners helped organize nearly 50 events: 7 in Mid-Atlantic states, 20 in the Southeast, and 18 in Florida alone. The largest took place on Treasure Island, Florida where over 350 people gathered to form a human work of art on the beach: the image of a sun and the words 100% clean power. Created by aerial artist John Quigley, "Photos From Above" provided a birds-eye view of the artist's message. Oceana's Florida campaign organizer Erin Handy was on the scene and said, "the 18 Hands Across the Sand events in our state show that Floridians stand united against offshore drilling and seismic airgun blasting—it's an incredible display of how committed coastal communities are to stopping drilling activities off of Florida's coasts."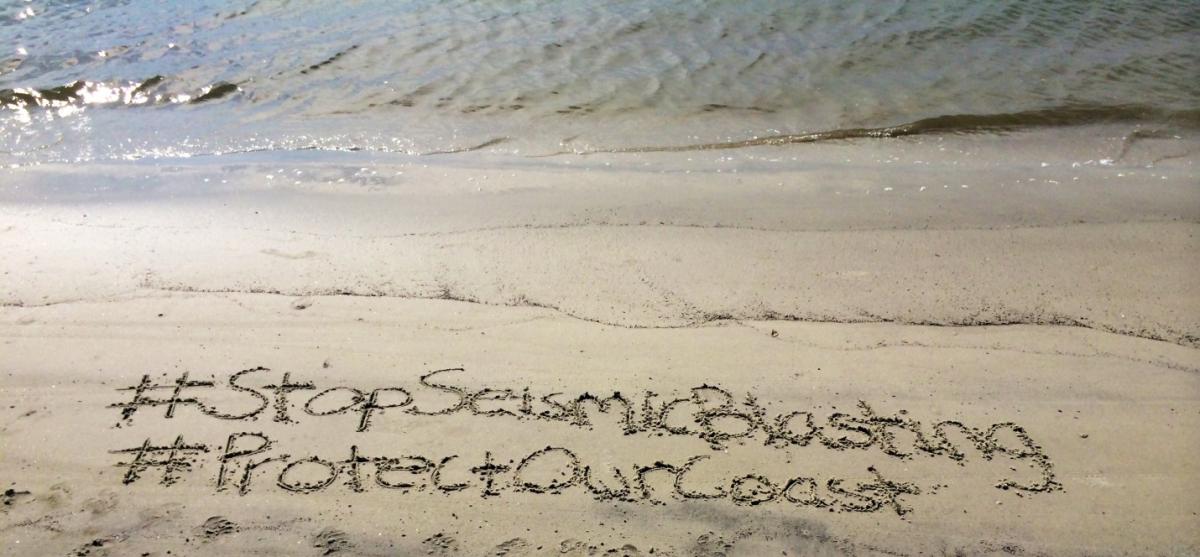 Oceana has been a sponsor of this day of action since Hands Across the Sand became a national event. Fresh off our win of protecting the Atlantic from offshore drilling, Oceana's army of activists and allies were fired up and ready to join hands. Although this year's Hands Across the Sand was in part a celebration of the Obama administration's decision to remove the Atlantic coast from consideration for offshore drilling until 2022, it was also a strong reminder of our need to double down on efforts to prevent harmful seismic airgun blasting in the Atlantic from moving forward.
The sheer mass of people that participated in Hands Across the Sand this May is a testament to the unwavering commitment coastal citizens have to protecting the Atlantic from Big Oil. East Coast residents didn't back down when the fight was about stopping offshore drilling, and they certainly won't back down now that it's shifted to seismic airgun blasting to explore for oil and gas deposits.
Seismic airgun blasting threatens the same ocean resources as offshore drilling – resources that coastal citizens hold near and dear, and depend on to drive their state economies. The latest Hands Across the Sand sends a strong and resolute message to President Obama: the risks of seismic airgun blasting and offshore drilling are simply too great. Offshore oil and gas development in the Atlantic would threaten 1.4 million jobs and $95billion in gross domestic product (GDP). We won't stand for such losses, especially when clean alternatives like offshore wind power, are blowing off our shores.
Visit www.StopTheDrill.org to learn about the breadth of opposition to seismic airgun blasting and East Coast drilling, and learn how you can join the movement to #ProtectOurCoast!