March 10, 2016
Global Fishing Watch Put to the Test: Monitoring the Phoenix Islands Protected Area
In November 2014, Oceana unveiled the prototype of a new tool that will enhance transparency and accountability in commercial fishing fleets around the world. A public version is set to launch this year, but Global Fishing Watch has already been put to the test.
Near real-time data, as well as historical data dating back to 2012, allows Global Fishing Watch to illustrate the progression of fishing activity in any region of interest, as long as vessels are consistently broadcasting signals via the Automatic Identification System (AIS), a collision avoidance unit that transmits VHF signals to satellites, other ships and terrestrial receivers. Commercial fishing fleet activity is shaped by many factors, from economics, shifting weather patterns, and fish migration routes to changes in seafood market structures. The creation of new marine protected areas or changes in fisheries management policy can also significantly change fishing activity. And as countries create more and more "mega-parks," in attempts to protect large swaths of ocean habitat from human disturbance, monitoring how marine boundaries are enforced is more important than ever.
With numerous seamounts in the middle of an expansive ocean, the Phoenix Islands, situated in the central portion of Kiribati's exclusive economic zone are an ideal habitat for tropical bigeye and yellowfin tuna. Though Kiribati established the Phoenix Islands Protected Area (PIPA) as one of the largest protected areas in the world in 2006, the designation offered little protection to tuna and other pelagic fish species due to a lack of fishery management regulations, enforcement and fishing fleet compliance. As a result, the historically productive fishing grounds were severely depleted. To restore abundance, commercial fishing was banned from 12 percent of the area in 2008, a regulation the Kiribati President Anote Tong announced in 2014 be extended to 100 percent on January 1, 2015.
Since the announcement of the fishing ban, Oceana has been using Global Fishing Watch to monitor PIPA. And what we've seen is amazing! From January 1 to October 15, 2014 Global Fishing Watch detected 5,206 likely fishing days by 155 vessels in PIPA. During the same period in 2015, after the commercial fishing ban, those numbers dropped by 99.7 percent. The ban seems to have refocused fishing away from PIPA, which may give fish stocks a chance to recover and spill over into legal fishing grounds.
We also examined historical data to make sure that vessels fishing in the reserve before the ban were not simply "going dark" – turning off their AIS units and continuing to fish. Of 61 vessels that appeared to be fishing before the closure, 59 kept sending signals in 2015 and did not enter PIPA. The remaining two disappeared from the map, but were later accounted for thousands of miles away from the Phoenix Islands.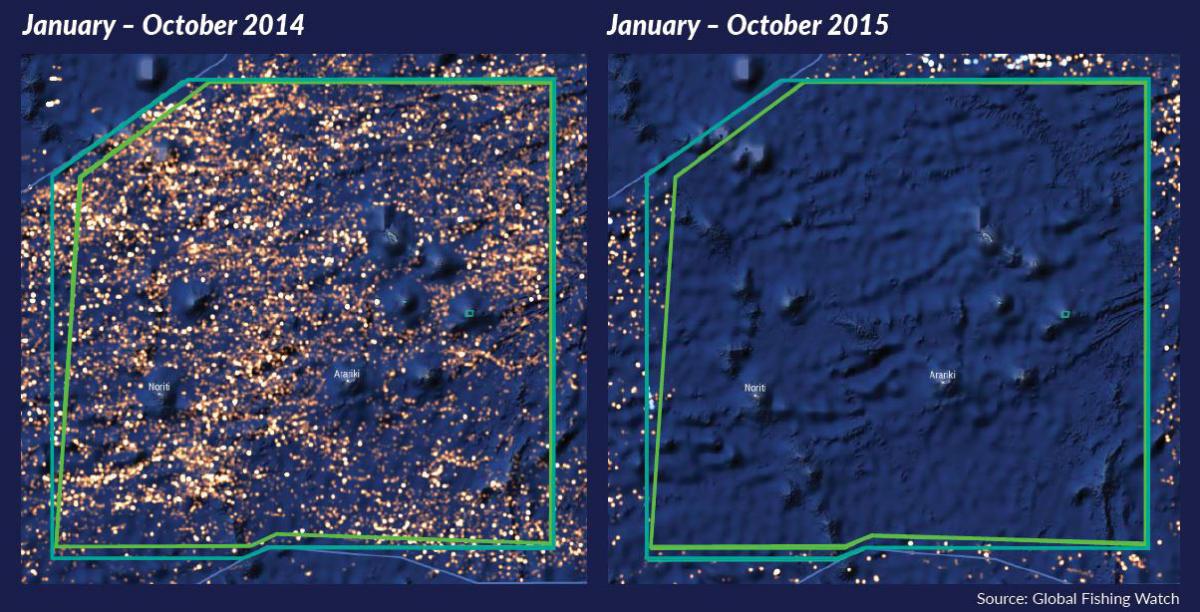 Detected fishing activity in PIPA before and after the fishing ban
The apparent success of PIPA's new management plan also highlights a need for constant monitoring, especially in such remote areas. In June 2015, Global Fishing Watch detected a purse seiner flagged to the Marshall Islands apparently operating in PIPA. The Forum Fisheries Agency had already identified the vessel, but was able to use Global Fishing Watch data to verify the vessel's track inside the reserves boundaries. The purse seiner was escorted to port and fined.
Monitoring the commercial fishing ban in the Phoenix Islands Protected Area is a superb example of Global Fishing Watch's power. This big data tool will allow marine conservation groups like Oceana, as well as scientists, journalists, and concerned citizens to monitor important areas of the ocean and hold the fishing industry accountable when they detect suspicious behavior.