We are now accepting nominations for our third annual Ocean Heroes Contest! Today we're featuring a guest post by 2009 finalist Emily Goldstein about her summer trip to the OrcaLab in British Columbia.
Last summer I was privileged to be able to spend eight weeks studying one of the most remarkable species in our world, the orca. I want to share with you the amazing journey I had, and tell you about my time with the orcas.
Snuggled in the inside passage between British Columbia and Vancouver Island, there is a small isle called Hanson Island. This is the home of magnificent bald eagles, playful mink, and an emerald-green evergreen forest. It is also the home of a land-based research station called OrcaLab, which was founded by Dr. Paul Spong in 1970.
The goal of OrcaLab is to study the orcas that summer here, called the Northern Residents, without interfering in their day-to-day activities and habitat. When I learned about OrcaLab and their work, it became my dream to become one of their summer assistants and help them with their research. I wish I could tell you how excited I was to learn that I had been chosen to go to Hanson Island for a summer internship.
My two-day trek to OrcaLab was an adventure all by itself, involving several plane rides, a long taxi ride, a ferry trip across to the closest town called Alert Bay, and then a boat trip to the lab. What I discovered when I arrived there was a group of very special people whose whole lives are centered on protecting the whales, including Paul and his wife, Helena Symmonds. I was welcomed with open arms and hearts, and I made friends that I hope to keep all of my life.
The main objectives of OrcaLab are research and conservation. To do their land-based research, they have installed a network of hydrophones in the areas of the whales' main habitat, which is called Blackfish Sound. One of the main duties of the assistants, which included people from all over the world, is to take shifts throughout the day and night, listening for sounds from the orcas as they pass by the hydrophones.
We kept a journal of when we heard them, where the orcas were, and which pod and family we heard. In addition to the acoustic data, we kept a lookout for physical sightings, which were noted as well. In between our shifts, we kept the lab up and running, including cooking, cleaning, and chopping firewood.
Seeing an orca in the wild is an unforgettable experience. They are so incredibly beautiful with their startling white-on-black coloring. The first pod I saw was traveling on the other side of Blackfish Sound, and I could see them gliding up and down in the water with their majestic dorsal fins rising and falling in rhythm.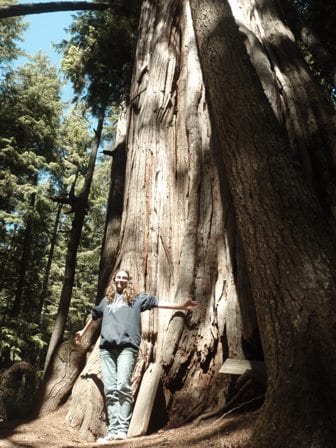 During my stay, I was able to experience many of their natural behaviors, such as breaching, lob-tailing, and mother-child interactions. I even got to witness a group of orcas cavorting with a humpback whale that had come through the sound. Listening to the whales was also amazing, with their singular clicks and whistles that are handed down from mother to calf. The calls that each matriline make are unique to the mother's family, and it was fascinating to be able to learn the different groups' sounds.
Helping to conserve orcas was my reason for being there, but during my stay on Hanson Island I was surrounded by other wildlife, too. I watched humpback and minke whales almost daily, hundreds of Pacific white-sided dolphins, Dall's porpoise, harbor seals, and Steller sea lions.
The island was full of creatures, too, including the resident mink that undulate over the rocks looking for fish. Imagine seeing bald eagles every day! The Steller's jays and hummingbirds were beautiful, and the playful ravens woke me up every morning with their caws. The scenery on Hanson Island is unforgettable, too, breathtaking and pristine. I fell in love with Grandmother Cedar, an ancient tree that is over a thousand years old.
I learned many valuable lessons while on Hanson, including the fact that you can live without electricity and other luxuries. What seemed like primitive conditions at first – like cooking on a wood-burning stove and lighting driftwood under a cast-iron tub on the beach to take a bath – soon became a way of life that I respected and enjoyed.
I feel very honored to have been given the opportunity to help OrcaLab with their vital, needed work. This was an experience I'll never forget, and I hope, one day, to be able to return to this special place in the world that is now so close to my heart.
Thanks for the update, Emily! Readers: Do you know someone as passionate about ocean conservation as Emily is? Nominate him/her now for our Ocean Hero Award!
Want more? You can check out Emily's blog about her summer with the orcas.