May 26, 2017
Hands Across the Sand Sends Clear Message to President Trump: #ProtectOurCoast from Dirty and Dangerous Offshore Drilling and Seismic Airgun Blasting
Coastal activists and beachgoers participated in over 110 Hands Across the Sand events worldwide, including 50 along the Atlantic Coast last Saturday to say NO to fossil fuels and YES to clean energy. Oceana supported dozens of events, including several in Belize. These events show that as the threats to our coastlines continue to grow, so do the number of people who are taking action to stop them.
Hands Across the Sand kicked off a #ProtectOurCoast week of action, aimed at sending President Donald Trump an important message – coastal communities and businesses do not want to turn over their shores to the oil industry. Seven years after the BP Deepwater Horizon oil spill–the worst environmental disaster in U.S. history—President Trump signed an executive order looking to expand offshore oil and gas exploration and drilling in U.S. waters, making it more crucial than ever to get this message across.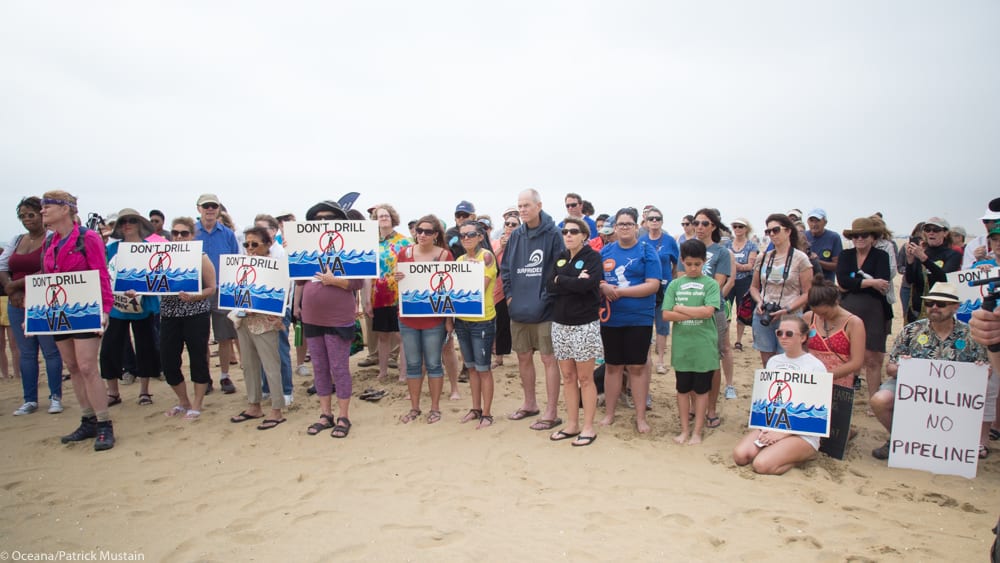 "From the industrialization of coastal communities, to the risk of a BP-like disaster, offshore drilling would forever change the fabric of the American Atlantic," said Samantha Siegel, Oceana campaign organizer in South Carolina, and one of the leaders of the event in Folly Beach. "As one of my friends and colleagues who used to work in the Petroleum Industry always points out to us– pursuing offshore drilling and seismic airgun blasting off our coast is a forever decision, and coastal communities and businesses that depend on healthy oceans have the most at stake."
Attendees included government officials, like Escambia County Commissioner Grover Robinson in Florida, who announced that the county as well the city of Pensacola had recently passed resolutions opposing offshore oil exploration and drilling. Escambia County and Pensacola join more than 120 East Coast municipalities that formally oppose offshore drilling and/or seismic airgun blasting.
In addition to showing opposition to offshore drilling with signs like "DON'T DRILL", some organized beach clean-up efforts. At Jacksonville Beach in Florida, attendees collected 700 pounds of trash and 23,000 cigarette butts before joining hands to call for a clean, protected coast.
"Coastal communities stood up and said no to the last administration, and they'll keep saying no, no matter who is in the White House," added Erin Handy, Oceana campaign organizer in Florida, who spoke at the event in Pensacola. "We're going to continue to make our voices heard until the Trump administration gives up on its shortsighted and dangerous plans to pursue seismic airgun blasting in the Atlantic, and stops working to expand offshore drilling to all of our coasts."
Background
In January 2015, the U.S. Department of the Interior proposed opening a large swath of the Atlantic to offshore drilling, spanning from Virginia to Georgia. In March 2016, the Obama administration removed this planning area from consideration for offshore drilling, which the Trump administration reversed in April 2017. As of today, 125 East Coast municipalities, over 1,200 elected officials, and an alliance representing over 41,000 businesses and 500,200 fishing families, have publicly opposed seismic airgun blasting and/or offshore drilling, citing threats to marine life, coastal communities and local economies. Along the Atlantic coast, nearly 1.4 million jobs and over $95 billion in gross domestic product rely on healthy ocean ecosystems, mainly through fishing, tourism and recreation. Seismic airgun blasting, a dangerous process used to search for oil and gas deposits deep below the ocean floor, is now being reconsidered for an area twice the size of California, stretching all the way from Delaware to Florida.
What You Can Do
Visit www.StopTheDrill.org to learn more about opposition to seismic airgun blasting and East Coast drilling, and how you can help prevent our coastlines and marine life from being harmed by dirty and dangerous offshore drilling. It's time to tell Congress and the Trump administration to #ProtectOurCoast and stop new offshore drilling before it begins.
View photos from this year's Hands Across the Sand event here: http://handsacrossthesand.org/photo-video-gallery/