March 21, 2016
A Historic Win for the Atlantic, a Huge Win for Democracy
Never doubt that a small group of thoughtful, committed citizens can change the world; indeed, it's the only thing that ever has. – Margaret Mead
After years of hard work and unwavering dedication to the fight against offshore drilling in the Atlantic, we have won a historic victory. This week, the Obama administration announced its decision to remove the Atlantic Ocean from the next five-year oil and gas leasing plan. It was not only a good day for the oceans, but a great day for democracy. By listening to the overwhelming opposition from East Coast communities, President Obama proved that good, old-fashioned grassroots organizing can still make a difference.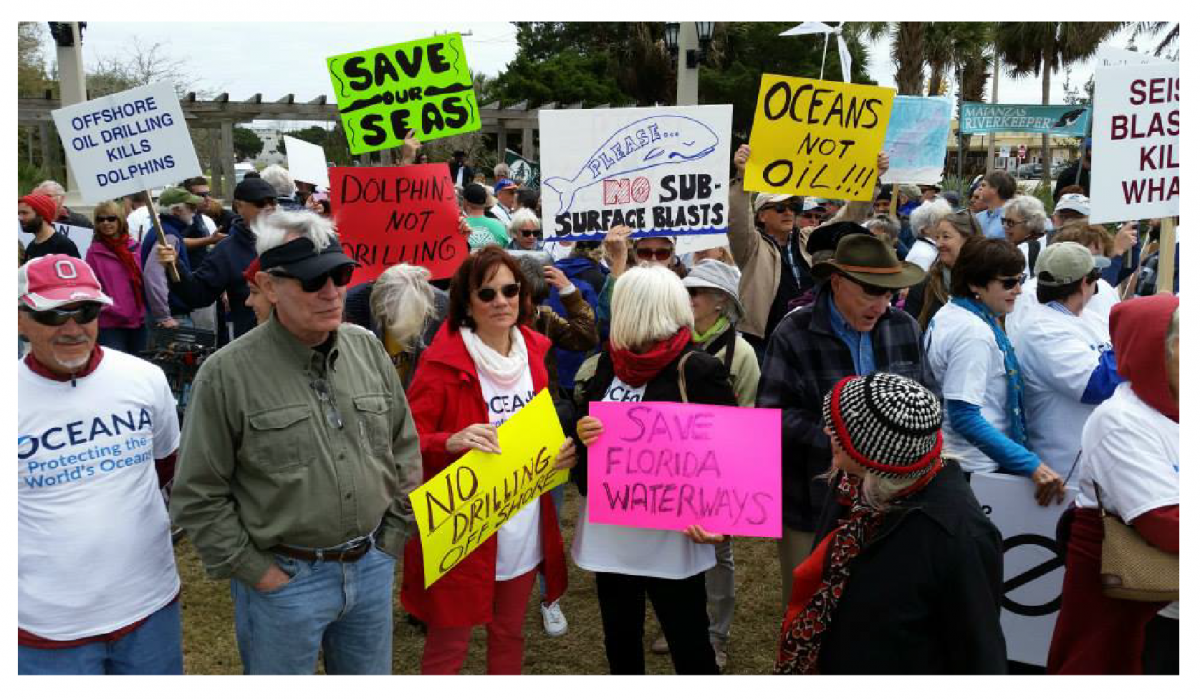 The fight wasn't easy, and at first, it was lonely. Oceana started down this road when few groups were working to fight Atlantic drilling—most thought it was a losing battle. In 2008, the Bush administration lifted a longstanding moratorium on East Coast drilling. This was done quietly—the fact that the Atlantic was open to the prospect of offshore drilling was virtually unknown to coastal communities, and until 2014, the only people that knew about the proposed drilling were those who supported it. With no opposition in sight, the Obama administration moved forward with the previous administration's plans to re-open the Atlantic. However, the administration and the oil industry didn't see what was coming next.
Years ago, Oceana planted the seeds of a grassroots movement that would sweep up the East Coast. From Florida to New Jersey, people began to realize what was at stake, and when they did, they became energized. This campaign knew no borders, no political party, nor socio-economic class. When presented with the prospect of coastal industrialization and oil spills on Atlantic beaches, community members, business owners, policy makers, scientists, nature lovers, civic organizations, trade groups and even retired petroleum engineers all came together with one voice and said: "President Obama: Protect our Coast."
An industry used to running roughshod over local interests found itself facing a galvanized citizenry standing up for its coast and its way of life. So-called experts, paid for by the industry, repeatedly attempted to misrepresent the science, downplay the risks and inflate the benefits of offshore drilling. But Oceana's organizers, volunteers and scientists met the well-funded obstruction with facts. At town hall meetings and community events, we showed decision makers what was at stake: offshore oil exploration and development would devastate pristine beach environments and ocean ecosystems, businesses that rely on fishing and tourism would suffer, and innumerable lives and livelihoods would be impacted all along the coast.
The decision makers listened. By March of this year, 110 East Coast municipalities, 101 members of congress, more than 750 state and local elected officials and roughly 1,100 business interests had publically opposed offshore drilling and/or seismic blasting. Administration officials explicitly said that this opposition directly influenced the decision to remove the Atlantic from the five-year plan:
This is a huge win in a conversation about climate and energy that has historically been dominated by oil interests. This recent decision is a promising sign that reflects U.S. commitments made in Paris last year. Though the announcement is a step forward in protecting the Atlantic, offshore exploration activities known as seismic airgun blasting could continue to move forward.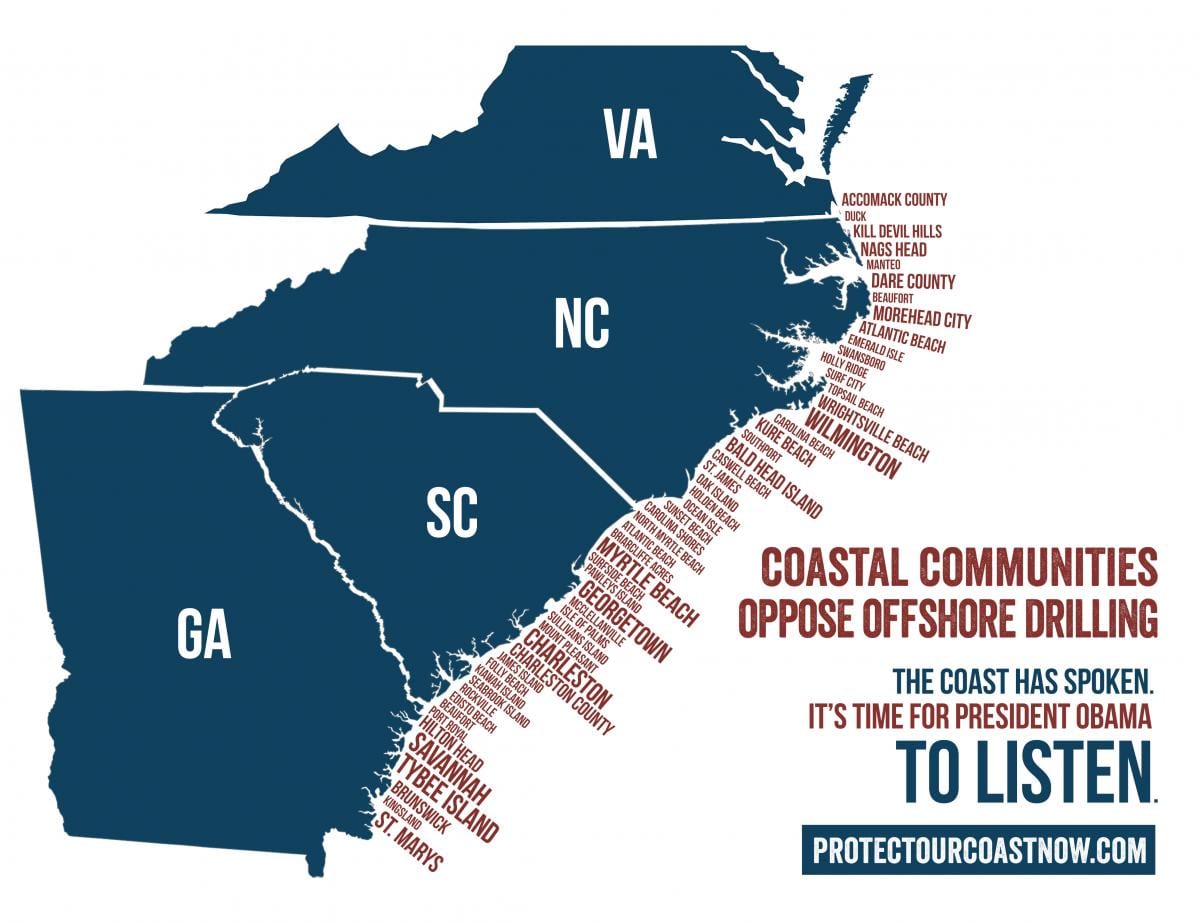 With offshore drilling now off the table, there is no reason for geophysical companies to proceed with seismic airgun blasting in the Atlantic. There is no reason to expose more than 100,000 marine mammals to loud, damaging blasts and no reason to threaten healthy, thriving fisheries that support coastal economies. Why use an extremely loud and dangerous process to search for oil and gas deposits when there's no possibility of extracting them in the near future?
Oceana applauds President Obama and his administration for heeding coastal voices and showing America what a responsive government looks like—the administration listened to local communities instead of Big Oil. We commend the Bureau of Ocean Energy Management for ushering in this process, being receptive and respectful of the concerns of the people who would be most impacted by offshore drilling. This decision is a victory for the people, and a striking example of how devoted, hardworking citizens can still make their voices heard in a system where money and partisanship often dominate the political landscape.
The fight is not over, but the game has changed. We've won a decisive battle and look forward to carrying this momentum to ensure our oceans will continue to be protected, not just for the next five years, but for generations to come. This victory is a move towards a future that embraces clean, renewable sources of energy and rejects dirty fossil fuels that are choking our planet—a future in which our children and our children's children can look back and say that their forebears did the right thing. We hope that the hundreds of volunteers, organizers and citizens who put so much of their time and energy into this realize that they are responsible for something huge, something unanticipated—something great. We are so, so proud.
Thank you!