December 22, 2016
I survived my first Fishery Council experience…and saved some crabs in the process!
An introduction to being an Ocean Advocate
I'm relatively new to Oceana and am a marine scientist by trade. Working for Oceana, I've read fisheries management policies, scientific survey results, and proposals for experimental fisheries. I've assisted in writing comment letters for any and all of those topics basically saying, "Yes! Oceana thinks this is great!" or "Nope, this is bad for the animals, bad for the environment, and bad for the future of the fishery." I did that for about a year working out of Oceana's Juneau, AK office but had never actually been to a Council meeting in person until last week. This was finally my moment! Finally my time to, as they say, "see how the sausage is made"! (Which is a really gross phrase and doesn't make sense for fisheries management. It should be, "see how the surimi is made", which I have seen when I worked in Unalaska. But I digress.)
I am the Molly, I speak for the crabs
I went to the North Pacific Fishery Management Council meeting in Anchorage to testify about something near and dear to my heart: crabs. Oceana's scientists and lawyers routinely give testimony at Council meetings to protect habitat, conserve fish and crab stocks, and preserve scientific accountability. Getting to testify for the first time about something I know so well was a rare treat and one I certainly didn't scuttle away from. Or side step.
Eh? You see what I did there?
I testified on behalf of Oceana against an experimental fishing permit (EFP) that was proposed to allow bottom trawlers into areas reserved for protecting molting and mating red king crabs (see agenda item C8 for more). One of the areas, the Red King Crab Savings Area (RKCSA), has been closed to bottom trawling for 20 years and is important habitat for the spawning stock of red king crabs. This area needs protection because the red king crab (Paralithodes camtschaticus), along with Tanner and snow crabs (Chionoecetes bairdi and C. opilio, respectively), are economically and ecologically important species that are experiencing declines in their Bering Sea populations. These are the same species of crabs that viewers around the globe see on the decks of the 'Deadliest Catch' fleet.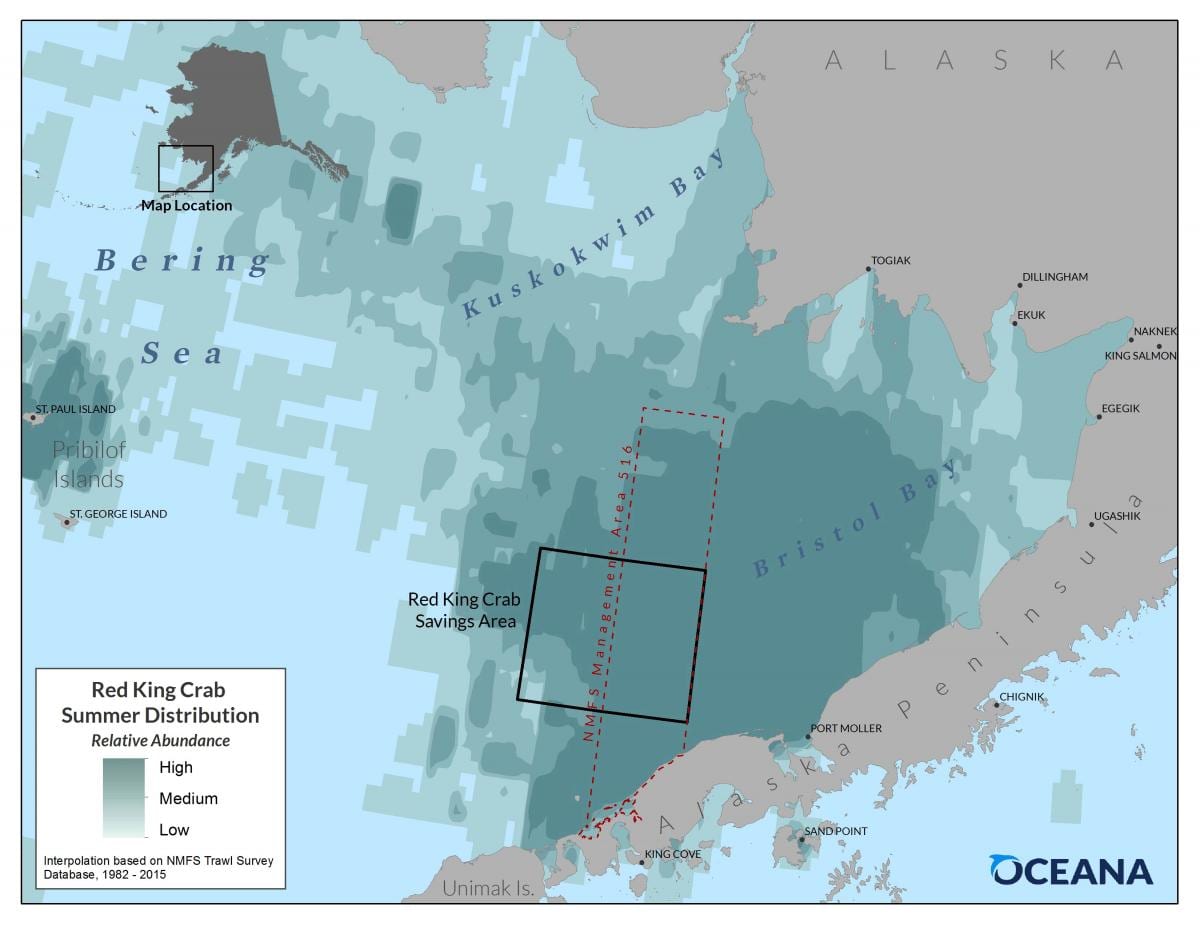 The RKCSA and Area 516, a seasonal closure, protect much of the Bristol Bay red king crab stock and their seafloor habitat. (Note: The area to the east of the RKCSA and Area 516 with high crab abundance is also closed to bottom trawling year round, known as the Nearshore Bristol Bay Trawl Closure.)
The Bristol Bay stock of red king crabs supports one of only two remaining commercial fisheries for red king crabs in the state of Alaska. The male red king crabs from this stock are down 21 percent (comparing 2015 and 2016 surveys), indicating that now is not the time to experimentally trawl through their vital habitat.
Snow crabs represent the largest crab fishery in Alaska and, along with Tanners, are familiar to consumers as all-you-can-eat crab legs. However, the snow crab fishery was practically cut in half this year due to low numbers, and the Tanner crab fishery was completely closed.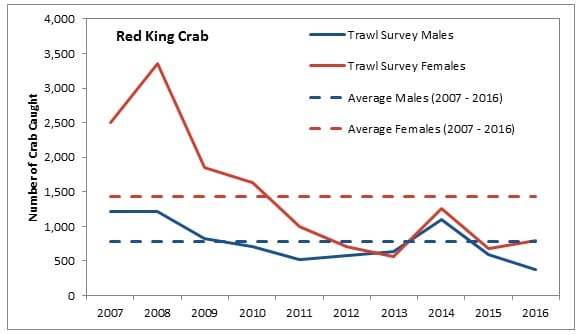 The number of male red king crab caught in the 2016 summer trawl survey was the lowest in trawl survey history and the number of females caught was under the 10-year average. (Source: NPFMC, 2016)
Preserving the crabitat
Bottom trawling is a fishery that targets groundfish found on the seafloor, but often simultaneously catches (and kills) everything else in its path as the fishery drags heavy, weighted nets across the bottom of the ocean. On behalf of Oceana, I highlighted the danger of bottom trawling through essential crab habitat and pointed out that it's not just about protecting the crabs, but also about preserving the habitat-forming invertebrates like sponges, soft corals, tunicates, and anemones that provide structure, protection from predators, and refuge from currents. These stationary animals are particularly vulnerable to bottom trawling since they can't run away.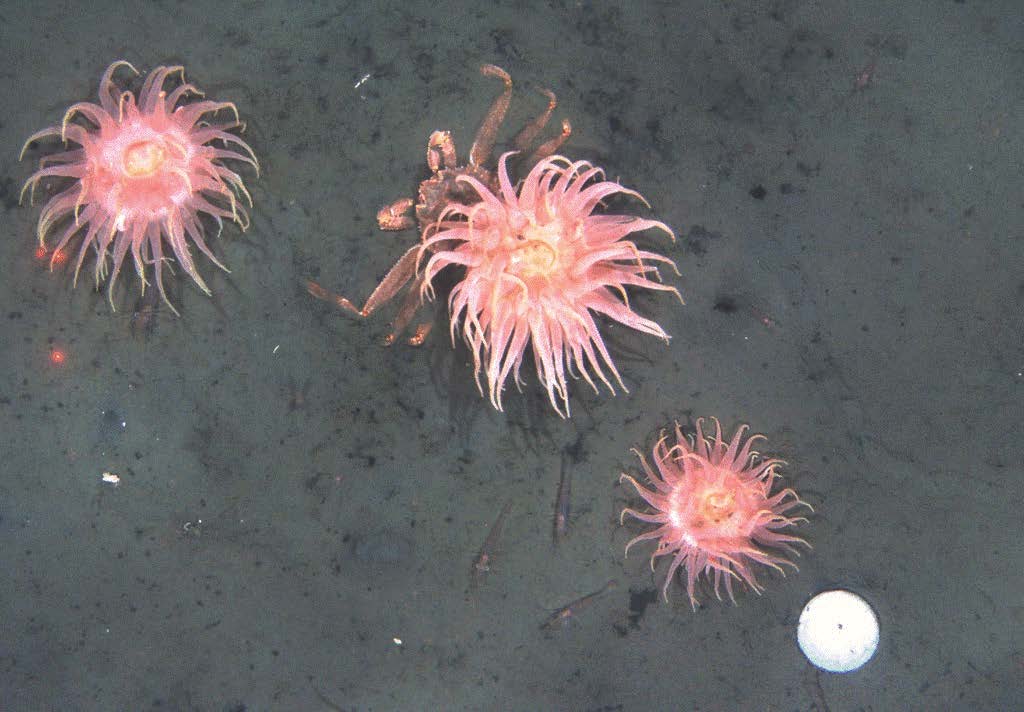 A Tanner crab cozies up to an anemone on the Bering Sea floor (Source: ADFG Alaska CamSled)
Teamwork makes the dream work
A lesson I learned at my first Council meeting was the importance of communication, collaboration, and finding common ground with different entities. Groups including the Alaska Bering Sea Crabbers and other industry, research, and educational organizations gave their testimony against the EFP. For example, one collaborative study between the Bering Sea Fisheries Research Foundation and the University of Alaska Fairbanks was presented showing the consistent use of the RKCSA by red king crabs, especially in warm years (see slides and paper under agenda item C8).
Once public testimony had concluded, the Council heeded these concerns and decided they could not endorse this experimental fishery! While it's ultimately up to the National Marine Fisheries Service whether the experimental fishery moves forward, for now, the crabs and their habitat are protected.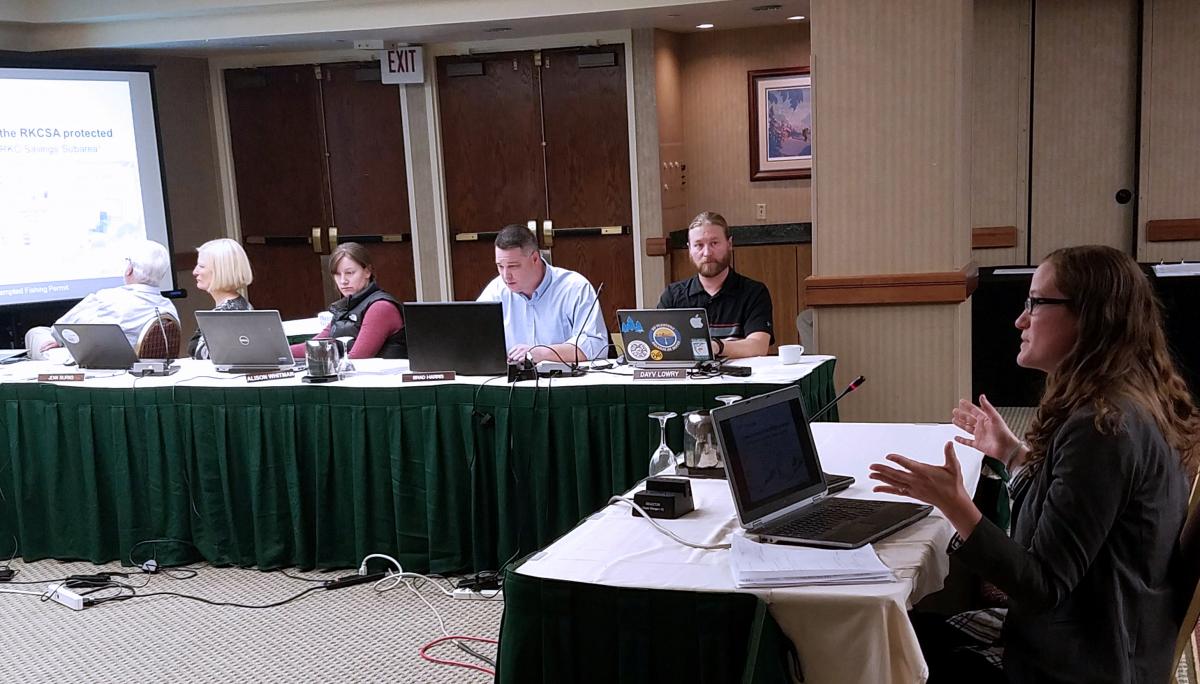 Author, Molly Zaleski advocating in action at the December North Pacific Fisheries Management Council meeting in front of the Scientific and Statistical Committee