Earlier this month Oceana and National Geographic launched an expedition to document the marine life and habitat of the waters of the remote and unexplored Desventuradas Islands more than 500 miles off the coast of Chile. Below is an expedition journal entry from Oceana South America Vice President Alex Munoz.
February 26
As the DeepSee submarine is towed towards the surface with us inside, in search of the beauty of the deep, through the 10 cm thick acrylic sphere I see Eric pass by in another boat to pick up the drop cameras, thousands of feet underwater. A third boat took the group of Chilean and foreign scientists to the other side of San Ambrosio to follow up on biological data on the most exposed and difficult side of this island. Manu and Eduardo, the underwater photographers, are underwater for a while taking photos with great skill and patience. Each of these actions is prepared, begins and ends with a fluid choreography from the ARGO, the best diving and research platform that we could imagine.
Every day I see the extraordinary display of knowledge, talent, and technology operating simultaneously and I wonder, "How much is this expedition worth for Chile ?" I leave the question open as we begin to descend.
We descend immediately to 300 meters. We are looking for a rock wall, where in the caves and holes a large part of marine life exist, searching for food and protection from predators. While Avi, who is the new pilot of the DeepSee submarine, tells stories as if we were in his living room, we sense from one side a presence that, with the prevailing darkness at that depth, is only a shadow. "Something's coming closer…" he says to us. Little by little, the figure starts toilluminate from our lights, but we can't tell what it is. As soon as we heard him say "This is incredible!" we knew that this sight was exceptional. A type of jellyfish with hard parts, like pins, that could turn and swim in all directions, hypnotized us. None of us had seen anything like it. For half an hour we recorded it swimming, thanks to the dance that Avi was able to do with the submarine to follow this beautiful animal and see it from all angles.
© Avi Klapfer | National Geographic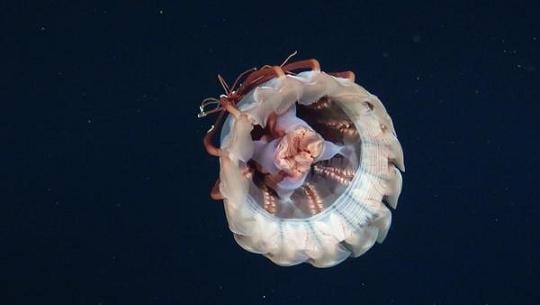 © Avi Klapfer | National Geographic
Yesterday, while snorkeling, I enjoyed watching vidriolas and jacks so large they almost didn't seem real. Everything in this untouched place seems to grow to enormous sizes. A cavern seemed purposely adorned with orange corals and yellow sponges. What a privilege to be able to experience what exists in an unexplored and intact corner of the sea, and, even more, in my own country! Who could have known that this beauty existed?
When we started the expedition we had very little information and truly no underwater photos to refer to. We used a writing from Captain Vidal Gormaz from 1875 to learn what San Ambrosio was like, what species he saw with the naked eye, and how he climbed the mountaintop that covers the island. In these last days we already have detailed data on 19 dive sites, hundreds of hours of video, and thousands of photos that depict everything from the tidepools to ocean depths of more than 2300 meters, all unedited.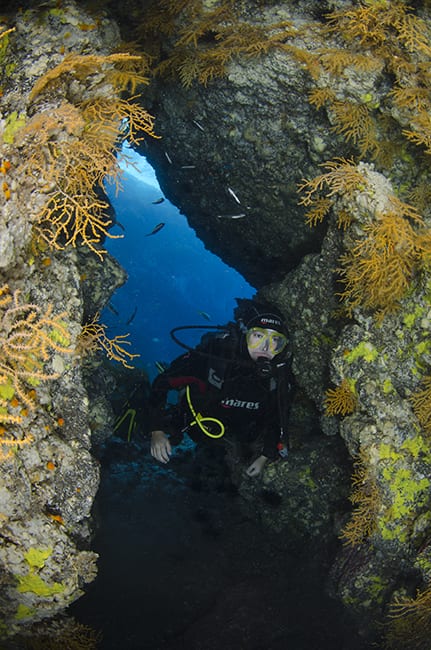 © OCEANA | Eduardo Sorensen
In a country like Chile where it is so difficult to perform science, this expedition is priceless. Despite how much we have advanced lately, we know so little about our oceans! How much did we know about the Desventuradas Islands? Probably little to nothing, as the islands did not affect our daily lives, but now, thanks to this expedition, we realize that we have a natural treasure that we must protect.
The ocean creature that came for a moment out of the darkness for us to contemplate reminds us how essential it is to be here to properly understand its existence. Now, everyone from marine science schools to high school students can learn what exists in this remote part of Chile, and the authorities will have sufficient information to decide, we hope, how to protect it.
Special thanks to our partners at Revo Sunglasses for supporting the expedition team.