If you read the blog yesterday, you may recall two things: (1) the 4th Annual Ocean Heroes Contest kicks off on June 6, and (2) nearly 1/3 of Ocean Heroes finalists hail from California. Now while the a significant proportion of finalists in the contest's first three years have been from the same state, our 30 previous finalists cover a wide breadth of conservation issues.
For starters, if you were to ask, 'How are the Ocean Heroes finalists helping the oceans?', then I'd tell you there are – in my opinion – seven unique areas where people can invest their time: Political Activism, Habitat Conservation, Education, Pollution Reduction, Animal Rehabilitation, Research, and Promoting Sustainability. As you can see in the chart below, most finalists are politically active –from three girls scouts in Hawaii who rallied the state legislature to make World Oceans Day an official holiday to a physics and math professor in California who pushed Italian officials to end drilling in her native region of Abruzzo, which sits east of Rome on the Adriatic Sea.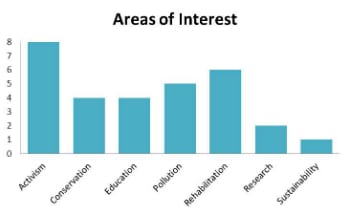 Now that you see there are many different ways to put your energy into ocean conservation, you may ask, "Where is all that energy being focused?'. Amazingly, there's no end to the different areas of focus where our Ocean Heroes commit their time and energy – SCUBA lessons for underprivileged kids (Education), developing a mooring buoy system to protect coral reefs (Conservation), saving stranded marine mammals (Rehabilitation), and the list goes on and on. As you can see in the pie chart below, marine mammals and sharks are the most popular focal points for our Ocean Heroes Finalists, but even an intense interest in sea slugs (Bonnie Lei, '10) can earn someone a bid as an Ocean Heroes Finalist.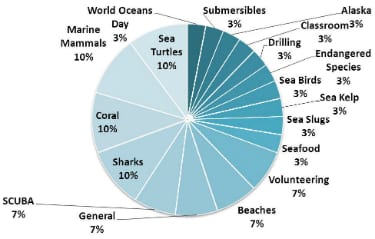 So, whether you want to nominate yourself or someone else for conservation, education or activism, know that there's no one sure-fire area of focus that makes someone an Ocean Hero Finalist – it's about dedication and having an impact.