Endangered North Atlantic right whales must navigate through crowded fishing areas filled with ropes and busy commercial shipping lanes as they migrate along the Atlantic Coast every year. This minefield of activity poses a challenge for government officials who need to protect and recover these whales while managing the fishing and shipping industries.
This week, Massachusetts announced* that it will extend seasonal restrictions on fishing and boat traffic through May 7th to protect a group of North Atlantic right whales, including two mother/calf pairs, that were recently observed by an aerial survey. These regulations, which usually end April 30, prohibit fishing gear that can entangle large whales like the North Atlantic right whale and set mandatory speed restrictions for vessels to reduce risk of collisions with whales that come into Cape Cod Bay to feed.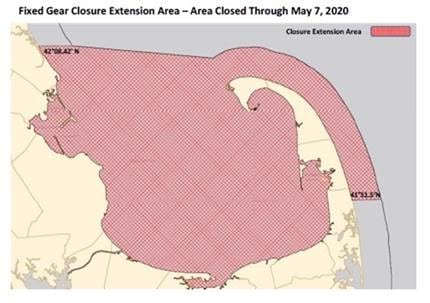 Image credit: Commonwealth of Massachusetts Division of Marine Fisheries
The obstacle course that these whales endure, from vertical lines from fishing gear–which can entangle a whale–to speeding cargo ships, are taking a toll on them. A recent study examined the physical condition of North Atlantic right whales compared to similar species in other parts of the world. The researchers found that North Atlantic right whales have "poor body condition" compared to their counterparts, in part due to the stress that human activities like fishing and shipping put on them. Unfortunately, this can lead to lower survival and calving rates.
Time-area management, such as the area that was just extended in Cape Cod Bay, gives North Atlantic right whales and their calves space to feed without the risk and stress of entanglement and dangerous boat traffic. In recent years, North Atlantic right whales have not followed their past patterns and have stayed in Cape Cod Bay for longer than expected. In response, Massachusetts updated its regulations by providing the authority to adjust the duration of the closures and vessel speed restrictions depending on the presence of North Atlantic right whales in Massachusetts' waters. In the first year of this improved regulation, Massachusetts extended the fishing closure by more than a week to protect the whales until they migrated out of state waters adjacent to Cape Cod. This closure may need to be adjusted again this year depending on when the whales move out of Cape Cod Bay. Regardless, we encourage Massachusetts to continue to make decisions based on the presence of whales.
In contrast, in the waters beyond 3 miles from shore, the federal National Marine Fisheries Service does not have the same discretion to extend mandatory closures or speed restrictions based on presence of North Atlantic right whales. Instead, current management of federal waters relies on fixed management areas that are based on historical information and can be less effective when whales change their migration patterns. This can leave the whales vulnerable if the closure expires too early or close areas to fishing unnecessarily when no whales are feeding.
This summer the National Marine Fisheries Service is expected to publish proposed revisions to fishing regulations. With entanglement in fishing gear and ship strikes being the biggest current threats to the approximately 400 remaining North Atlantic right whales, reducing risk when the whales are present is one of the most effective tools we have. The U.S. government should follow Massachusetts and build flexibility and reactive time-area management into the regulations for all fisheries that interact with North Atlantic right whales.
For more information on how to save North Atlantic right whales from extinction, visit Oceana's campaign page.
*Update: Effective May 1, 2020, this seasonal fixed gear closure was reopened after an aerial survey confirmed that the previously observed North Atlantic right whales left Cape Cod Bay and adjacent state waters. This is an example of effective dynamic management operating as it is intended with real-time adjustments based on the whales' location and movement in and out of state waters. After a temporary closure, fishing activity can pick up where it left off now that this endangered species has moved out of the area.