December 24, 2014
Merry Christmas and Happy Holidays, Ocean Lovers!
All of us at Oceana would like to wish our readers, ocean activists and Wavemakers a Merry Christmas and happy holiday season! While we take time to slow down and reflect over the holidays, we want to express our gratitude for our ocean activists' dedication and passion. We could not create positive change for our oceans without your help!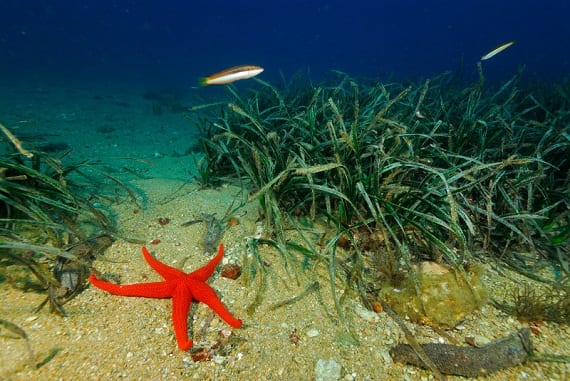 Red star (Echinaster sepositus) and cotton spinner (Holothuria tubulosa) on sand in a seagrass bed, pictured off Punta Elena, Almería, Spain during the 2007 Catamaran Oceana Ranger Mediterranean Expedition. (Photo: Oceana / Juan Carlos Calvin)
If you're looking for some ocean reading over the holiday season, take a look below for a few blogs on recent ocean victories and news related to our campaigns. We'll pick back up with more exciting content on the blog after the holidays!
Presidential Task Force Releases Bold Recommendations for Tackling Seafood Fraud and Illegal Fishing
Earlier this month, President Obama's Task Force on Combating Illegal, Unreported, and Unregulated (IUU) Fishing and Seafood Fraud released its first set of recommendations. The move was hailed as a significant and bold step towards tackling a global issue that has implications for human health, our wallets and the oceans.
Western Atlantic Bluefin Tuna Gain New Protections
Atlantic bluefin tuna are in trouble: This coveted species has declined by more than 80 percent over the past few decades from fishing activity. Fortunately, the National Marine Fisheries Service (NMFS) took a step forward for Western Atlantic bluefin tuna and finalized new regulations that close parts of the Gulf of Mexico and North Carolina waters from longline fishing activity during the breeding season.
Bycatch on the Menu at This Foodie Hotspot in New Orleans
Bycatch—the incidental capture of non-target fish and other marine wildlife from fishing activity—takes a tremendous toll on ocean ecosystems. In fact, Oceana's Wasted Catch report found that a staggering nearly 2 billion pounds of fish are wasted each year as bycatch, and another report found that fishermen could lose up to $1 billion annually in bycatch. So, one New Orleans restaurant, Carmo, is working to raise awareness for this issue and bring it to the forefront of the consumer mindset by serving bycatch on the menu.