July 29, 2014
No-Take Zones in Belize Could Rebuild Conch, Lobster, and Grouper Populations
The islands of Belize are surrounded by vibrant blue waters, beautiful and unusual marine creatures, and the largest barrier reef system in the Western Hemisphere. But even in Belize—one of the least densely populated Caribbean countries—these marine animals and ecosystems are not exempt from exploitative human activities like overfishing. A new report, however, from the Wildlife Conservation Society (WCS) suggests a solution for Belize's marine life—and particularly coral reefs—to recover: expand no-take zones.
The report, published earlier this month, shows how no-take zones in Belize can help both economically valuable species like lobster, conch, and grouper recover, and nearby reef areas recolonize. To compile the report, a leading expert on marine protected areas (MPAs) looked at no-take zones of varying sizes, locations, and regulations from around the world and examined their success based on those factors.
"Belize has been a leader in the region for establishing marine protected areas and has a world-renowned system of marine reserves, many of which form the Belize Barrier Reef Reserve System World Heritage Site," Director of the Wildlife Conservation Society's Belize Program Janet Gibson said in a press release. "It's clear that no-take zones can help replenish the country's fisheries and biodiversity, along with the added benefits to tourism and even resilience to climate change."
No-take zones are a specific type of marine protected area where no "extractive activity," such as fishing, drilling, and even shell collecting, is allowed. These types of MPAs are extremely rare since most countries fisheries rely on the removal of some form of marine life. As overfishing and habitat degradation continues around the world, conservation groups like the WCS are pushing for more ecosystem-based solutions, like no-take zones. In Belize, the WCS found that no-takes can turn the tides on three of the most important fish species for the country: the queen conch, Caribbean spiny lobster, and the Nassau grouper.
The queen conch is one of the most important fishery species for both Belize and the greater Caribbean region. Coveted for its protein-rich meat and colorful shell, the queen conch is threatened by overfishing. Even though conch densities over the past six years have increased, the majority of the population has shell sizes below the legal size limit, according to the report. The report claims that the recent improvements in conch populations are a result of improved management through MPAs, which the WCS hopes to expand.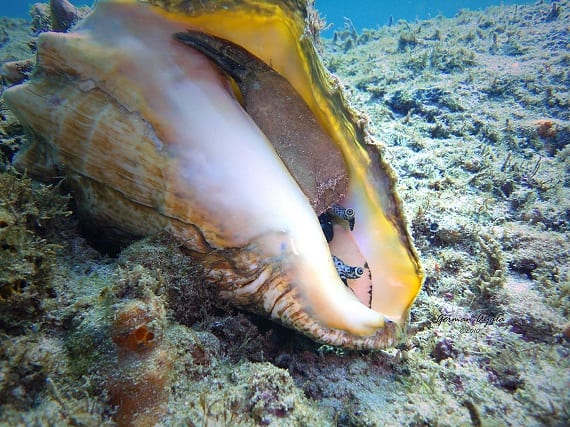 Queen conch (Strombus gigas). (Photo: Flickr Creative Commons / Intova)
The spiny lobster is another species that is both economically beneficial to the Belizean economy, and extremely threatened. Like the queen conch, the spiny lobster is also overfished for its meat. Spiny lobster landings have been stabilized since the 1980s, but the species is still not as abundant as it was 30 to 50 years ago, according to the report. WCS found that spiny lobster populations are abundant in already existing no-take zones, so they call for even more of these MPAs to be established in Belize.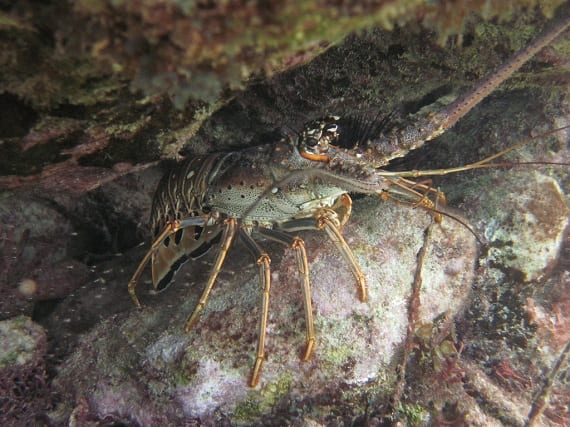 Spiny lobster (Palinuridae). (Photo: Flickr Creative Commons / Drjulesm)
The report found that Nassau grouper populations have also increased in areas with no-take zones, but the groupers' recovery in these specific areas comes after more than 25 years of the population drastically declining due to overfishing. A recent study indicates that spearfishing has contributed to their decline, too.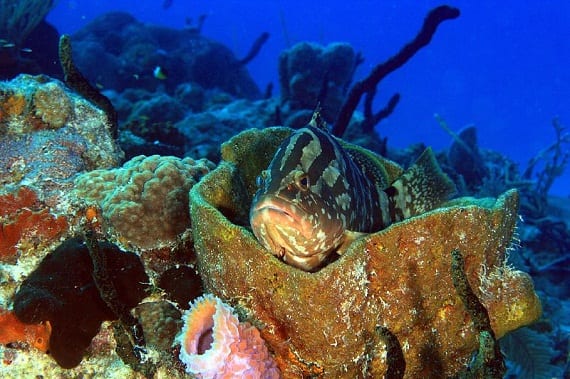 Nassau grouper (Epinephelus striatus). (Photo: Kevin Bryant / Flickr Creative Commons)
In their report, the WCS calls for the Belizean government to expand no-takes by 10 percent by 2015. The organization also recommends that Belize calls no-take zones "replenishment zones," as the former connotes something being taken away from fishers, and this more properly describes the purpose of no-take zones. Additionally, the WCS asserts that high-risk activities like water skiing and jet skiing should be restricted or completely banned in these areas, and that other activities like snorkeling and diving be monitored. The WCS emphasizes that while these "replenishment zones" will be a major step forward in protecting marine species, these MPAs should be one part of a multidimensional approach towards conserving Belizean waters.
Oceana's office in Belize works to protect Belizean waters from offshore drilling, overfishing, and trawling. You can learn more here.