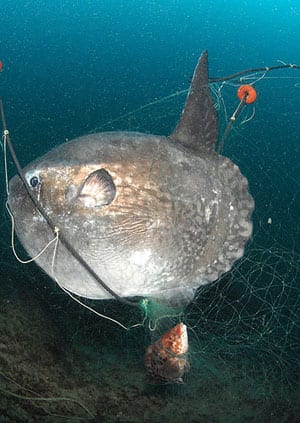 Early in the morning, we departed from Zumaia and headed towards Guetaria. Once there, we carried out one of the most spectacular dives you can have in the Cantabrian. This is a coastal area where ocean sunfish appear during the summer months.
After Ignacio San Miguel from the K-sub diving centre showed us the exact location, we descended to a sandy seabed at 22 meters with large rock formations that rise to 15 meters. This area is a place where ocean sunfish come to be cleaned by other fish — seabreams, black seabreams — and by gulls on the water's surface.
Apart from enjoying this cleaning session, we documented the presence of a large school of mackerel, grey triggerfishand invertebrates including the gorgonian (Leptogorgia lusitanica) and the polychaete (Sabella spallanzani).
But the surprise came at the end of the dive, when we found a gillnet in which various species of fish, including an ocean sunfish, were caught.