On April 1st Oceana kicked off spring in high gear at the 2012 Nautica South Beach Triathlon. We set out for the warm waters of Miami to fundraise for the oceans, engage hundreds of new ocean advocates and connect with existing Wavemakers in one of our favorite ocean places. Thanks to Nautica, our passionate volunteers and dedicated athletes, we did just that – and then some!
In the end, our athletes like Summer Osterman (Burgess Yachts), Deborah London, Bruce Sutherland and Laura Taglione, raised nearly $4000 for ocean conservation and our volunteers helped turn hundreds of curious attendees into Oceana Wavemakers by rallying their support around a new petition to help protect dolphins and other sea creatures in American waters.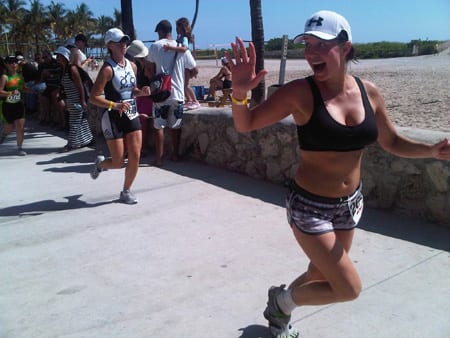 In total, Oceana raised over $30,000 at the event thanks to athlete fundraising and contributions from Nautica that included proceeds from all the commemorative merchandise sales at their beachside pop-up tent throughout the weekend. 100 percent of all Nautica sales during race weekend went to Oceana's mission to help protect the oceans! Not only that, but they supplied us with tent space, race entries and uniforms for our athletes – helping keep us outfitted and visible throughout the entire weekend.
And despite a sudden downpour that left most of the expo waterlogged for much of the weekend, we had great weather – especially on race day. Clear skis and water temps in the high 70s made for perfect racing conditions for Team Oceana and the 3,000 other folks that turned out to test their mettle through swimming, biking and running.
A special thanks goes out to our volunteers who helped rally new Oceana supporters and to the Nautica team for raising an impressive amount of money to help fuel our mission to protect the world's oceans. Next up, Nautica Malibu Triathlon! We can't wait.