Each November marks Manatee Awareness Month, a time to raise awareness and educate others on these gentle giants. This celebratory month falls right around the start of manatee's winter season—November 15—when manatees start to move into warmer waters as temperatures drop below 68° Fahrenheit, according to Defenders of Wildlife. This can put manatees in danger as they congregate in coastal waters and come in contact with humans and other threats—meaning that Manatee Awareness month falls at the perfect time to remind the public about respecting these marine mammals.
Manatee populations have declined over the last century because of hunting pressure, as well as boat strikes in shallow waters and entanglement in fishing gear, according to National Geographic. The latirostris subspecies of manatee, found around Florida to Brazil, is listed as endangered under both the Endangered Species Act and the IUCN Red List of Threatened Species. Florida manatees are also protected under the Marine Mammal Protection Act and the Florida Manatee Sanctuary Act.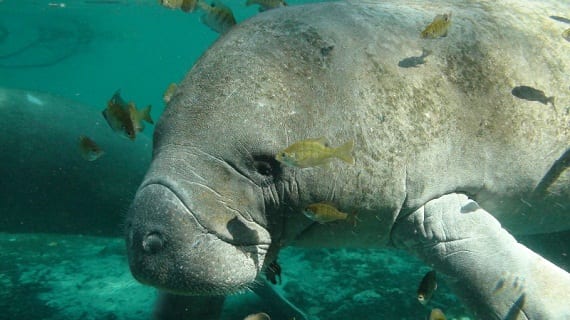 A manatee in at Three Sisters Springs in the Crystal River National Wildlife Refuge while shading over a school of mangrove snappers. The Crystal River National Wildlife Refuge was established in 1983 to protect manatees. (Photo: USFWS Endangered Species / Flickr Creative Commons)
Manatees, sometimes called sea cows for their large sizes, have grey-brown leathery skin and are aquatic relatives of elephants. Despite their large sizes, they use their powerful, flat tails to gracefully propel them through rivers and coastal waters at speeds of about five miles per hour, but can reach 15 miles per hour in short bursts. Manatees are herbivores, feasting on water grasses, kelp, and algae, so they play critical roles in helping to maintain vegetation in rivers, canals, and other waterways. They can grow about 10 to 12 feet long and weigh over a staggering 1,500 pounds!
In honor of Manatee Awareness Month, take a look at some tips to keep this endangered species safe, and check out some adorable photos of manatees below:
Do not enter designated manatee zones;
Observe manatees from a safe distance, and do not touch, feed, or ride them—doing so can spook them and cause them to head out to colder waters, where they can enter shock and die;
When possible, use snorkel gear instead of scuba diving gear, as the noise from diving gear can scare manatees;
Avoid disturbing manatees and their calves, as well as mating herds;
Like other wildlife, do not feed manatees!
Boaters should avoid traveling over seagrass beds or shallow areas where manatees may be resting or feeding, and should reduce their speed in manatee zones;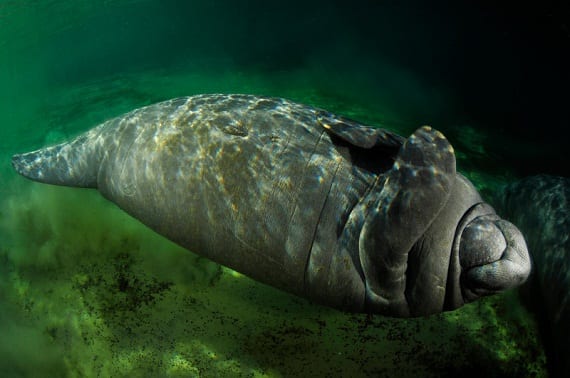 A manatee (Trichechus manatus latirostris) in the Crystal River, Florida, USA. (Photo: Oceana / Carlos Minguell)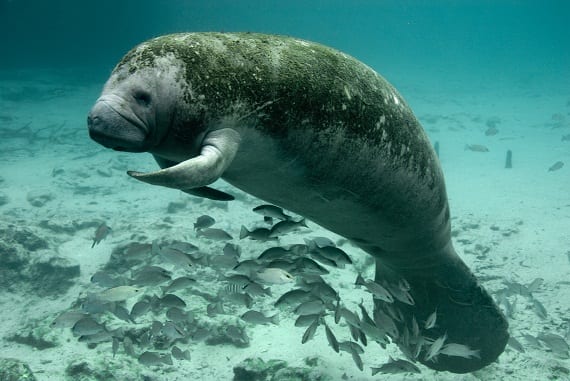 A manatee in at Three Sisters Springs in the Crystal River National Wildlife Refuge while shading over a school of mangrove snappers. The Crystal River National Wildlife Refuge was established in 1983 to protect manatees. (Photo: USFWS Endangered Species / Flickr Creative Commons)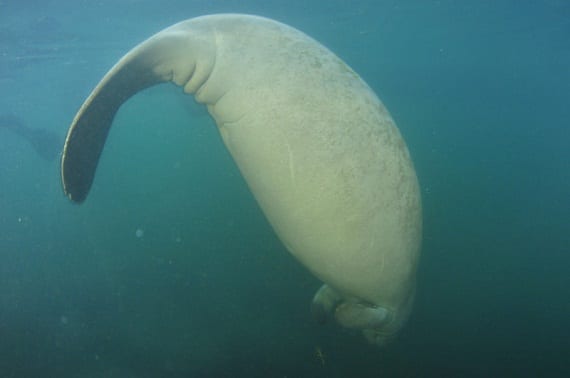 A manatee (Trichechus manatus latirostris) in the Crystal River, Florida, USA. (Photo: Oceana / Carlos Minguell)
A manatee zone signal in Miami, Florida, USA. (Photo: Oceana / ZOEA)