June 3, 2014
Photos: Reid Scott Speaks Up Against Seismic Airgun Use
Oceana's Lobby Day with Actor Reid Scott (HBO's "Veep") in Washington, DC, May 29, 2014. Scott meets with Congress members and speaks at a Congressional briefing about the threat of proposed seismic airgun testing off the Atlantic coast. (Photo ©OCEANA)
"VEEP" actor Reid Scott joined Oceana last Thursday in the fight against seismic airgun blasting, urging Congress and the Obama administration to oppose this controversial technology. He spoke on an expert panel at a congressional briefing on Capitol Hill to discuss the risks associated with seismic airgun use, including the threats to fisheries, local economies, and marine mammals like the critically endangered North Atlantic right whale.
"Our government plans to turn the Atlantic Ocean into a blast zone," said Scott at the briefing. "I'm here to say that the risk is simply too great. We can find better ways to satisfy our growing hunger for energy. We don't need to threaten our fisheries, our local economies, or our marine mammals and we sure as hell don't need to expand dirty and dangerous offshore drilling."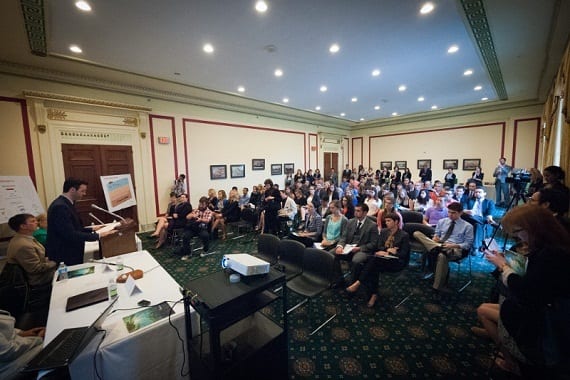 Actor Reid Scott speaks about seismic blasting at a Congressional hearing in Washington, D.C. on May 29, 2014.
Jacqueline Savitz of Oceana, Commissioner Emilie Swearingen from the Town of Kure Beach, and Dr. Douglas Nowacek of Duke University Marine Laboratory joined Scott on Thursday, recommending officials consider the science and opposition that's mounted towards seismic airguns. Recently, fourteen coastal towns have passed local resolutions opposing or voicing concern with the use of seismic airguns along the East Coast, and an additional 78 local elected officials, 160 conservation and animal welfare organizations as well as The Billfish Foundation and The International Game Fish Association have expressed concern.
Seismic airguns create one of the loudest manmade sounds in the ocean, each 100,000 times more intense than standing near a jet engine. According to the Department of the Interior's (DOI) own estimates, these dynamite-like blasts could injure and possibly kill up to 138,200 marine mammals – including the critically endangered North Atlantic right whale – while disrupting the necessary activities of millions more.
Oceana has delivered more than 100,000 petitions opposing seismic airguns to the director of the Bureau of Ocean Energy Management, and is actively working to raise awareness about the technology.
Click here to learn more about Oceana's efforts to protect the Atlantic from seismic blasting, and you can check out live-tweets from the event by clicking here. More photos from the hearing are included below.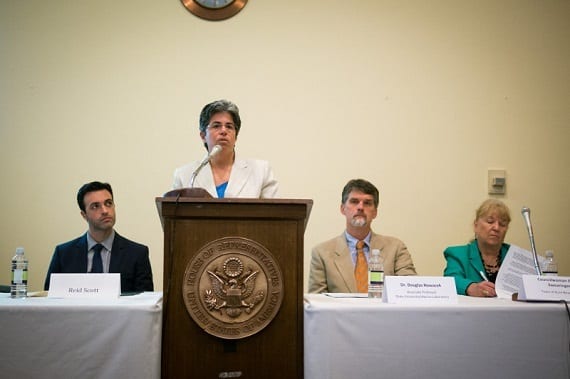 Oceana's Vice President for U.S. Oceans Jacqueline Savitz speaks at a Congressional briefing about the threat of proposed seismic airgun testing off the Atlantic coast in Washington, D.C. on May 29, 2014. (Photo: Oceana)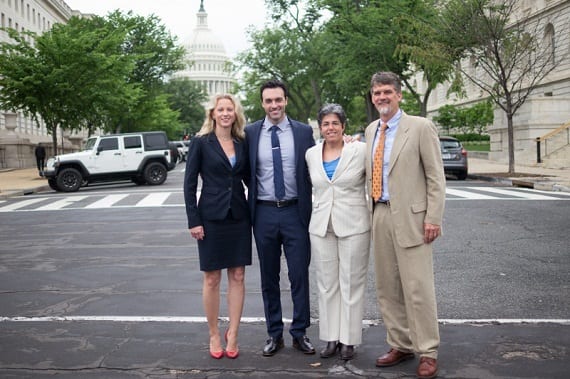 Oceana staff, actor Reid Scott, and Duke University professor Douglas Nowacek. (Photo: Oceana)