July 1, 2014
Photos: Tips for Protecting Coastal Wildlife This Fourth of July Weekend
Who doesn't love hitting the beach for the Fourth of July? Whether you're camping on your own remote barrier island or visiting a populated beach, the Fourth is a great time to enjoy the beach.
This time of year also marks the peak of the nesting season for many marine animals along our beaches from shorebirds to sea turtles, so you're bound to encounter wildlife this weekend. During this life history stage, they are particularly vulnerable to human presence, so this Fourth of July, it's important to share the beach with wildlife and respect their nesting and foraging habitat.
Here are some tips for protecting yourself and wildlife while enjoying the sun and surf this weekend:
1. Keep the beach free of trash and fishing gear. The presence of plastic and debris throughout our oceans has reached an alarming level—just recently, a new plastic rock was discovered on Hawaii's beaches, and U.N. officials estimate that ocean plastics are causing $13 billion in damage each year. On a local scale, trash can adversely affect marine wildlife: Sea turtles can confuse plastic bags for jellyfish—one of their main prey sources—causing them to choke or starve. Even fish can ingest small pieces of plastic, which then makes its way into the food web, putting even humans at risk. Sea turtles, shorebirds, and other marine life can also become entangled in fishing line or choke on fishing hooks, so it's important to properly dispose of both. Many beaches have special depositories for monofilament where it can be recycled.
A plastic bag that resembles a jellyfish floating off the Balearic Islands, Spain. (Photo: Oceana / Carlos Minguell)
2. Remove all of your gear from the beach each evening. Though lugging chairs, umbrellas, and other equipment to the beach each day can get annoying, nesting sea turtles that crawl on shore must have a clear path to nesting spots. Earlier this month, a loggerhead sea turtle became caught under a beach chair on a Florida beach and returned to sea without nesting.
3. If you see a stranded or injured animal, keep your distance. Stranded animals are either sick or injured and need special, professional care. Animals can carry diseases or exhibit unpredictable behavior, so it's important to leave the animal alone and notify a lifeguard, call a stranding hotline (such as your local aquarium or animal rehabilitation center), or call 911. Officials also know what the best protocols are for safely handling the animal and applying proper care.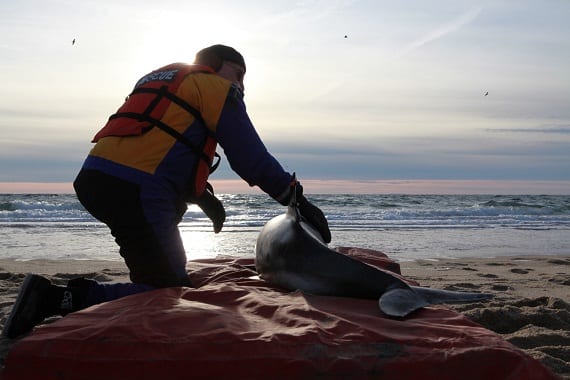 A volunteer with a stranded dolphin. (Photo: International Fund for Animal Welfare Animal Rescue Blog / Flickr Creative Commons)
4. Likewise, do not touch, feed, or harass animals. Because animals act unpredictably when they feel harassed or threatened, it's important to keep a safe distance from all animals—whether that be alligators, sea turtles, or marine mammals—and respect their habitat. Similarly, feeding animals can make them too comfortable around humans, sometimes causing them to become accustomed to human feeding. This can lead to aggressiveness over time that poses a risk to the public, and can have other negative consequences such as malnutrition.
(Photo: mwms1916 / Flickr Creative Commons)
5. Watch your step—there may be a bird's nest in the sand! Shorebirds nest along U.S. beaches in the summer, and they typically lay their nests in scrapes—small depressions in the sand where their eggs incubate. From least terns to black skimmers and American oystercatchers, many shorebird species' eggs camouflage well in sand—making them easy to mistake for a shell and step on them. When you're going for a walk at the beach, glance at the sand to make sure you're not stepping on a nest, and be particularly cautious of nests if you're driving, biking, or riding an ATV on the beach.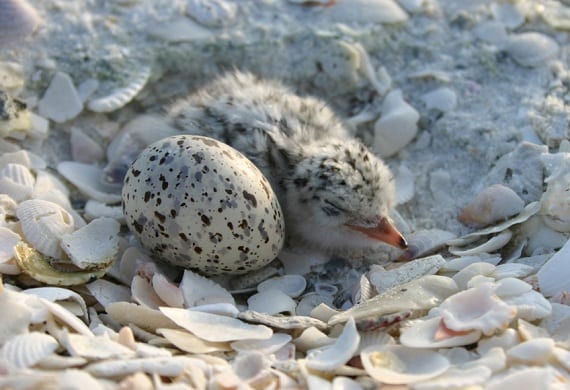 A least tern nest and chick in southwest Fla. (Photo: Lindsay / Flickr Creative Commons)
6. Fill in your beach holes at the end of the day. It might sound silly, but covering up these holes with sand can help sea turtles. When nesting females or hatchings crawl around the beach, they can get stuck in these holes and become injured, be exposed to predators, or die.
7. Minimize beach lighting. The moon's natural lighting guides sea turtle hatchlings and nesting females, so walking on the beach at night with flashlights or leaving beach house lighting on can disorient turtles. To reduce disturbance, you can turn off exterior lighting, keep blinds shut, and place red cellophane on flashlights when walking on the beach at night.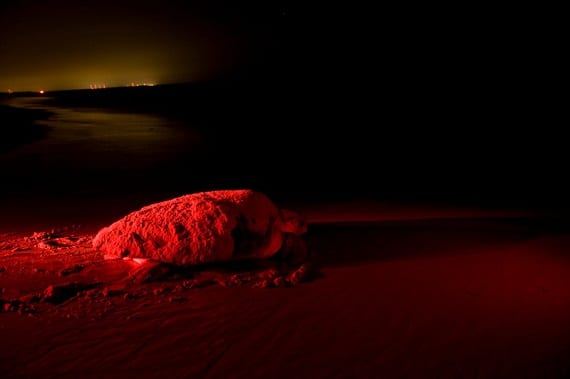 A sea turtle nesting on Bald Head Island, N.C. where researchers place red cellophane on their flashlights to protect turtles. (Photo: Oceana / Jeff Janowski)
8. Get a permit from your local municipality before making a bonfire. Local government officials or fire marshals are most familiar with what areas of the beach are home to nesting sea turtles and birds, so they can point you to areas where it's safe to build a bonfire. Also, if you will be setting off fireworks this Fourth of July, be mindful of wildlife in the area—in some instances, fireworks may cause birds to abandon their nests.
9. Stay alert when boating. Boat and propeller strikes can seriously injure or kill sea turtles, whales, manatees, and dolphins. To avoid these incidents, slow down when you spot wildlife, stay in the designated channel, and minimize boating in estuaries, mangroves, and inlets when possible.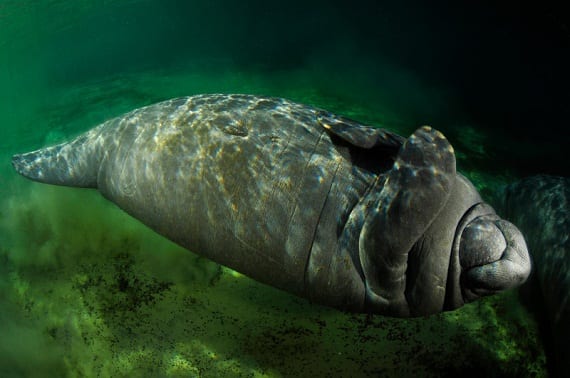 A manatee in the Crystal River, Fla. (Photo: Oceana / Carlos Minguell)
10. Spread the word! Many people are not aware of some of these beach safety protocols, especially if they don't live in coastal environments. You can help wildlife by informing others about these safety tips to ensure everyone has a pleasant Fourth of July weekend.