Seafloor habitats in the deep ocean can be incredibly diverse environments covered with living architecture including corals and sponges. Like other three-dimensional structures, corals and sponges are essential for protecting marine species from predators and rough currents, as well as providing safe areas for breeding, nursing, spawning, feeding, and resting. These beautiful, intricately formed environments are also important for many aspects of a productive fishery, as they provide habitats that support commercially and recreationally important marine life. They are so important, in fact, that Oceana has advocated for many of these areas as Essential Fish Habitat (EFH) Conservation Areas off the U.S. West Coast, a term delineating protections to these environments from harmful commercial fishing practices such as bottom trawling.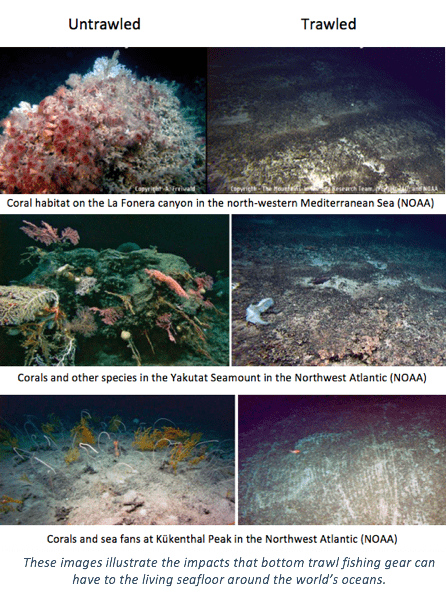 Bottom trawling is a widespread fishing practice that entails trailing a large, heavy net along the seafloor in an effort to catch groundfish such as rockfish and Pacific cod. This destructive gear inflicts significant damage to both the seafloor and the health of marine species that live there. Bottom trawling causes seafloor sediment displacement and removal, which drastically reduces the complexity of the deep seafloor and affects ecosystem functioning. When bottom trawls drag along the ocean floor, they disturb the existing habitats by tearing off geological and biological structures that frame the habitat, they displace boulders, and they harm bottom-dwelling organisms—like rockfishes, sea stars, and clams— by crushing them and exposing them to predators. Since corals and sponges grow at rates of a few millimeters a year, recovering from this type of damage would take decades or centuries, if they recover at all. Bottom trawling on corals is like clear cutting a redwood forest – it might eventually recover, but not in our lifetime.
Fortunately, Oceana is working to protect these at-risk, sensitive seafloor habitats from the detrimental effects of bottom trawling. The Oceana Approach prevents the expansion of bottom trawling into areas that have not previously been trawled, and further protects important areas within the bottom trawling footprint, like canyons, seamounts, coral gardens, and rocky reefs. In 2005, Oceana and its partners successfully convinced state and federal fishery managers to protect over 135,000 square miles of essential coral, sponge, and rocky reef habitats from bottom trawling off the U.S. West Coast. We have also urged for widespread use of fishing practices such as vessel monitoring systems, gear-tracking tools, video recordings, and landing reviews to help document spatial and temporal patterns of habitat damage.
By analyzing more information on habitat damage as well as new discoveries of corals and sponges, Oceana's conservation proposal will defend the living seafloor protections secured a decade ago, as well as protect new places, including those that we will explore this August during a scientific ocean expedition off California. Much of the seafloor off the U.S. West Coast is still unexplored and undocumented. With a high potential for discovery of new species (such as the recent discoveries off California of killer sponges, blue rockfish, and gorgonian octocoral) and areas of great importance, it is critical to take a precautionary approach by protecting these areas while they are still pristine.
What can you do?
The Pacific Fishery Management Council—a federal fishery management body—is currently deciding whether to increase protections for new species and Essential Fish Habitat Conservation Areas or to reduce the number and expanse of protected areas. To help protect vulnerable environments from bottom trawl damage, you can tell the Pacific Fishery Management Council that you support protecting living seafloor habitats and support Oceana's conservation proposal by signing online here.