June 3, 2015
South Atlantic Fishery Management Council Joins Growing Opposition to Offshore Oil Exploration in the Atlantic
Since the Obama Administration announced its proposal to open the Atlantic Coast to offshore oil exploration and development, more than 500 national, state and local elected officials have taken public stances against the move, including over 60 coastal towns, cities and counties. Business-minded organizations have also voiced their opposition, from tourism boards to chambers of commerce, and the list of concerned stakeholders continues to grow. In an important development, the South Atlantic Fishery Management Council (SAFMC) expressed its opposition to seismic airgun blasting — the first step toward offshore drilling along the Atlantic Coast — in a recent letter to the Bureau of Ocean Energy Management.
Earlier this year, 75 leading scientists described the adverse effects seismic blasting could have on a broad range of marine life — from tiny fish eggs to the large, endangered North Atlantic right whale. In a letter, the scientists urged President Obama to reject the use of seismic blasting along the U.S. Atlantic coast. Before rigs can be placed in the water, oil and gas companies must identify potential drilling sites. Ships search the ocean floor for oil and gas deposits, towing airguns that emit loud bursts of compressed air. These powerful blasts shoot through the water up to every 10 seconds, 24 hours a day, for days to weeks on end. The endless barrage of extreme noise can harm marine life — disrupting feeding, mating and migratory patterns. This disturbance could damage ocean ecosystems, leading to anxiety among the communities and industries that depend on a healthy ocean for their livelihoods.
The SAFMC manages fish stocks and habitats for both recreational and commercial fishermen in federal waters from North Carolina to the Florida Keys. In its letter, the Council stated that seismic airgun blasting would directly affect the region's marine environment and the fisheries that depend on it. The Council also cited concern about the impact on habitats essential to a number of snapper and grouper species, which would be at particular risk, especially if multiple companies simultaneously blast in the same areas. The SAFMC statement follows a similar letter, filed in 2014 by the Mid-Atlantic Fishery Management Council, expressing concern about the effects of seismic blasting in the Mid-Atlantic. The Councils add their voices to a growing consensus: Airgun testing could threaten recreational and commercial fisheries, potentially leading to multi-million dollar economic losses in coastal towns and communities.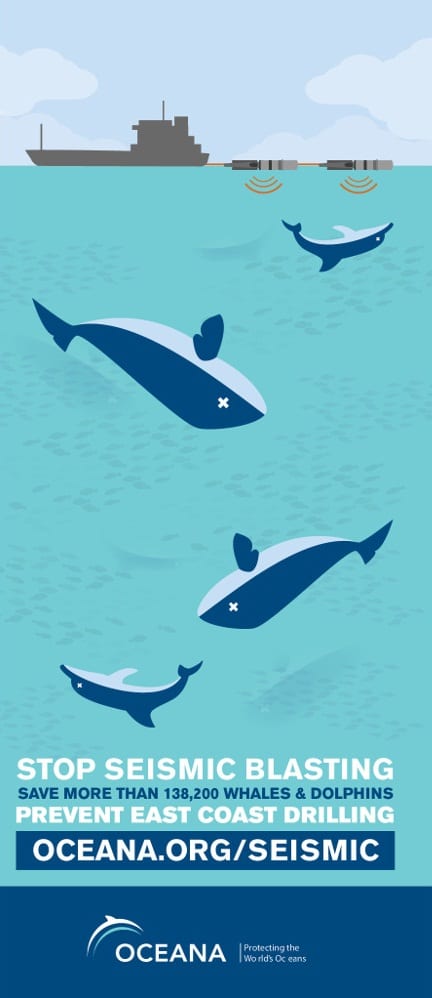 Statements like these are important, and have directly influenced policy actions geared toward preventing offshore oil exploration and development. In May, in a move to protect the state's tourist economy, Senator Bill Nelson of Florida proposed a bill to ban seismic testing off the East coast of Florida, citing a letter opposing offshore drilling from the Florida State Department of Environmental Protection. U.S. Rep. Mark Sanford, R-S.C., recently revised his position on offshore exploration after hearing public feedback on the issue. Ocean lovers, fishermen and tourism businesses all have a stake in the health of our oceans, and expressing these diversified interests is compelling lawmakers to act and protect their communities.
We can protect the Atlantic from the damaging effects of offshore oil development. Opponents of offshore drilling and testing have sound science on their side, good business sense, and are doing what's right for the ocean — for the people who live and work on its shores, and for the marine life that calls it home. The SAFMC opposition letter is a welcome development. We look forward to seeing more stakeholders coming forward to oppose the effort to open up the Atlantic to drilling, by telling their representatives that the lasting, serious dangers posed by seismic blasting and offshore drilling are not worth the risk.