August 21, 2016
Spectacular efforts this fall to further ocean conservation
This fall, there are two great efforts in the name of ocean conservation, Oceana's 2016 Southern California Expedition, which took place in August, and the WSA-OC's Ocean Awareness Challenge, coming up in September. You'll want to stay up-to-date on these events!
2016 Southern California Living Seafloor Expedition
From August 7-11, Oceana led a five-day research expedition off the coast of Southern California. The crew—including ocean explorer, conservationist and Senior Advisor to Oceana Alexandra Cousteau—explored the living seafloor and documented animals that rely on these deep-sea habitats. The expedition goals were to document unique and diverse marine environments, as well as contribute to scientific discoveries that will help protect these vulnerable seafloor habitats from the effects of bottom trawling before they disappear forever. In partnership with Marine Applied Research & Exploration and the Channel Islands National Marine Sanctuary, the expedition included use of a Remotely-Operated Vehicle (ROV) named Beagle, which was deployed up to 435 meters (1,427 feet) below the ocean surface to film and photograph ecosystem features, including corals, sponges, undersea canyons, mountains and rocky reefs, in specific areas where little or no data exist. Oceana will use this information as part of our work to ensure that federal fishery managers protect hotspots of diversity on the ocean floor from bottom trawling—a fishing practice that damages the seafloor and its inhabitants by dragging large weighted fishing gear across the ocean bottom. Oceana's proposal to managers would prevent the expansion of bottom trawling into areas offshore of Southern California from Santa Barbara to the U.S./Mexico border. New deep-sea species are still being discovered, and some species of corals and sponges can live for hundreds to thousands of years.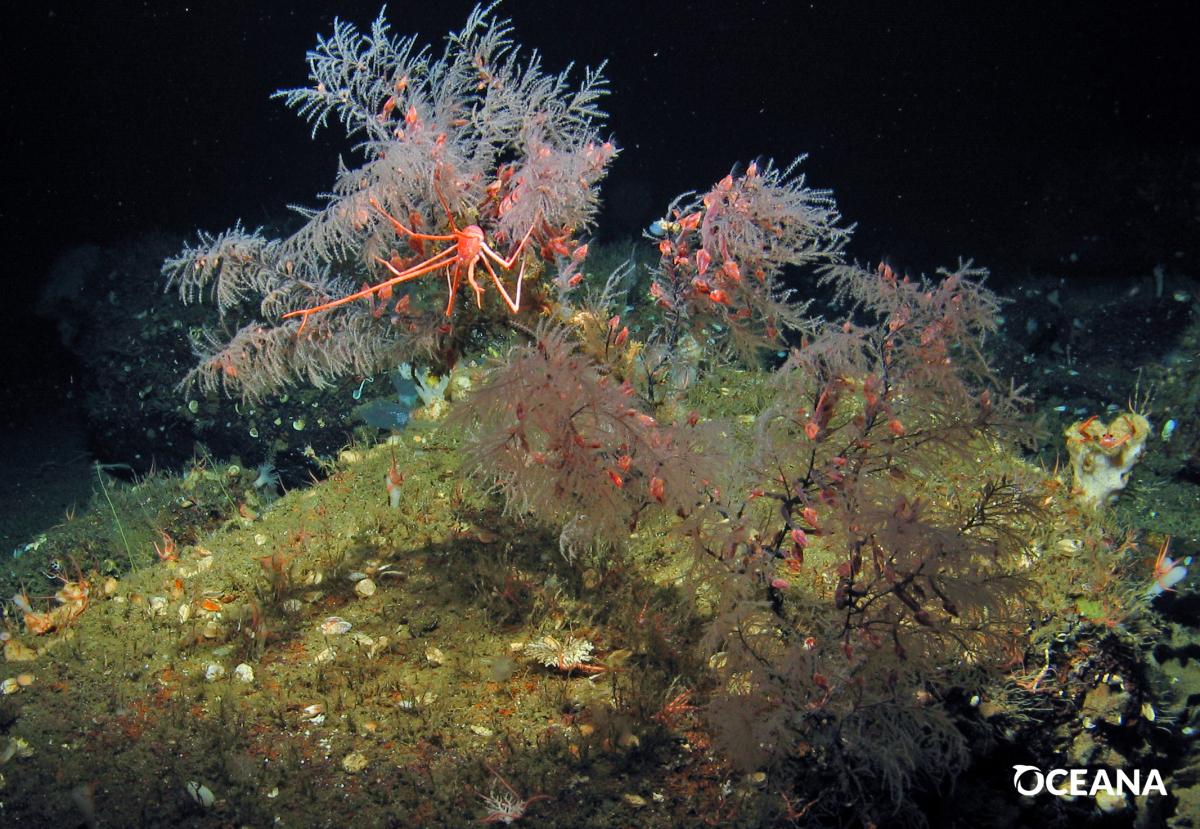 A squat lobster perches on a black coral adorned with pink barnacles at a newly documented coral garden off Santa Barbara Island. Some black coral colonies can live for thousands of years.
Check out more photographs, videos, and initial discoveries about this expedition on Oceana's website, Facebook and Twitter; as well as a front page feature story on the expedition by the San Diego Union Tribune.
Ocean Awareness Challenge
On September 9, the Women's Sailing Association- Orange County (WSA-OC) will be hosting the Ocean Awareness Challenge, a fun three-day event that provides education about our ocean. The Women's Sailing Association is dedicated to enhancing the lives of women through greater access to sailing activities and educational opportunities, and it is committed to protecting the ocean and contributing to its local community through water-related activities. At this event, guests will have the opportunity to explore Emerald Bay at Catalina Island by snorkeling eco-touring, kayaking, hiking and viewing an outdoor showing of the documentary, "Humpback Whales" by MacGillivray Freeman Films. The Women's Sailing Association hopes that attendees will learn about the status of the ocean, build awareness of issues concerning it, and challenge participants to think about how, as a collective, we can all make a difference.
Geoff Shester—Oceana's California Campaign Director and 2016 Southern California Living Seafloor Expedition Leader— will participate in this event and give a multimedia presentation about the expedition and Oceana's efforts in seafloor habitat conservation. He will also share some videos and images of little-explored regions off the coast of Southern California and share opportunities to get involved in their protection.
All the proceeds raised by the Ocean Awareness Challenge will be used to fund scholarships that will teach underserved youth to be world changers in ocean conservation by sending them to Catalina Island's Mountain & Sea Adventure Camp.
You can sign up to attend the Ocean Awareness Challenge here, but hurry because registration ends on August 24!