December 14, 2015
This Spill Was Partially Contained, The Next One May Not Be.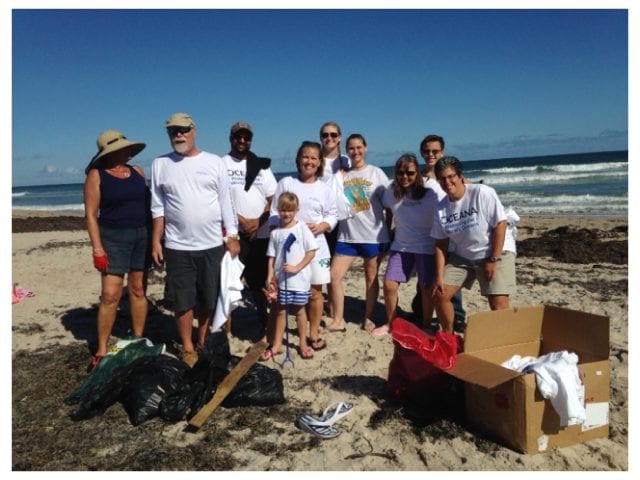 Last week I was hit with a chilling reminder of just how fragile and vulnerable our oceans are. About 25 shipping containers fell off of a ship traveling from Florida to Puerto Rico, sending packages of ramen noodles, containers of cooking oil, and cubes of coffee to shore, where they continue to be washing up on a long stretch of beach for miles, as I write this. Oceana quickly helped organize a cleanup, and soon my friends and neighbors were with me scouring the shore, not on our usual hunt for seashells, but instead filling our bags with litter. Besides being ugly to look at, this trash can be a major problem for endangered sea turtles, fish, and other marine animals.
Everyone knows that I love the beach. I love watching the waves and the gulls, the smell of the sea, and feeling the cool water when I dive in. And it's here that I find respite and peace, and it's also where I am reminded of the importance of our work at Oceana—what a treasure we have, this seemingly boundless source of natural beauty, nutritional sustenance, and economic opportunity.
But what struck me about this container spill was the containers – not the large metal ones that fell from the ship, which are a problem for sure, but the containers that held the cooking oil, detergents, coffee, and yes even the packages for the ramen noodles. Let's face it, there is no way to clean it all up. Some of it is still out there, possibly breaking open and posing risks to marine animals. But what does come up on the beach can be picked up fairly easily. That would not be the case if this was an oil spill.
When accidents happen or tragedy strikes, I applaud those individuals who take some time from their busy lives to lend a hand, and it felt really good to be a part of a group of people doing some good together. But as I looked across that beach I couldn't help but feel a deep unease. Someday, it might not be food packages scattered along the shore. It could be oil.
I imagined the people just like me and my neighbors that stood on their favorite beach on the Gulf of Mexico as the BP Deepwater Horizon Disaster unfolded. I thought about them looking out to the horizon, knowing that millions of gallons of oil were still gushing into the ocean; knowing that more oil was headed to their beach, to their home; and knowing that there was nothing they could do about it. I don't ever want to have that feeling in Florida or anywhere else for that matter. But even now, oil on our beaches is a distinct possibility, as President Obama considers opening the Atlantic to offshore drilling.
As this container spill demonstrates: accidents happen. If we drill in the Atlantic, there will be spills. Oil is much more difficult to get off of a beach than packages of ramen noodles or cans of coffee. I want to know that I will never have to worry about oil on my beach. It's bad enough dealing with the trash.
I hope you'll join me in telling President Obama: Our oceans face enough threats. We don't need to add another. Ninety-three communities have already passed resolutions opposing offshore drilling. You can help us add to that list by working with your town to pass a resolution too.
There are much better ways to enjoy a beach than doing a beach cleanup. Thank you to everyone who is helping to keep our beaches clean every day. Let's make sure President Obama knows how much clean beaches mean to our well-being and our economies, and urge him to say "no" to offshore drilling in the Atlantic.