We are inspired and impressed by the efforts of several young sea turtle conservationists, and I just had to share their stories with you:
When she was just 6 years old on a trip to Bali, Indonesia with her parents, Hannah Bywater visited a sea turtle sanctuary and was inspired to contribute to the cause. Now, at age 10, Hannah has already raised $7,000 for sea turtle preservation. Some of that money has funded the construction of an artificial reef – "Hannah's Reef" – off the coast of Pemuturan, Bali, Indonesia. "This artificial reef will provide food and shelter for the very turtles I've been able to release from the sea turtle sanctuary," Hannah noted.
Hannah has recently expanded her conservation efforts to include the orangutans of Sumatra, Indonesia, and it's unlikely that she'll stop there – "My goal is to help save all the animals that could become extinct," she asserted. There's no doubt that any endangered species would be lucky to have Hannah on their team.
Similarly devoted to the conservation of all endangered species are Carter and Olivia Ries, ages 9 and 7. These young animal advocates are the founders of the non-profit One More Generation (OMG) whose mission is to ensure that endangered species survive for one more generation and beyond.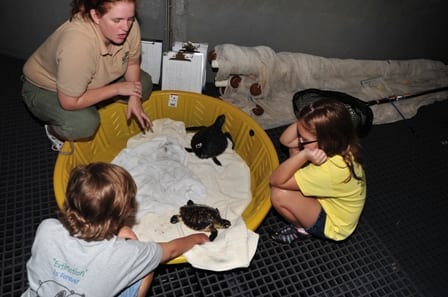 After the BP oil spill, Carter and Olivia sprung into action for sea turtles, collecting supplies to assist in the rehabilitation of oiled animals and taking a family trip down to the Gulf coast to deliver the supplies themselves.
"When we saw the first report on CNN showing the oiled sea turtles and birds, it hurt our hearts and we knew we had to help," Carter explained. "Once we arrived and saw all the sick sea turtles and how the veterinarians and volunteers were working so hard, it was obvious that we didn't just collect soap and rags and other stuff…we actually were saving sea turtles," Olivia added.
Carter and Olivia recently had a meeting with their District Director to ask that their Congressman co-sponsor H.R-14, The Ocean Acidification Act. They're also working hard to get plastic bags banned from stores across their community and their state. Their efforts have been widely commended and have made their parents proud, but Carter and Olivia are not distracted from their mission by all of the attention. "We are just trying to help clean up the oceans," Carter said.
Zander Srodes, a junior at Santa Fe College in Gainesville, Florida, is another sea turtle conservationist who got a very young start. In 2001, at the age of 11, he began presenting an interactive program called Turtle Talks to schools in his community to teach children about sea turtles. Since then, over 100,000 copies of his Turtle Talks Activity Book have been distributed internationally in several different languages. Currently, Zander continues his sea turtle conservation work both independently, and through internships with the Sea Turtle Conservancy and SEE Turtles.org.
During the summer, he leads college students on service trips to Costa Rica to work with local sea turtle conservation groups, and he's recently established the online national sea turtle high school club ADVO Kids. When asked about the transition from child to adult activist, he says, "Growing up has allowed me to take on more challenges and more responsibility, and that's great. It has made me need to do more to stay where I'm enjoying my role as a sea turtle conservationist," Zander explained.
And that's good news for the sea turtles.
Jessica Ritter is an intern for Oceana's sea turtle campaign.