May 20, 2019
Thousands Mobilize Against Dirty and Dangerous Offshore Oil Drilling
On May 18, 2019, ocean lovers across the United States gathered at their local beaches to participate in Hands Across the Sand. Along with business leaders and elected officials, thousands of concerned citizens joined hands to symbolically "draw a line in the sand," opposing efforts to expand offshore drilling and seismic airgun blasting.
Since 2010, Oceana wavemakers and other community members have gathered annually at Hands Across the Sand events to say no to expanded offshore drilling. President Trump's offshore drilling plan threatens over 2.6 million jobs and could devastate the fishing, tourism and recreation industries along the Atlantic, Pacific and Florida's Gulf coasts. On Saturday, thousands of concerned citizens joined Oceana and our partners around the U.S. to call for protecting our beaches, our coasts, our communities and ocean wildlife from the dangers of offshore oil and gas drilling.
The Hands Across the Sand events add to the growing wave of strong opposition and concern over offshore drilling nationwide, including:
Every East and West Coast governor, including Florida, Georgia, South Carolina, North Carolina, Virginia, Maryland, Delaware, New Jersey, New York, Connecticut, Rhode Island, Massachusetts, New Hampshire, Maine, California, Oregon and Washington
More than 360 local municipalities
Over 2,200 local, state and federal bipartisan officials
Alliances representing over 46,000 businesses and 500,000 fishing families
Pacific, New England, South Atlantic and Mid-Atlantic fishery management councils
Commercial and recreational fishing interests such as Southeastern Fisheries Association, Snook and Gamefish Foundation, Fisheries Survival Fund, Southern Shrimp Alliance, North Atlantic Marine Alliance, Billfish Foundation and International Game Fish Association
California Fish and Game Commission, California Coastal Commission, California State Lands Commission, California Ocean Protection Council and California Senate and Assembly
U.S. Department of Defense and the Florida Defense Support Task Force
Coastal communities, business leaders and elected officials are united in their opposition to offshore drilling – on Saturday they made that clear. It is time for President Trump to stand with the communities who have the most to lose and fully protect all new areas from dirty and dangerous offshore drilling.
Want to help or interested in getting involved with an Oceana organizer near you?
Highlights from Oceana co-sponsored Hands Across the Sand events are below.
Miami Beach, Florida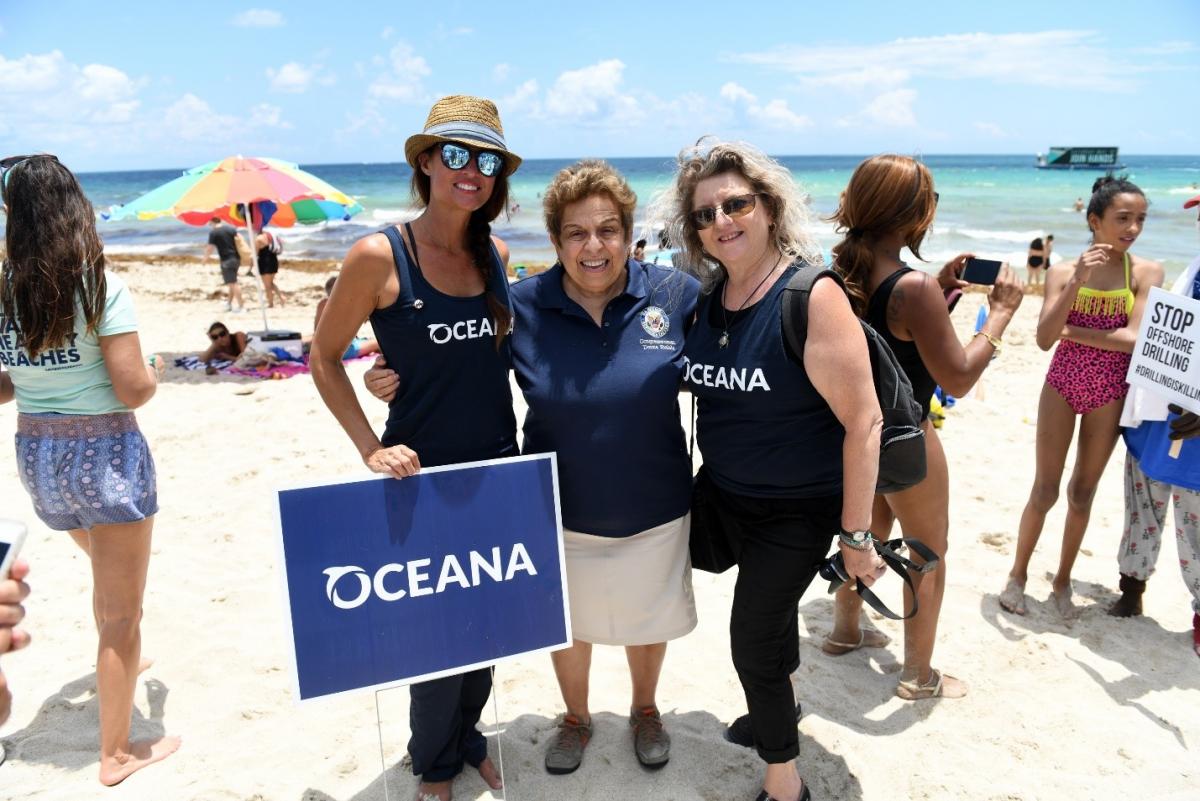 Photo courtesy: Chris Gordon
Hundreds of participants formed a line in the sand extending along the waterline at 5th Street on South Miami Beach. Congresswoman Donna Shalala (above, center) spoke about bipartisan efforts in Congress to oppose the Trump administration's proposed drilling plan. In Florida alone, 85 municipalities formally oppose offshore drilling. It's time for President Trump to listen to coastal communities and permanently stop the expansion of offshore drilling.
Indian Rocks Beach, Florida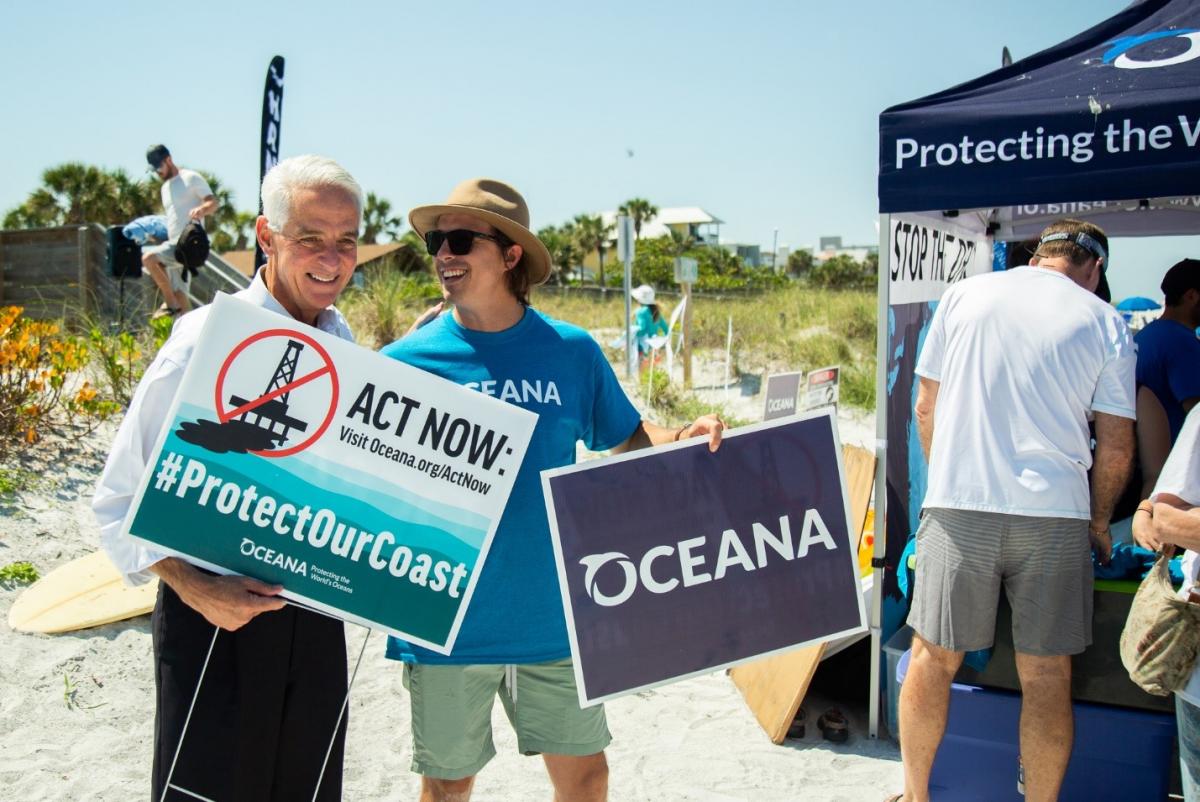 Photo courtesy: Patrick Mustain
Ocean lovers were all smiles at Saturday's event along the Gulf coast of Florida. In honor of the 10th year of Hands Across the Sand in Indian Rocks Beach, the city named the month of May, Hands Across the Sand Month. Congressman Charlie Crist (above, left) spoke at the event where more than 500 participants joined hands to protect their coast.
Jacksonville Beach, Florida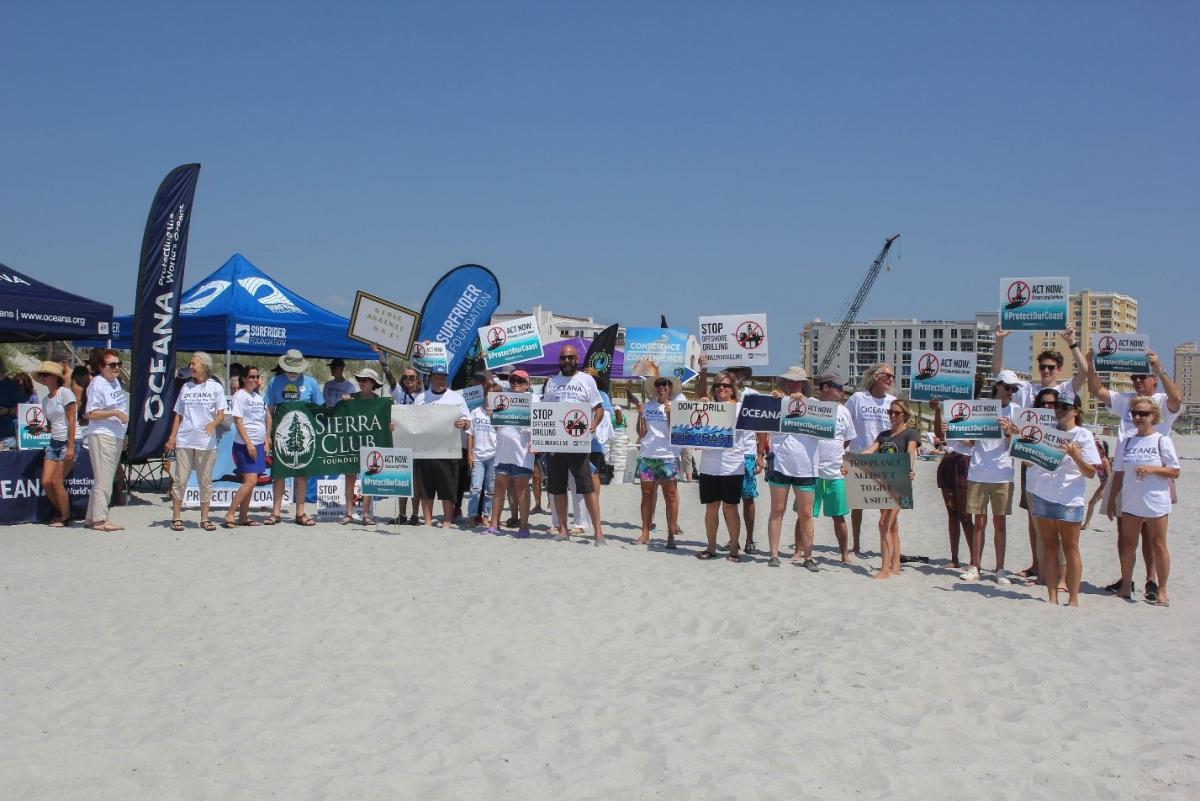 Photo courtesy: Jim Walker
Floridians gathered at Jacksonville Beach, Florida to make it clear that they do not want offshore drilling or seismic airgun blasting one inch closer to Florida's coast. Fishing, tourism and recreation associated with Florida's beaches support 609,899 jobs and generate more than $37.4 billion in GDP. Congressman John Rutherford attended the event and spoke in opposition to expanded offshore drilling activities.
Tybee Island, Georgia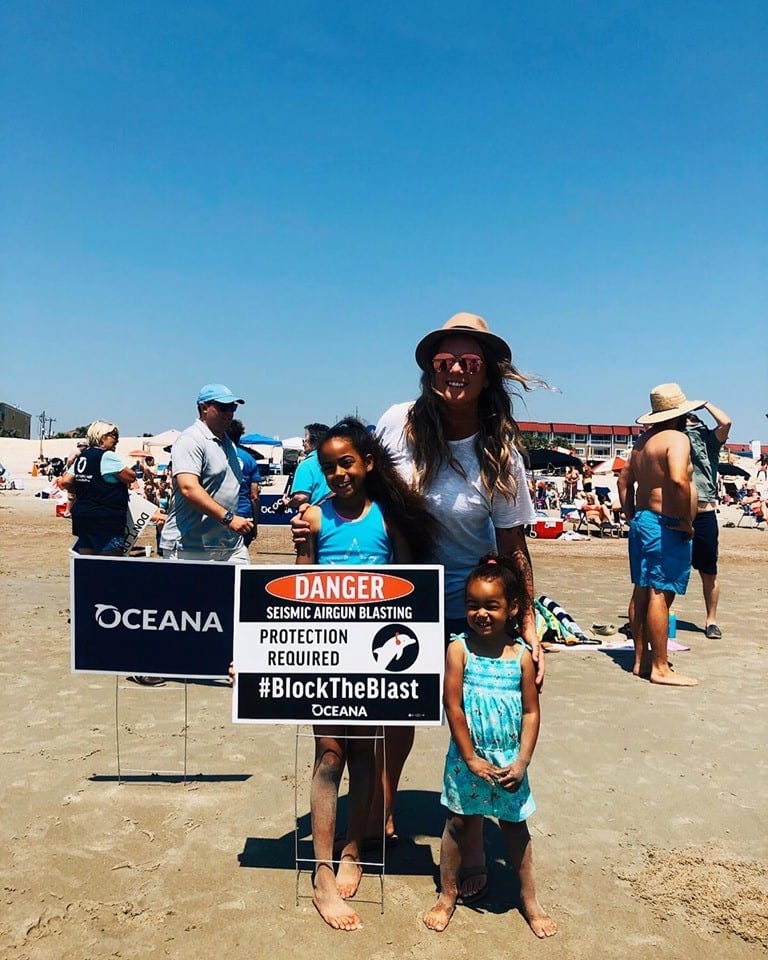 Photo courtesy: Lisa Galloway Goodman
Activists of all ages turned out to Tybee Island Pier to join hands and protect their coast from offshore drilling and seismic airgun blasting. The event included speeches from local elected officials including Tybee Island Mayor, Jason Buelterman. Georgians are united in their opposition to dirty and dangerous offshore drilling.
Folly Beach, South Carolina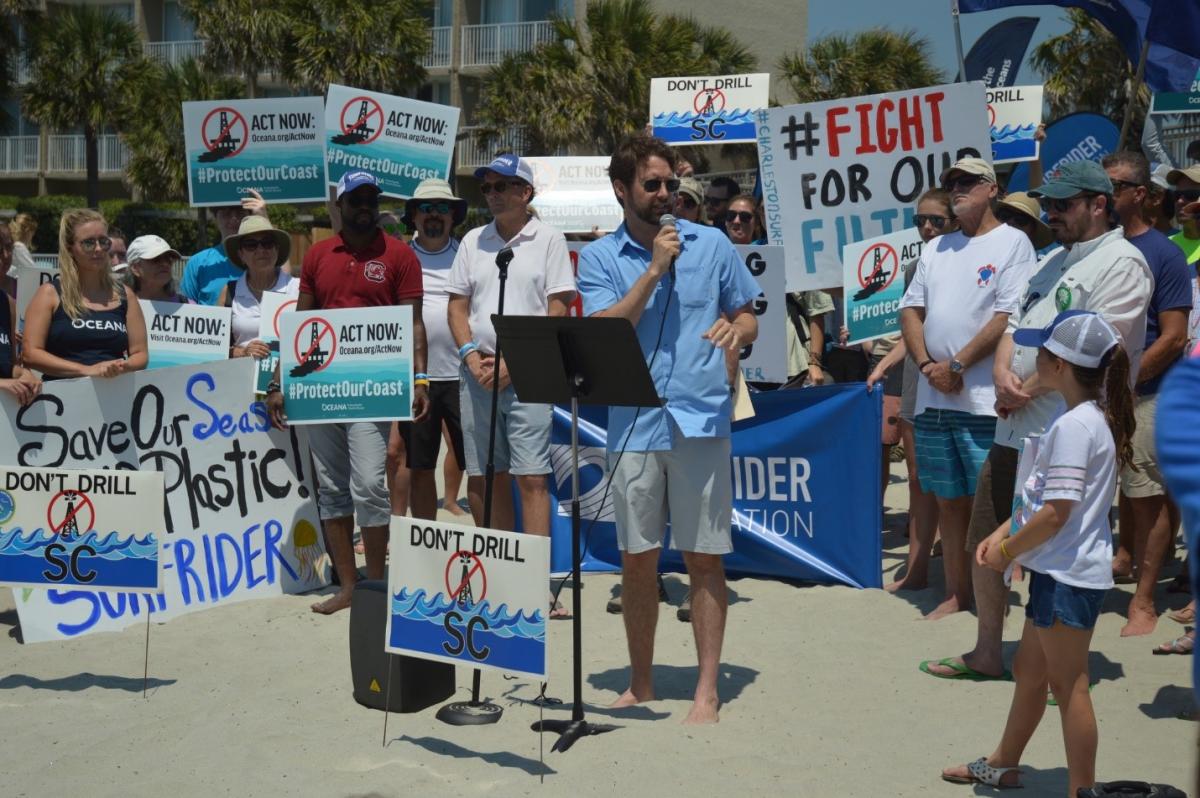 Photo Courtesy: Caitie Forde-Smith
All levels of government were present at South Carolina's event on Saturday to stand with their constituents against offshore drilling. Congressman Joe Cunningham (above) was joined by state representatives and senators, as well as local councilmembers at Folly Beach to speak out against offshore drilling and seismic airgun blasting.
Wrightsville Beach, North Carolina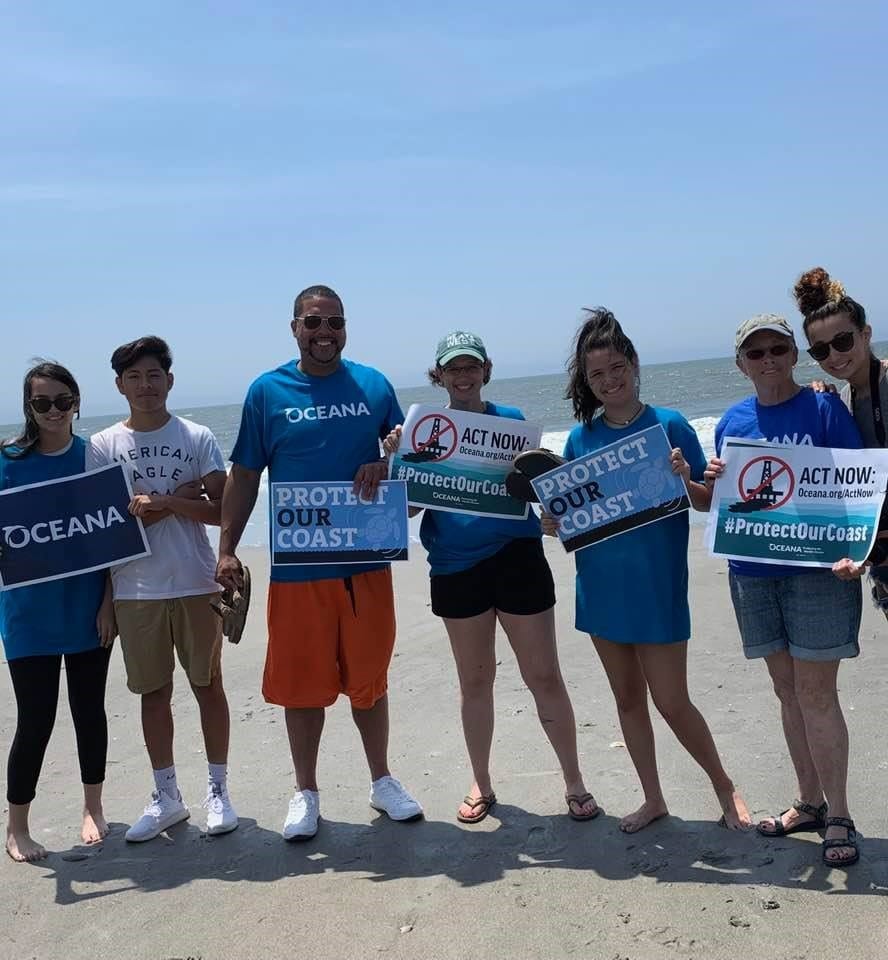 Photo courtesy: Irene Dowdy
Clear blue skies made for a perfect day to get outside and oppose offshore drilling and seismic airgun blasting in North Carolina. Across the state, there were 11 events and more than a thousand activists showed up to draw a line in the sand against offshore drilling activities. North Carolina was the flashpoint in the fight against offshore drilling and the opposition has only grown. Today, more than 40 municipalities across North Carolina have formally opposed offshore drilling and exploration, and are joined by the state's governor and numerous state and local elected officials.
Virginia Beach, Virginia

Photo courtesy: Melinda Truslow
More than 200 people showed up in Virginia Beach to showcase their opposition to offshore drilling and seismic airgun blasting. Virginia has over 3,300 miles of coastline which not only supports 86,152 jobs and generates $4.8 billion in GDP annually, but also is home to important military operations that are incompatible with offshore drilling.
Ocean City, Maryland

Photo courtesy: Cat Mer
People from Delaware and Maryland united for a joint event in Ocean City on Saturday. Carrying signs that read "Protect Our Coast," these grassroots activists sent a strong message that their beaches are not for sale.
Rockaway Beach, New York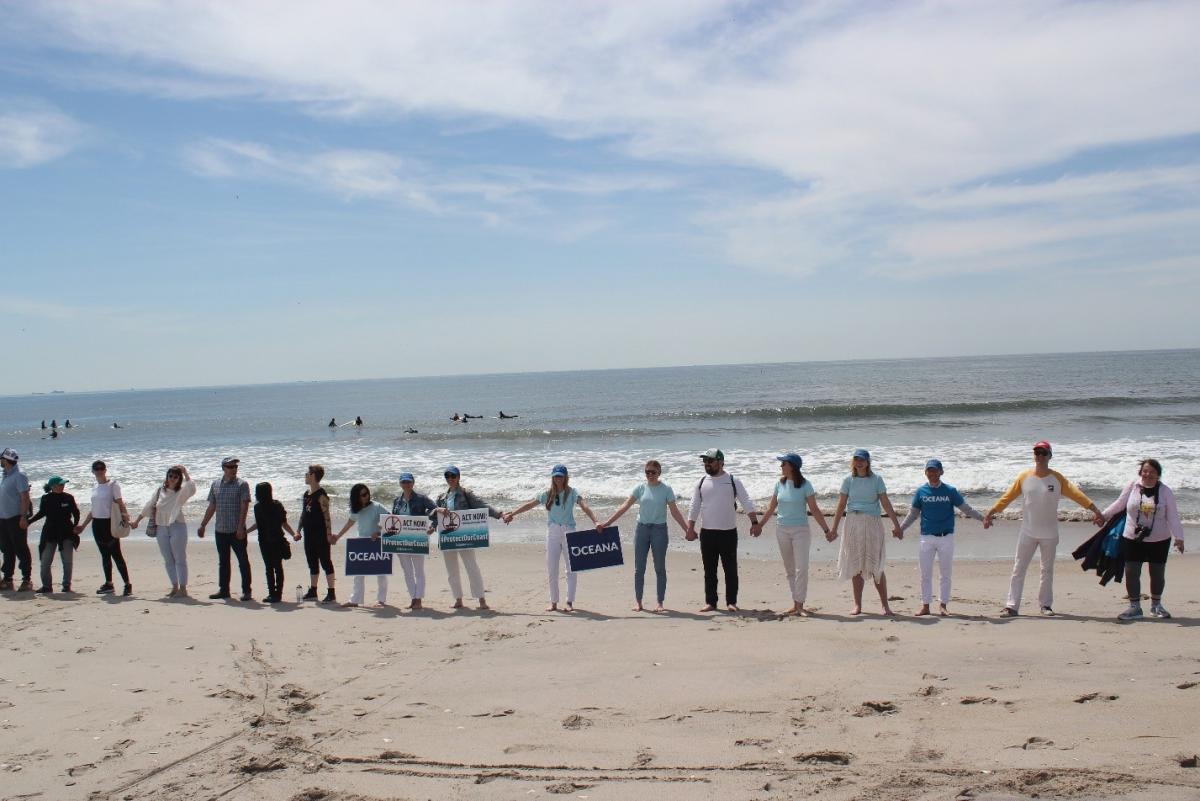 Photo courtesy: Brian Langloss
New Yorkers – from the grassroots up to Governor Cuomo – are adamantly opposed to dirty and dangerous offshore drilling. On Saturday, activists gathered at Rockaway Beach to showcase their opposition. Backed by his constituents, Governor Cuomo recently signed a bill to prohibit exploration, development and production of offshore oil and gas in New York waters.
Washington, DC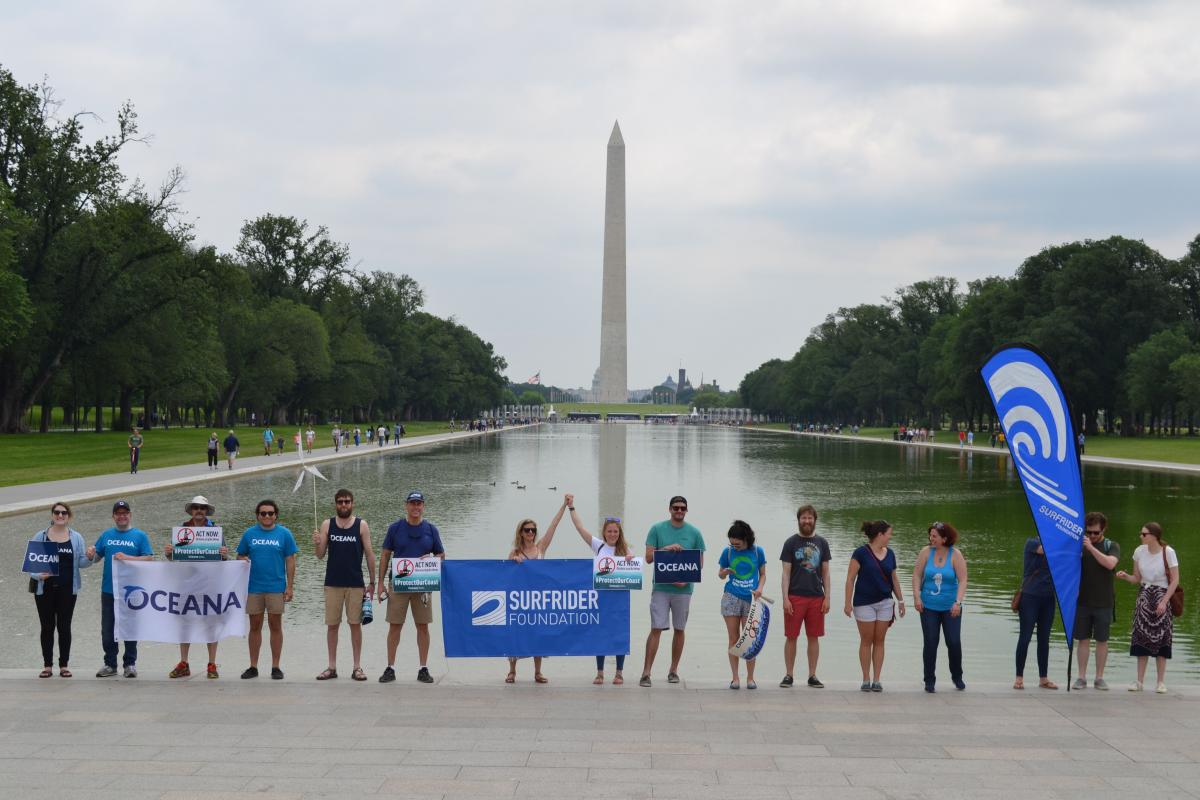 Photo courtesy: Caroline Wood
In an act of solidarity, activists in our nation's capital gathered at the Lincoln Memorial Reflecting Pool to join hands. No matter where in the country you live, we all rely on clean coasts and healthy beaches.
Encinitas, California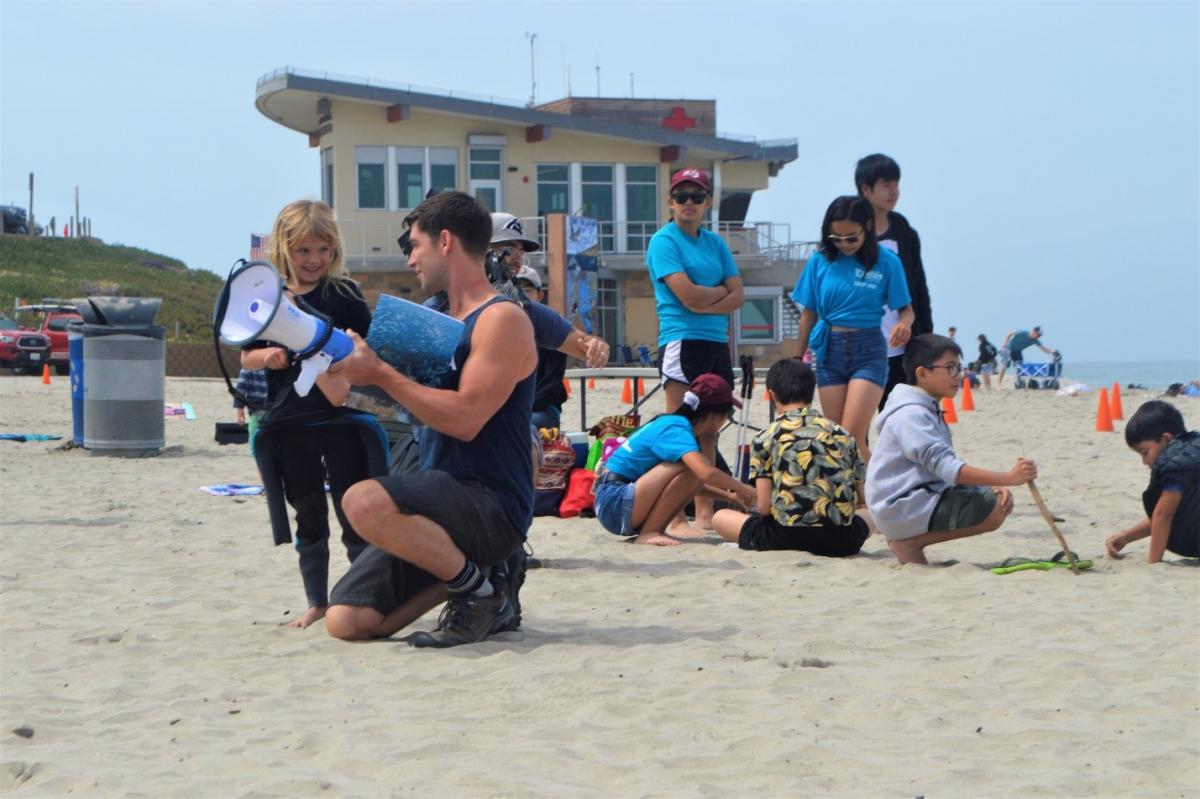 The next generation of ocean activists led the charge at the Hands Across the Sand event on Moonlight State Beach in Encinitas, California. Indah Fraschetti, a 5-year-old ocean lover, was a keynote speaker at the event reminding us all that we must protect our coast for generations to come.
Huntington Beach, California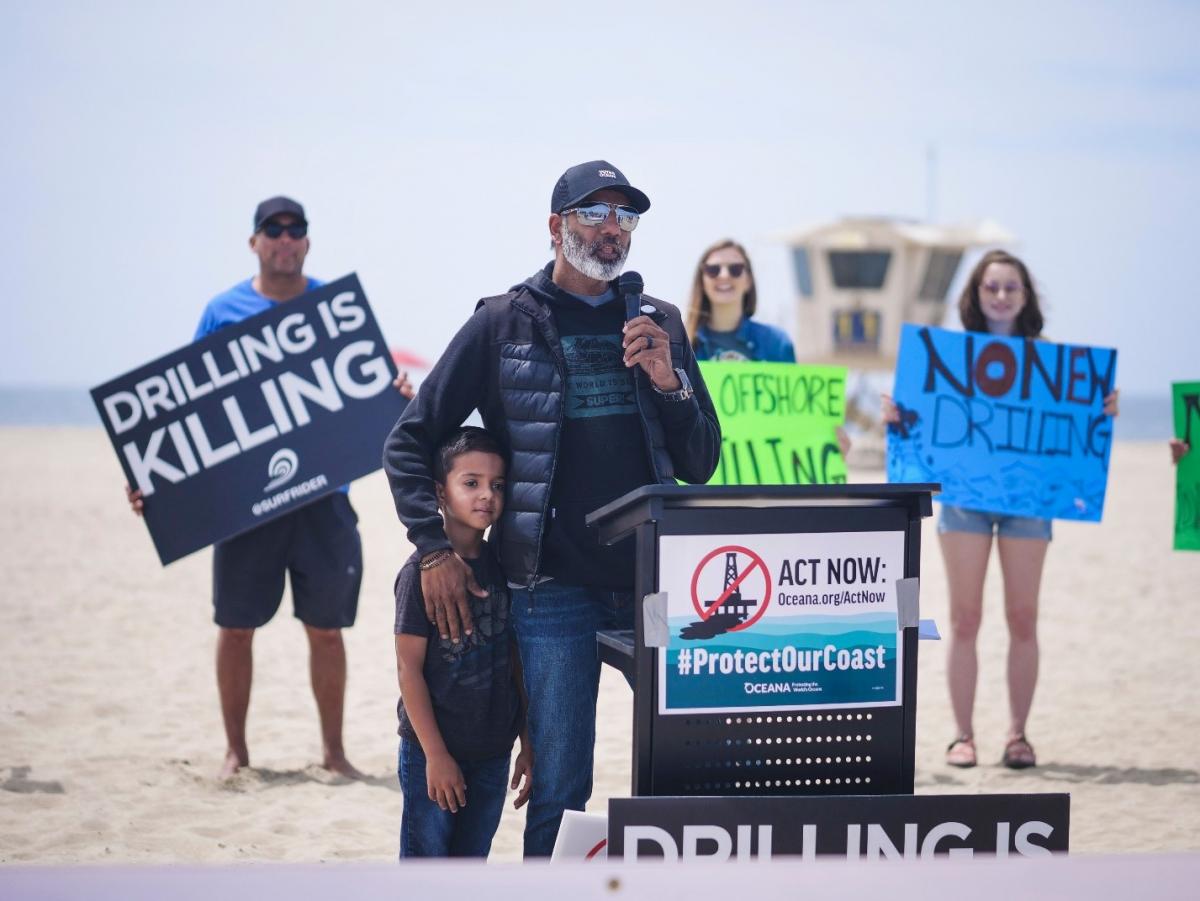 Photo Courtesy: Gregory Robinson
Business leader Vipe Desai, Founder of HDX Hydration Mix, spoke out against offshore drilling at Saturday's event in Huntington Beach. Offshore drilling poses an unnecessary risk to businesses and the lifestyles of customers and employees. Vipe has been an outspoken opponent of expanded drilling and recently testified before Congress on behalf of the Business Alliance for Protecting the Pacific (BAPPC).