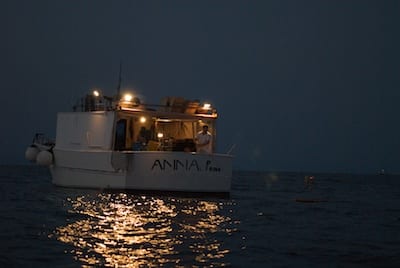 At 4 a.m., with only the stars and the moon illuminating the darkness of the sea, our expedition team — Carlos Perez, Cesar Fuertes, Maria Jose Cornax, Gorka Leclercq and myself — rapidly descended down a vertical ladder from the Oceana MarViva Med into the rigid inflatable boat (RIB) underway at eight nautical miles per hour.
Our objective this morning was to use the RIB to get close (within 50ft/20m) to the driftnet fishing boats and to photograph them catching pelagic fish, such as swordfish and tuna.
Onboard the RIB, racing through the dark mist of the warm ocean mixing with the cool air and flat seas, we accelerated for about twenty minutes to our first targeted boat — the S. Maria. In the open ocean, as we approached the driftnet, extreme care was taken not to let the propeller get caught in the drifting net that was nearly impossible to see. For a brief moment, our propeller did get entangled in the net but was quickly removed by Cesar Fuertes.
Continuing onward, we arrived at the S. Maria at 4:35 a.m. and noted the crew had already finished hauling in the driftnet. In frequent communication with Xavier Pastor onboard the Oceana MarViva, he proceeded to give us coordinates for our second targeted driftnet fishing boat, the Anna Prima.
With tensions high, our team carefully positioned the RIB so we were able to photograph, as best we can with virtually no light, the net being hauled in.
With the RIB underway, we accelerated through the Tyrrhenian Sea towards our second targeted driftnet fishing boat. During the 15 to 20 minutes of reeling in the driftnet, we did not observe them catching any pelagic fish. Perhaps they weren't fishing for them or maybe there were no fish left in this area to catch.
Driftnet fishing is one of the worst methods of fishing as these walls of death kill anything and everything they comes in contact with.
Many of the Italian driftnet fishing boats are aware of their illegal activities and have adopted a number of strategies to avoid being easily documented. Recently, the fishermen have begun hauling in the driftnet under the darkness of night, finishing before light breaks at 5 a.m. A second technique to avoid being photographed is to cut the driftnet and return later in the day. Lastly, the driftnet fishing boats, knowing in advance they have caught a pelagic fish, reposition the stern of the boat to block the fish being photographed by our RIB.
As the light broke, we continued to look for other driftnet fishing boats before heading back to the Oceana MarNiva Med and picking up some plastic drifting in the ocean.