May 29, 2014
Video: BP Oil Spill Aftermath Proves America Needs More Clean Energy
Today, just over four years since the BP oil spill, Oceana is releasing a short documentary titled "Drill, Spill, Repeat?" that uncovers the dark history of oil drilling and highlights how Gulf of Mexico communities and ecosystems are still recovering. Take a look below to learn more and to watch this short clip.
Just over four years ago, at approximately 9:56 p.m. on April 20, 2010, a massive explosion onboard the Deepwater Horizon offshore drilling rig began an 87-day response nightmare that would become the worst environmental catastrophe in our nation's history. The explosion killed 11 crew members, injuring many others, and caused oil to gush freely into the Gulf of Mexico from a damaged wellhead near the ocean floor.
It quickly became clear that crude oil was spilling into the ocean as a massive oil slick formed and spread from the exploded rig. Days turned into weeks, weeks turned into months, and our despair turned into outrage as we watched BP struggle to cap the leaking well and contain the rapidly expanding oil slick. Finally, after 87 gut-wrenching days, BP capped the gushing well, but not before it released an estimated total of 210 million gallons of crude oil into the open ocean.
(Story continues after video)
What do you do to stop and clean up a disaster of this magnitude? As we learned four years ago, nobody knows. BP sprayed roughly two million gallons of dispersants (mixtures of chemicals used to break up oil into tiny droplets) into the slick, even though the long-term effects of these chemicals on humans and marine life are unknown. Uncontained, the slick reached the coast in a matter of days, coating everything in its path with toxic sludge.
Years have passed, but marine ecosystems and Gulf coast economies are struggling to recover. The initial disaster killed untold thousands of marine mammals, fish, sea turtles, sea birds, and other marine life. But the damage is ongoing — recent studies show that many species still suffer from birth defects and other maladies brought on by contact with crude oil. In the months and years following the blowout, fishermen reported catching mutated fish and shrimp, and marine mammals continued to die in unusual numbers. Yet despite this damage, we continued to drill and — unsurprisingly — to spill.
Since the BP oil spill, Congress has failed to pass a meaningful drilling safety regulation. Oil spills, though less catastrophic than the BP disaster, occur frequently in the Gulf. Just one day after BP pleaded guilty to criminal charges stemming from the BP disaster in November 2012, another oil rig in the Gulf — this time belonging to Black Elk Energy — exploded, releasing more oil into the open ocean. And "leakage" of oil from the thousands of active oil drilling rigs in the Gulf is a daily occurrence. In fact, a major oil spill has occurred in every ocean in which we have drilled.
Now, energy companies are pushing to expand offshore drilling into protected waters: the Atlantic Ocean. For more than 30 years, the East Coast has been protected from offshore drilling and remains protected today. But the oil and gas industry is petitioning the U.S. government to allow dangerous seismic airgun blasting — a process which uses deafening blasts of air to map the ocean floor — in the Atlantic to search for oil and gas. The government estimates that seismic blasting, to be conducted offshore from Delaware to Florida, will injure or kill more than 138,000 marine mammals, displace commercially valuable fish stocks, and will lead the way for offshore drilling.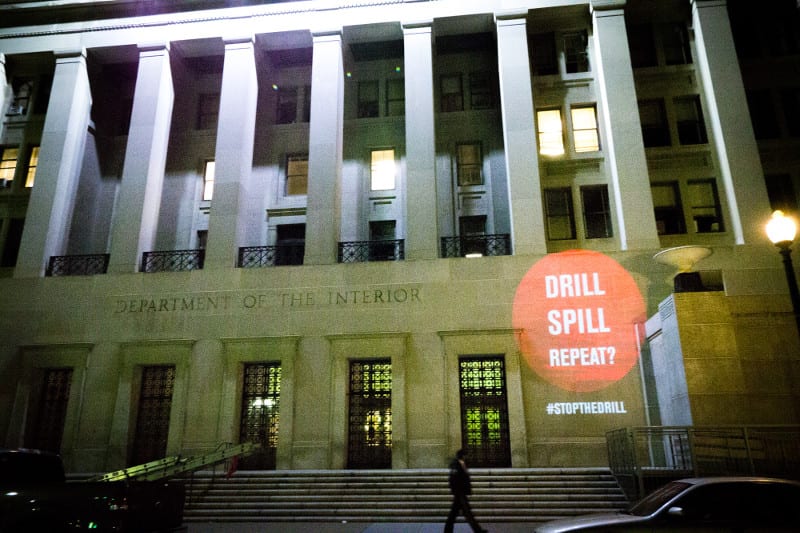 (Photo: Oceana)
Oceana is leading the fight to combat dangerous seismic blasting and the expansion of dirty offshore drilling into our Atlantic. To commemorate the anniversary of the BP disaster, we conducted an image projection series onto public buildings around Washington, D.C., asking President Obama to stop the drill before another spill. In conjunction with the image series, we released two letters asking the administration to ban seismic blasting in the Atlantic, signed by over 160 animal welfare and conservation groups and more than 75 state and local elected officials. Coastal communities recognize that seismic blasting and offshore drilling would put $11.8 billion and 222,000 jobs at risk. Fourteen coastal towns have even passed resolutions opposing or expressing concern with seismic blasting, and more continue to do so.
Four years after the BP oil disaster, Oceana is releasing a documentary film featuring interviews from communities and fishermen living on the Gulf coast who are still impacted by the effects of the spill. Oceana supporters all over the country are hosting screenings in their homes, offices, and in their communities to remind people not to make the same mistakes again. We do not want a "repeat" of the BP disaster in the Atlantic. As we hear these stories of harrowing despair, inspiring resilience, and the perseverance of the American spirit, we hope to ignite a conversation. Let's ask ourselves why we are so determined to drill into our oceans when other alternatives, like renewable offshore wind, exist and deadly spills inevitably come hand in hand with offshore drilling. Have we learned anything in the four years since the BP disaster? Will we stop the drill before a spill reaches the shores of Ocean City, the beautiful Outer Banks, or Daytona Beach? Oceana is determined to do so, but we need your help.
Today, just as this video is released, Oceana is joining an expert panel on Capitol Hill to urge Congress and the Obama Administration to reconsider their planned use of seismic airguns, and let them know that the Atlantic coast cannot afford a spill.
Click here to host or attend a viewing of our documentary.
Together, we can stop drilling before it starts.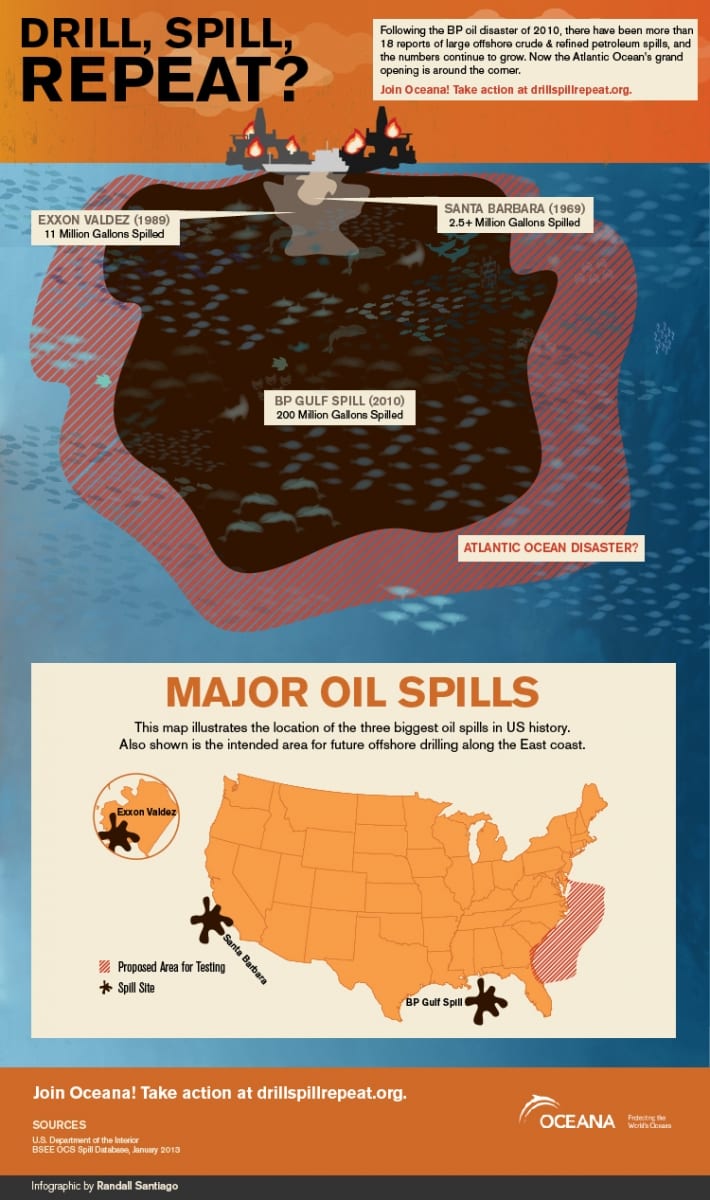 (Graphic: Oceana)