November 21, 2014
On World Fisheries Day, A Look at Oceana's Work to Create Sustainable Fisheries (Photos)
Every day, commercial and artisanal fishermen set out across the world's oceans in search of their daily catch. Using harpoons, line-and-hooks, trawl nets, gill nets, and many, many more types of fishing gear, they set out to comb the oceans from the coast to the high seas in search of crab, tuna, swordfish, shrimp, and many more species. Of course, such high fishing pressure takes a toll on the oceans—leaving many fish stocks overfished, and critical habitat like coral reefs and seagrass beds in poor condition.
Today marks the annual World Fisheries Day—a day to reflect on fishing activity worldwide and raise awareness for the ways both fishermen and consumers can work to create sustainable fisheries. With nearly one-third of marine fish stocks worldwide being overfished—and 90 percent were fully fished or overfished in 2011, according to the United Nations Food and Agriculture—the time is more apparent than ever before to reflect on the state of the world's fisheries.
At Oceana, we are committed to restoring the ocean's bounty by campaigning for sustainable and honest fishing activity. As the world's population is expected to pass 9 billion by 2050, Oceana believes that the need to restore ocean abundance is needed now more than ever before to help feed that many people. In honor of World Fisheries Day, take a look below to learn more about five different ways Oceana is working to restore ocean abundance.
Working to Save the Oceans, Feed the World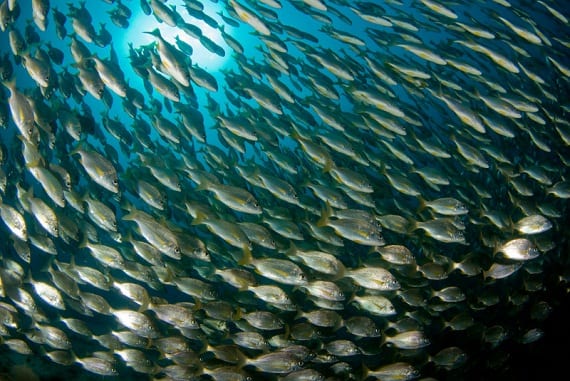 A school of bastard grunts (Pomadasys incises) in Pasito Blanco bank, Arguineguín, Gran Canaria, Spain. (Photo: Oceana / Eduardo Sorensen)
Oceana believes that by protecting the oceans and fishing at sustainable levels, the oceans can produce enough food to meet growing demand with population increases. Thus, Oceana's Save the Oceans, Feed the World campaign advocates for doing just that by encompassing a wide range of issues.
In an effort to restore fisheries, Oceana has opened offices all over world—the Philippines, Belize, Chile, and elsewhere—to be able to tackle this issue on the ground. In addition, Oceana advocates for phasing out a number of unsustainable fishing practices to protect both habitat and species.
Reducing Bycatch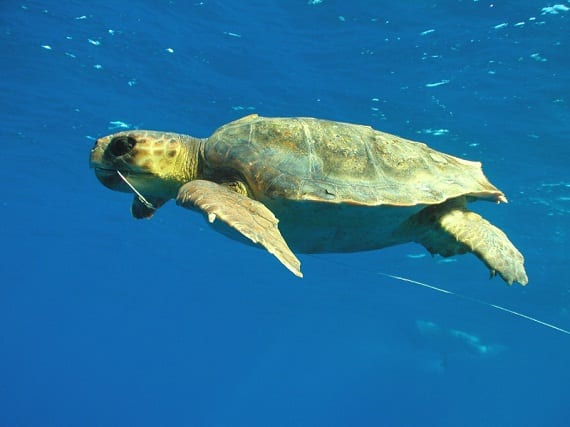 A loggerhead sea turtle caught on a longline in the Mediterranean. (Photo: Oceana / Mar Mas)
For over a decade, Oceana has campaigned to reduce bycatch. Bycatch—when species are unintentionally caught in fishing gear, like sea turtles or whales—results in the unnecessary deaths and injuries of thousands of species each year. Bycatch depletes the oceans of species important to food chains and healthy ecosystems, and is one of the main threats to maintaining healthy fish populations around the world.
Oceana has encouraged fishery managers to adopt the Oceana approach to reducing bycatch: count all catch (including bycatch), cap bycatch using science-based limits, and control bycatch through effective management. Oceana also recommends adopting cleaner fishing gear, providing incentives for reducing bycatch, and other protocols to reduce unnecessary waste.
Combatting Seafood Fraud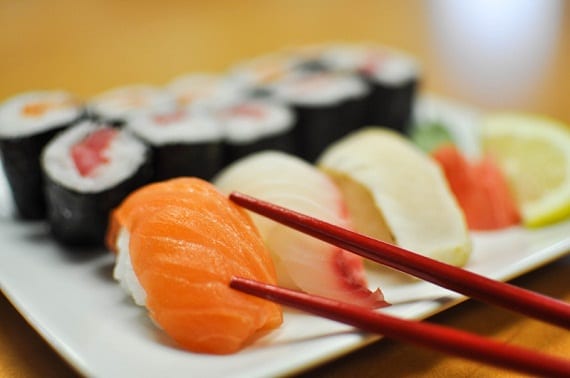 (Photo: Oceana / Jenn Hueting)
A 2013 Oceana study on seafood fraud—the dishonest practice of labeling one type of seafood for another—found that about one-third of 1,200 samples taken nationwide were mislabeled in the U.S. Not knowing which and how much fish are taken from the oceans keeps fishery managers from being able to set realistic catch quotas and conserve endangered and threatened species.
Oceana works to reduce seafood fraud by advocating for keeping illegally caught fish out of the U.S. market, promoting accurate labeling, and ensuring traceability in the supply chain. Oceana recently provided comments to President Obama's Task Force on Combatting Illegal, Unreported, and Unregulated Fishing and Seafood Fraud, and has been instrumental in bringing the issue of seafood fraud to the public and media's attention. Click here to learn more.
Eliminating Dirty Fishing Gear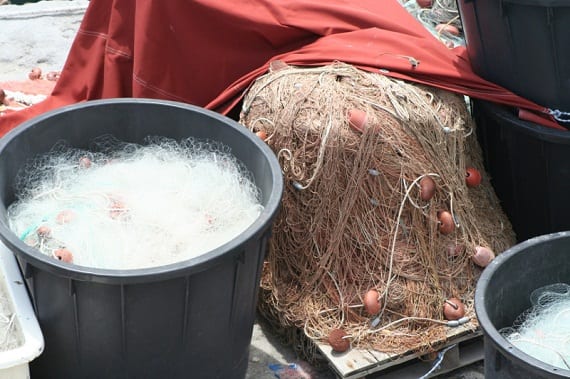 Containers with driftnets and gillnets. (Photo: Oceana / Eduardo de Ana)
Certain gear types—like drift gillnets, longlines, and trawl nets—often catch much more than their intended catch. In Oceana's Wasted Catch report, Oceana revealed nine fisheries in the U.S. with the highest amount of bycatch, which are responsible for more than half of all reported bycatch in the U.S., but only bring in seven percent of landings.
For example, drift gillnets are mile-long nets that are deployed at dusk and collected again at dawn, and tend to collect everything in their wake. Because they are so dangerous, the UN banned drift gillnet use on the high seas. While Oregon and Washington state have banned drift gillnets off their waters, Oceana has been campaigning for years for California to ban the use of drift gillnets in their swordfish fishery, and instead use cleaner gear like harpoons. Click here to learn more about Oceana's campaign to promote responsible fishing.
Global Fishing Watch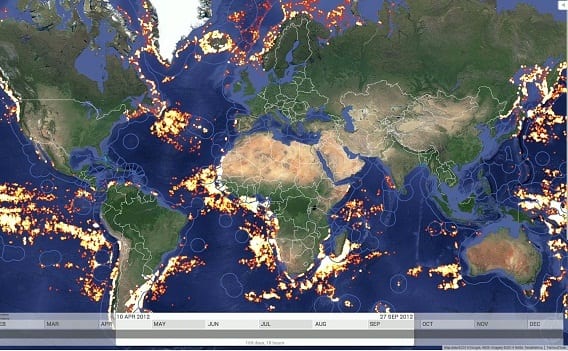 A look at Global Fishing Watch. (Photo: Global Fishing Watch)
Just last week, Oceana announced their new partnership with SkyTruth and Google to develop a groundbreaking technology platform to track fishing activity worldwide. Global Fishing Watch uses satellite data to track the location, direction, and more of commercial fishing vessels and understand whether they are engaging in suspicious or illegal behavior. Citizens, fishery managers, seafood suppliers, and more will be able to use the technology to get a better sense of what goes on in the world's oceans, and call upon our leaders to enact stricter fishing protocols. Click here to learn more about Global Fishing Watch.