Oceana Approach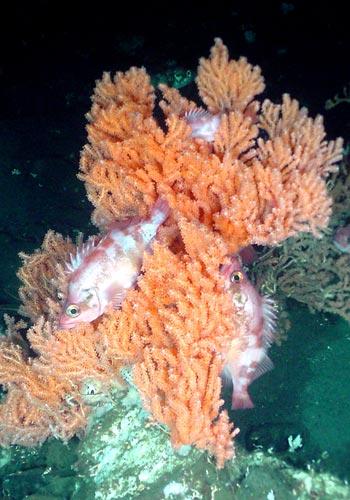 Rockfish surround primnoa red tree corals in the Olympic Coast National Marine Sanctuary, Washington © NOAA
Using science, law, and an open public process, Oceana has developed a management approach that protects living seafloor habitat while maintaining vibrant fisheries for healthy, sustainable ocean ecosystems.
The Oceana Approach is straightforward and uses all available information to protect and preserve living seafloor habitat:
Gather and map all available scientific information to locate and identify coral, sponge, and other living seafloor habitat;
Gather and map information about the threat from bottom trawling in identified living seafloor habitat;
Close areas that have not yet been trawled, and close 'hotspot' areas with a profusion of corals and sponges and low commercial catch rate;
Freeze the existing bottom trawl footprint by preventing expansion of trawling into nearby undisturbed areas;
Limit how much coral and sponge bottom trawlers can catch;
Conduct comprehensive research and mapping;
Require ongoing monitoring and refine EFH protections with new information periodically through adaptive management.
These include:
Bottom trawl closures of all areas not currently trawled to prevent expansion to new pristine areas.
Designated bottom trawl closures of high value sea floor structures where corals, sponges and other invertebrates tend to flourish (slope areas, canyons, and underwater mountains) and where trawling is occurring. We take into consideration before proposing a closure what the socio-economic impact will be to fisheries so we achieve an appropriate balance between protecting sensitive seafloor habitats while ensuring continued fishing opportunities.
Limits on trawler bycatch of corals and sponges.
Research of respective areas through benthic mapping, research closures, regional onboard observers and vessel monitoring systems and annual evaluation of how well the protections are working.
The Oceana Approach provides responsible stewardship of public resources by protecting essential fish habitat while maintaining vibrant sustainable fisheries and has since been formally adopted by the National Oceanic and Atmospheric Administration's Strategic Plan for Deep-Sea Coral and Sponge Ecosystems.
Essential Fish Habitat Defined
Essential Fish Habitat (EFH) is waters and substrate necessary to fish for spawning, breeding, feeding, or growth to maturity, and covers all habitat types utilized by a species throughout its life cycle. EFH includes vibrant and beautiful coral and sponge structures as they are critical to supporting healthy populations of groundfish species—like rockfish, Pacific Ocean perch, lingcod, and Pacific cod— and non-commercial marine life like sea stars, nudibranchs, octopuses.
In accordance with the Magnuson-Stevens Fishery Management Act (the law guiding management of U.S. fisheries), the National Marine Fisheries Service (NMFS) is tasked with identifying EFH, determining if adverse impacts to EFH are occurring from commercial fisheries, mitigating adverse impacts to EFH, and responding to public comments. This process was first implemented by NMFS in 2006 and the Pacific Fishery Management Council (PFMC) is required to review and consider changes to EFH regulations every 5 years. The current EFH review began in 2010, and in 2013, the Pacific Fishery Management Council released a Request for Proposals for EFH regulation changes. In response, Oceana submitted a comprehensive proposal to NMFS. In April 2018, the Pacific Fishery Management Council unanimously voted to adopt a modified version of Oceana's comprehensive conservation proposal that will protect more than 140,000 square miles of seafloor habitat off the U.S. West Coast from bottom trawling, including deep-sea coral and sponge ecosystems, rocky reefs and productive submarine canyons. This includes safeguards for 53 new and modified "essential fish habitat" conservation areas, including more than 16,000 square miles of seafloor habitat off Southern California—spanning from Point Conception to the U.S./Mexico border. Once implementing regulations are issued by NOAA Fisheries, the Council's action will more than double the spatial extent of current seafloor protections off the U.S. West Coast. Learn more about the decision here.
NOAA and the regional fishery management councils also identify "habitat areas of particular concern" or HAPCs. These are considered high priority areas for conservation, management, or research because they are rare, sensitive, stressed by development, or important to ecosystem function.