Grocery Store Mercury Warning Signs
Congratulations to members of the Green List for leading the movement to post signs about the FDA mercury advice at the places where seafood is sold.
Below is a selection of some of the signs. Give our sample sign to your grocery store and ask them to post it or something similar.
Safeway and its subsidiaries: Carrs, Dominick's, Genuardi's, Pak 'n Save, Pavillions, Randalls, Tom Thumb and Vons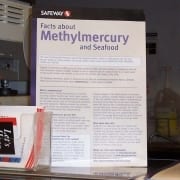 Safeway's "Facts about Methylmercury and Seafood" sign (PDF)
Whole Foods Markets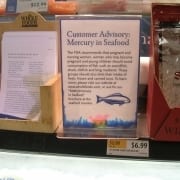 Whole Foods' "Customer Advisory: Mercury in Seafood" sign (JPG)
Stores owned by Supervalu, including Albertsons stores in certain states (see Green List for details), Jewel-Osco, Shoppers, Farm Fresh, Shop 'n Save, Hornbacher's, Cub Foods, Shaw's, Acme and Bigg's.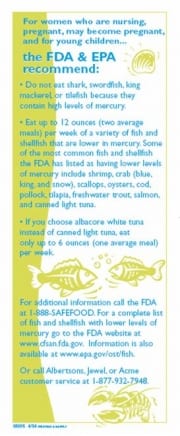 SuperValu's Sign (JPG)
Kroger and its subsidiaries: Dillons, Food 4 Less, Fred Meyer, Fry's, King Soopers, QFC, Ralphs, Smith's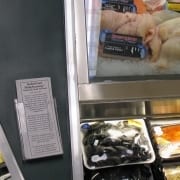 Kroger's "Seafood and Methylmercury: What you need to know" sign (PDF)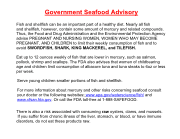 Costco's sign (PDF)
Sample Sign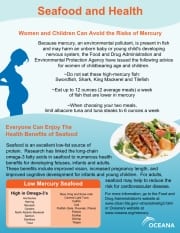 Oceana's "Seafood and Health" sample sign (PDF)