Aaron Peirsol
Celebrity Supporter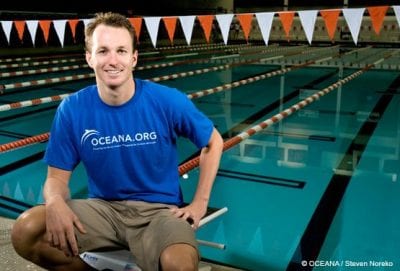 Aaron Peirsol is a native Californian that struck gold in Athens in 2004. He won three Olympic medals for the backstroke and holds two world records. When he's not in the pool, he can be found studying at the University of Texas, surfing, working on his upcoming blues album or cheering on his younger sister Hayley as she swims at Auburn University.
Aaron has taken the same passion and discipline he used to sweep the backstroke events at the 2004 Olympic Games and applied it to ocean conservation. Although he's a young man, he's already witnessed ocean destruction first hand as he surfed the waters off the Californian coast. He believes our environmental problems are the result of short-sightedness and that the solution is for people to realize that our actions today have long-term implications.
Aaron's greatest fear is that he'll look back years from now and wonder if he could have done more to protect our oceans. With that in mind, he teamed up with Oceana to "Race for the Oceans." "Race for the Oceans" is a forum for swimmers and swimming fans to dive in to ocean conservation. Aaron knows he wouldn't be where he is today were it not for the thousands of fans that supported him every stroke of the way. He's asking these same fans to join him as he begins the toughest race of his life — his race for the oceans.