Marla Valentine
Campaign Director, Illegal Fishing and Transparency
Oceana Staff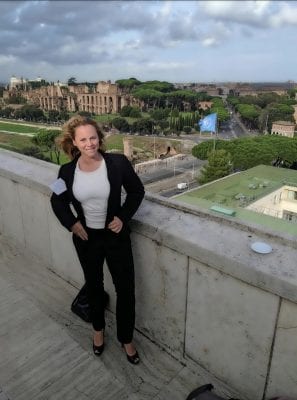 Marla (Max) Valentine, PhD, is the campaign director of Oceana's illegal fishing and transparency campaign in the United States.
As an accomplished international scientist with 15 years of research experience, she leads Oceana's efforts to expand transparency in fishing and traceability in seafood. Max also oversees a team of data analysts that conduct investigations into illegal fishing around the world and serves as a public spokesperson for the campaign.  
Max works to secure tangible policy victories to strengthen traceability and transparency requirements at every level of the seafood supply chain. Along with leading the illegal fishing and transparency campaign, she supports many of Oceana's other campaigns and international offices by conducting data analyses, working with partner organizations, and meeting with government contacts. Max first joined Oceana in 2020, where she worked as a lead scientist and research analyst on the illegal fishing and transparency campaign. While working at Oceana, she has been featured in media outlets across the globe, including The New York Times, USA TODAY, The Guardian, Associated Press, and CNN en Español. 
Max's expansive career covers a variety of subjects, including policy, science, and education. From the onset of her professional life, she has explored the impact humans have on our oceans and marine life, including studying the environmental effects following the Deepwater Horizon disaster in 2010 in the Gulf of Mexico.   
Prior to Oceana, Max was a Knauss Fellow with the Office of Science and Technology at the National Oceanic and Atmospheric Administration (NOAA). She worked on scientific research projects as a graduate research assistant at Virginia's Old Dominion University, where she contributed to several published scientific papers and grant proposals related to tropical marine biology and ecology. Max also served as a guest lecturer in undergraduate courses and as an adjunct faculty member teaching upper-level marine ecology.  
Max holds a Doctor of Philosophy in Ecology from Old Dominion University and a Master of Science in Biological Oceanography from Louisiana State University.