Miranda Cosgrove
Celebrity Supporter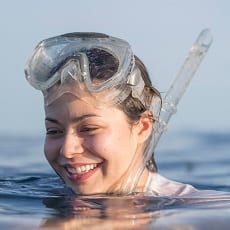 Discovered at age three while singing and dancing around a table at an LA restaurant, Miranda Cosgrove has been in the business ever since. While filming in her first role as the band's manager "School of Rock," Miranda discovered that her TV pilot, Drake and Josh, was picked up by Nickelodeon. Co-starring as Drake and Josh's scheming little sister, Megan Parker, Miranda also appeared on several other Nickelodeon shows before landing her own show, iCarly.
On the show, Miranda played main character Carly Shay, who creates her own webshow, a show she can run herself, the way she wants. Carly and her friends discover that they have become celebrities as their webshow is seen and followed around the world.
Like her character, Miranda has quickly shot up to international fame and recognition — iCarly ran for six seasons, and hosted dozens of impressive guest stars, including Jimmy Fallon, the band One Direction, and even First Lady Michelle Obama. Miranda has also broken out as a star singer with the smash hit "Stay My Baby," and sings the theme song at the opening of iCarly. She is also the voice of Margo in the movies Despicable Me and Despicable Me 2.
Miranda joined with Oceana in Bimini, the Bahamas, to swim with dolphins and film a PSA against the devastating effects of seismic airgun blasts. She is currently attending the University of Southern California and will be majoring in film (naturally!)