Rian Nathani
Senior Development Associate
Oceana Staff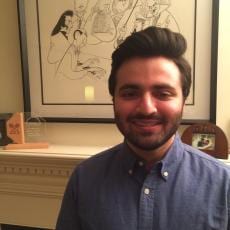 Rian Nathani joined Oceana in February 2016 as a Foundations Associate. In this role he will assist the development team in keeping track of the many important grants and awards Oceana receives to conduct its work.
Prior to joining Oceana, Rian earned his Bachelor's Degree in Geography and a certificate in Environmental Studies from the University of Wisconsin-Madison. While at Wisconsin Rian's studies included topics in food sustainability and principles of geography in marketing, though his main concentration as a Geography major was the relationship between people and their environment.
Rian grew up in Bethesda, Maryland. After flying halfway across the country for college, he is happy to be back in the Washington DC area working for such a great organization. Outside of work, Rian obsessively follows the Washington Capitals and enjoys talking hockey, movies, and spending a day at any of the Smithsonian museums.