Tess Geers
Research Director
Oceana Staff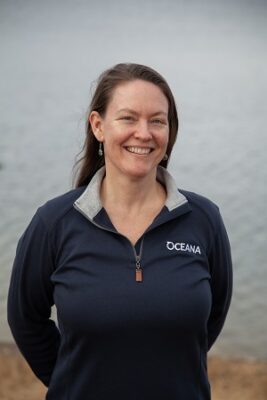 Tess serves as a Senior Research Manager, enthusiastically pursuing her interests in fisheries science, food and nutrition security, and monitoring and evaluation, as part of Oceana's Science & Strategy Team.
Throughout her 5+ year tenure at Oceana, Tess has supported and visited all of Oceana's international offices, worked on several cross-cutting monitoring and evaluation projects, and explored the intersection of fisheries and food and nutrition security globally. Tess' areas of expertise include: fisheries science and management, data-poor fisheries, indicator development, and integrating wild-capture fisheries into food system policy.
Background: Although Tess grew up playing in the refreshing lakes and streams of Michigan, the clear tropical waters of the Bahamas are what inspired her passion for marine science and conservation.
On sailing trips there as a young girl, she remembers being fascinated by the tiny tropical fish trapped in the tide pools and the wonderful diversity of life and colors beneath the waves. Her curiosity, love of learning and interest in finding real solutions to the many challenges facing our world today led her to Hampshire College where she focused on marine ecology and global environmental policy. Her final project at Hampshire brought her back to the Bahamas to develop a case study of fisheries ecology and management there. Returning to the Bahamas as an adult gave her a different perspective on marine conservation and highlighted the importance of local communities and local livelihoods in conservation.
She was first introduced to Oceana during an internship shortly after undergrad and was inspired by the passion of the staff and the solution-oriented work being done. A report she worked on for Oceana about the importance of forage fish (small, schooling species like anchovies and sardines) as prey in marine ecosystems led her away from tropical ecosystems and into research on forage fish-dominated ecosystems. She went on to complete a Master's Degree in Marine Science from Stony Brook University where she looked at the role that menhaden play in the Gulf of Mexico ecosystem and the impact that fishing for menhaden and other species has on the ecosystem.
Throughout her graduate work, she became increasingly convinced that scientists' voices need to be heard more in the realms of business and policy. Following this vein, she worked in seafood sustainability focusing on the role that businesses can play in sustainable fisheries and aquaculture. During this time, she developed recommendations for seafood sourcing strategies for large businesses, covering large pelagic species such as tuna and swordfish, and species sourced from the Southeast U.S., Central America and South America.