Endangered Humpback Whales Receive Critical Habitat Protections in U.S. Pacific
New designations could help efforts to protect prey species, reduce entanglements in fishing gear and other threats off U.S. West Coast and Alaska
Press Release Date: April 22, 2021
Location: Washington, DC
This week the Biden administration designated more than 154,500 square miles in the U.S. Pacific as critical habitat for three distinct populations of threatened and endangered humpback whales. Activities within new critical habitat areas must now demonstrate they will not diminish the value of the whales' critical habitat, including important feeding areas.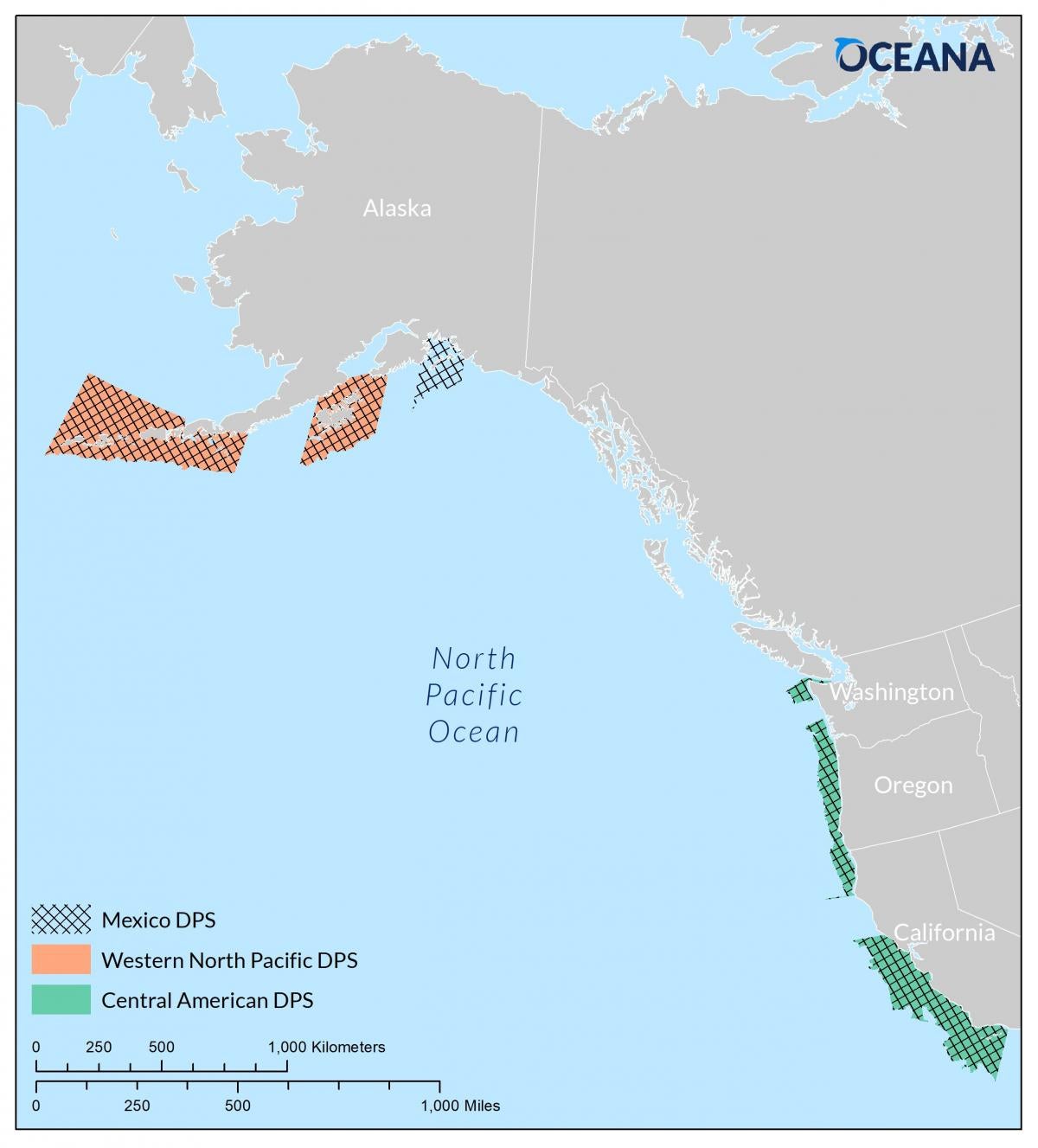 Humpbacks primarily migrate to waters off the U.S. West Coast and Alaska to feast on krill, herring, sardine, anchovy and other forage species—small schooling fish and organisms that are a critical source of food for whales, sea lions, salmon and many other species. Forage species were specifically identified as a key component of the new critical habitat designation meaning the National Marine Fisheries Service must now consider the effects of commercial forage fish fisheries on humpback whale habitat.
"We're thrilled to see not only the expanse of these critical habitat designations across the North Pacific, but also that the Fisheries Service specifically recognized the importance of a healthy prey base for humpback whales feeding off the West Coast and Alaska," said Dr. Geoff Shester, Senior Scientist for Oceana. "Humpbacks rely on our Pacific Ocean waters as their primary feeding grounds, and so we have to make sure there's enough for them to eat while they're here. We've been urging federal fishery managers to address sardine and anchovy management in part because they are so important to humpback whales. This critical habitat designation adds urgency and attention to efforts to rebuild the overfished Pacific sardine population. The Fisheries Service must also initiate an active science-based management approach for the Pacific anchovy fishery. The new measures will also assist ongoing efforts to prevent whale entanglements in fishing gear through targeted closures and innovative gear solutions such as pop-up gear."
Sardine and anchovy are two of the key prey items that make the West Coast such a rich and important feeding area for humpbacks. Unfortunately, both stocks suffer from a lack of adequate management that does not account for the needs of predators like humpback whales. According to the latest estimate, however, the Pacific sardine population dropped by over 98% since 2006, and NOAA Fisheries declared the stock overfished in 2019. Fishery managers also failed to respond to declines in anchovy abundance in recent years and the agency refuses to actively manage the commercial fishery using the best available science on current anchovy abundance. Oceana recently won two U.S. District Court cases compelling the Fisheries Service to use the best available science to manage anchovy off California to prevent overfishing. That litigation is ongoing.
Climate change is another overarching threat to humpback whale populations as a warming ocean will likely have severe consequences for their prey. Urgent action is needed to reduce greenhouse gas emissions and associated climate change impacts to ocean wildlife.
Despite the new protections offered by this rule, the Fisheries service excluded proposed critical habitat areas off the Washington coast where the Navy conducts training exercises, and large areas in Southern California and Alaska were also excluded due to minimal economic impacts and the perception that consultations would result in project delays.
"We are disappointed that the Fisheries Service relied heavily on recent changes to Endangered Species Act regulations in order to justify dropping large swaths of habitat off Alaska in the name of perceived economic impacts," said Jon Warrenchuk, Senior Scientist with Oceana. "We hope the Biden administration prioritizes the conservation of endangered species and their habitats over negligible economic impacts in the future."
Click here for more information: https://www.federalregister.gov/documents/2021/04/21/2021-08175/endangered-and-threatened-wildlife-and-plants-designating-critical-habitat-for-the-central-america
To share this release, please use the following link: https://bit.ly/3sODYSs
Oceana is the largest international advocacy organization dedicated solely to ocean conservation. Oceana is rebuilding abundant and biodiverse oceans by winning science-based policies in countries that control one third of the world's wild fish catch. With over 200 victories that stop overfishing, habitat destruction, pollution and killing of threatened species like turtles and sharks, Oceana's campaigns are delivering results. A restored ocean means that one billion people can enjoy a healthy seafood meal, every day, forever. Together, we can save the oceans and help feed the world. Visit usa.oceana.org to learn more