Gulf of Mexico Deep-Sea Corals Now Protected from Destructive Fishing
Oceana Celebrates New Protections for Over a Dozen Deep-Sea Coral Areas
Press Release Date: October 15, 2020
Location: Washington, DC
NOAA Fisheries issued a final rule today to protect 13 coral areas from the U.S.-Mexico border to the Florida Keys, including a series of deep-sea canyons, reefs and coral areas that have been identified as important habitat for iconic species such as sharks and grouper.
Oceana has been campaigning for nearly two decades to identify and protect deep-sea coral areas from harmful fishing gears, such as destructive bottom trawls that are dragged across the seafloor, and has won victories in both the Atlantic and Pacific oceans. Deep-sea corals can be hundreds of years old and provide habitat for fish and other marine animals. Today's action protects nearly 500 square miles of coral habitat and complements similar actions, now collectively protecting more than 61,000 square miles of deep-sea coral areas from Rhode Island to Texas.
Oceana senior campaign manager Gib Brogan released the following statement surrounding today's action:
"Some deep-sea corals in the Gulf of Mexico are now safer thanks to smart action by the Gulf of Mexico Fishery Management Council and NOAA Fisheries. Today's action is a step toward comprehensive coral protections in the Gulf.
But more must be done. Hundreds of documented deep-sea coral areas in the Gulf remain unprotected. Oceana is calling on the Gulf Council to 'freeze the footprint' of destructive fishing methods like bottom trawling and dredging to protect corals in the deepest parts of the Gulf. Freeze the footprint management actions by the Mid-Atlantic and South Atlantic Fishery Management Councils have protected more than 61,000 square miles of ocean habitat without displacing current fishing.
Protecting deep-sea corals is a win-win for both fishermen and healthy oceans. Healthy corals will help sustain robust fisheries and ocean ecosystems for years to come."
The new coral protection areas announced today were created by the Gulf of Mexico Fishery Management Council to protect corals and expand essential fish habitat protections in the Gulf. Today's action adds to existing coral protection areas in the Gulf, which also received enhanced protection under the new rule.
Maps of the areas and coral presence: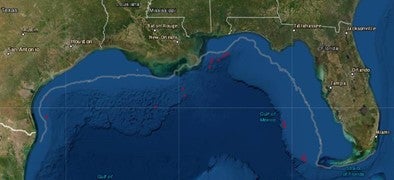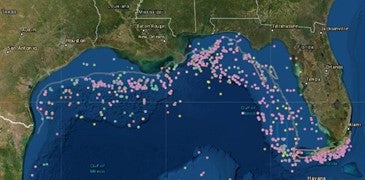 New coral protections in the Gulf of Mexico. Known coral locations in the Gulf of Mexico.
Source: https://portal.gulfcouncil.org/coralhapc.html
To view photos and video of some of the deep-sea habitat and marine life protected by this final rule, please visit https://oceanexplorer.noaa.gov/okeanos/explorations/ex1803/logs/photolog/welcome.html.