Largest Container Ship Ignores Slow Zone Established to Protect North Atlantic Right Whales
Oceana Calls for Mandatory Speed Zones to Help Save Whales from Extinction
Press Release Date: September 22, 2020
Location: Washington, DC
A new analysis from Oceana today finds that the largest container ship to ever visit the East Coast of the United States sped through waters critical to endangered North Atlantic right whales on its way from Nova Scotia to New Jersey this month.
Using Ship Speed Watch, an innovative tool launched by Oceana in July to monitor ship speeds in slow zones established to protect North Atlantic right whales, Oceana documented the CMA CGM Brazil, a 15,000-container ship that is 1,200 feet long, exceeding the 10-knot voluntary speed limit in a right whale conservation zone.* This Dynamic Management Area south of Nantucket was established to protect an aggregation of North Atlantic right whales. In self-reported data, the Malta-flagged vessel owned by a French transportation and shipping company transited through the area on Sept. 11 and 12 at a speed of up to 13.4 knots, which Oceana says is reason for grave concern considering its massive size. Oceana reached out to the company for comment but has not received a response.
"By ignoring the slow zone, this ship, longer than two Washington monuments and wider than a football field, sped through an area with a known aggregation of North Atlantic right whales. While any size vessel can be lethal to these whales, the sheer size of this one requires an added level of caution," said Whitney Webber, campaign director at Oceana. "Oceana's analysis earlier this year showed that many ships are ignoring these voluntary slow zones. To protect North Atlantic right whales, we must shift to expanded mandatory slow zones that require ships to reduce their speed when whales are present along their migratory routes. When ships slow down, it will help save whales."
Collisions with ships is one of the leading causes of North Atlantic right whale deaths. Research suggests that if ships slow down to 10 knots or less, they can reduce the risk of death by up to 86%. The U.S. government created the Dynamic Management Area south of Nantucket earlier this month to protect an aggregation of North Atlantic right whales. This zone was recently extended through Sept. 29.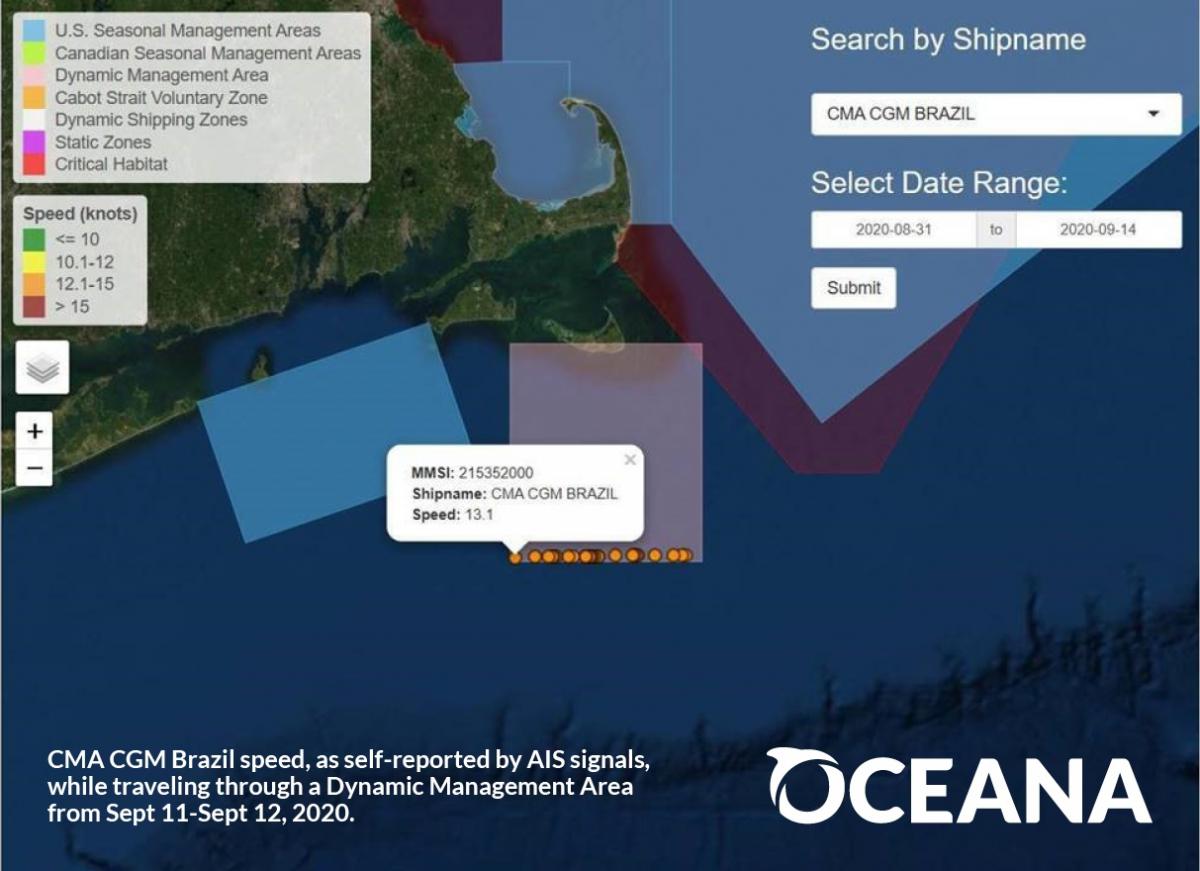 About Ship Speed Watch:
Oceana's Ship Speed Watch allows users to monitor ship speeds and positions in areas frequented by North Atlantic right whales along the East Coast of Canada and the U.S. in near real-time. The tool uses self-reported data to show ship locations, ship speeds and active voluntary and mandatory speed restriction zones. The tool also provides additional information about speed restrictions in place to protect this endangered species. When mandatory and enforced, speed restriction zones can help prevent deadly collisions with ships, one of two leading causes of North Atlantic right whale injury and death. Ship Speed Watch was created based on Automatic Identification System (AIS) data from Global Fishing Watch, an independent non-profit founded by Oceana in partnership with Google and SkyTruth, which uses cutting-edge technology to interpret data from various ship tracking resources.
Background:
North Atlantic right whales were named for being the "right" whale to hunt because they were often found near shore, swim slowly and tend to float when killed. They were aggressively hunted, and their population dropped from peak estimates of up to 21,000 to perhaps fewer than 100 by the 1920s. After whaling of North Atlantic right whales was banned in 1935, their population increased to as many as 483 individuals in 2010. Unfortunately, that progress has been reversed.
Collisions with vessels is one of two leading causes of North Atlantic right whale injury and death. North Atlantic right whales are slow, swimming around 6 miles per hour, usually near the water's surface. They are also dark in color and lack a dorsal fin, making them very difficult to spot. Studies have found that the speed of a vessel is a major factor in collisions with North Atlantic right whales. At normal operating speeds, many vessels cannot maneuver to avoid them, and North Atlantic right whales swim too slowly to be able to move out of the way. This puts them at great risk of being struck, which can cause deadly injuries from blunt-force trauma or cuts from propellers.
Entanglement in fishing gear used to catch lobster, snow crab and bottom-dwelling fish like halibut, flounder and cod is the other leading cause of North Atlantic right whale deaths. Fishing gear from the U.S. and Canada entangles an estimated 100 North Atlantic right whales each year, and about 83% of all North Atlantic right whales have been entangled at least once. Ropes have been seen wrapped around North Atlantic right whales' mouths, fins, tails and bodies, which slows them down, making it difficult to swim, reproduce and feed, and can kill them. The lines cut into the whales' flesh, leading to life-threatening infections, and are so strong that they have severed fins and tails, and cut into bone.
To learn more about Oceana's campaign to save North Atlantic right whales from extinction, please click here.
*Ship Speed Watch uses vessel information in the Global Fishing Watch database. This information is transmitted from a vessel's Automatic Identification System (AIS) device, which is collected via satellites and terrestrial receivers. Faulty AIS devices, user error, intentional manipulation, crowded areas, poor satellite reception, and transmission flaws are factors that contribute to noise and errors in AIS data, and sometimes those inaccuracies can be reflected in the speed and location of a vessel. Vessel operators can accidentally or purposefully enter false information into their ship's AIS thus concealing their identity or location. In crowded areas, such as ports, the massive number of radio transmissions can crowd the bandwidth of satellite and terrestrial receivers, leading to inaccuracies as well. For these reasons, Ship Speed Watch information must be relied upon solely at your own risk.