Over 25,000 Square Miles of New England Deep-Sea Corals Officially Protected from Destructive Fishing
Press Release Date: June 21, 2021
Location: Washington, DC
Today, NOAA Fisheries issued a final rule to protect over 25,000 square miles of deep-sea coral habitat in Georges Bank and the Gulf of Maine from destructive fishing gear that can destroy centuries-old coral. The action protects an area roughly equivalent to the size of Vermont, New Hampshire, Connecticut, and Rhode Island, combined, from bottom trawling. This decision implements a "freeze the footprint" strategy developed by Oceana to limit the effects of destructive fishing to its existing footprint and protect known deep-sea coral areas.
Oceana has been campaigning for more than a decade to identify and protect deep-sea coral areas from harmful fishing gear, and has won victories in both the Atlantic and Pacific oceans. Deep-sea corals can be hundreds of years old and provide habitat for fish and other marine animals. This action complements similar actions in the South Atlantic and Mid-Atlantic regions, and now collectively protects nearly 86,000 square miles of deep-sea coral habitat off the Atlantic coast. 
Oceana senior campaign manager Gib Brogan released the following statement after today's action:
"Closing 25,000 square miles of ocean bottom habitat to destructive fishing is a significant win for deep-sea corals in the Atlantic. We applaud NOAA Fisheries for stopping the expansion of current bottom fishing and protecting known deep-sea coral in this region. Fishing gear like bottom trawls and dredges act like bulldozers on the ocean floor, destroying centuries' worth of coral in only a few seconds. Protecting deep-sea corals is a win-win for both fishermen and healthy oceans. Healthy corals will help sustain robust fisheries and ocean ecosystems for years to come."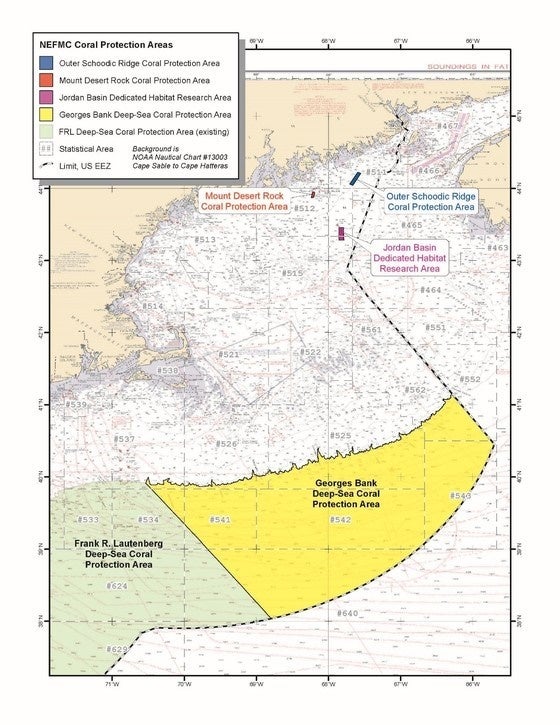 Today's action comes as the White House considers a recommendation from U.S. Secretary of the Interior Deb Haaland to reinstate protections for the Northeast Canyons and Seamounts Marine National Monument. The 5,000-square-mile monument was established by President Obama in 2016 using the Antiquities Act but was undercut by President Trump, who took action to open the monument to commercial fishing.
The new coral conservation area announced today was created by the New England Fishery Management Council using the discretionary provisions of the Magnuson-Stevens Act, and will protect 25,000 square miles from fishing gear that come in contact with the bottom of the seafloor. Although the areas overlap, the marine national monument offered more protections to ocean wildlife and habitat as it closed the area to all commercial fishing. Many of the areas protected by today's action were explored by the National Oceanic and Atmospheric Administration's ship Henry B. Bigelow during a 2017 cruise to study deep-sea habitats in both U.S. and Canadian waters in the Gulf of Maine and Georges Bank regions.
To view photos and video of some of the deep-sea habitat and marine life protected by this final rule, click here.