Report | April, 2019
Dirty Drilling: Trump Administration Proposals Weaken Key Safety Protections and Radically Expand Offshore Drilling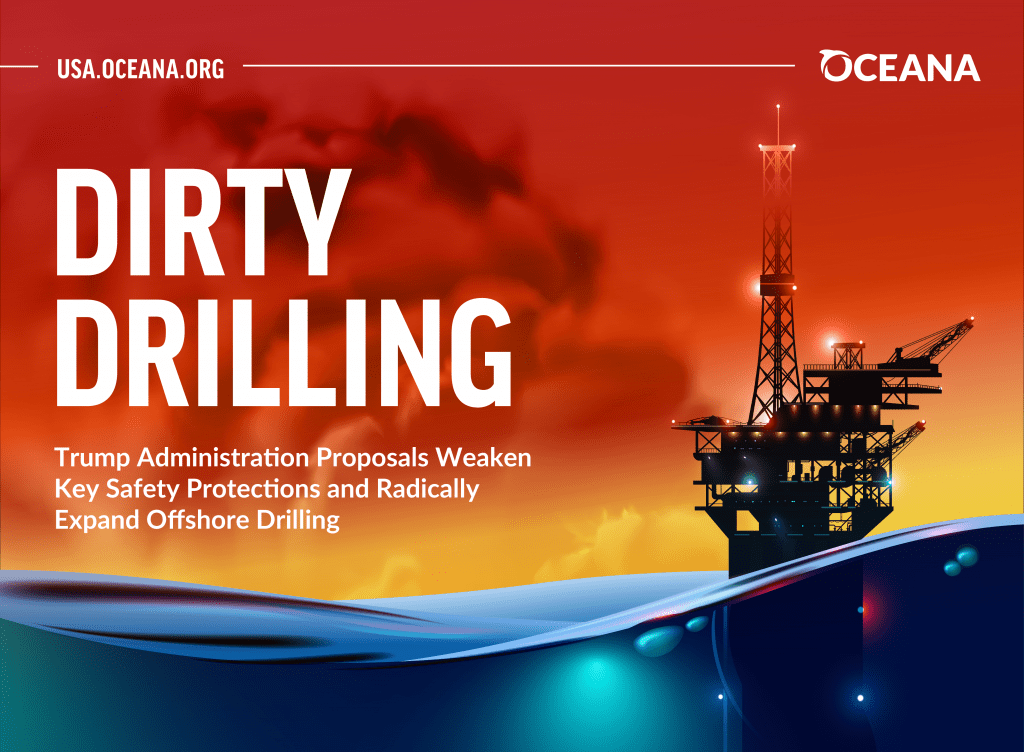 Oceana's report finds that offshore drilling remains dirty and dangerous nine years after the BP Deepwater Horizon disaster, which claimed the lives of 11 people and caused the worst oil spill in U.S. history. Yet despite significant shortcomings in offshore drilling safety, President Trump is working to weaken key safety and environmental protections currently in place, while also proposing to radically expand offshore drilling activities.
The report findings include:
The Bureau of Safety and Environmental Enforcement (BSEE) relies heavily on industry-written safety standards to regulate offshore drilling and does not provide adequate oversight or enforcement.
BSEE regularly grants exemptions to offshore drilling safety requirements.
Blowout preventers are the last line of defense against a catastrophic spill but are not reliable and have not been tested under conditions that replicate the extreme real-world environment to which they may be exposed.
BSEE's current inspection and enforcement actions do not result in comprehensive oversight of offshore drilling activities. As of 2018, BSEE employed roughly 120 inspectors to conduct more than 20,000 inspections annually.
Civil penalties for violating offshore operating requirements are grossly inadequate and fail to deter corner-cutting. Penalties are capped at only $44,675 per day per violation while operating costs for offshore drilling facilities can be approximately $1 million per day.
1,568 injuries were reported by offshore operators between 2011 and 2017.
At the time of the BP disaster, the U.S. offshore oil industry had the highest reported rate of fatalities among its international peers, but the lowest amount of reported injuries, signaling the potential of under-reporting.
The U.S. oil and gas industry's fatality rate (both onshore and offshore) was an average of seven times higher than among other U.S. workers in general between 2003 and 2013.
At least 6,500 oil spills occurred in U.S. waters between 2007 and 2017, and a recent study found that spills are typically far larger than what is reported.
Oil spills cannot be cleaned up effectively, with methods that have largely remained unchanged since the late 1980s. Clean-up costs alone amounted to over $14 billion in the years directly following the BP disaster.
Despite federal requirements for companies to decommission their facilities and related infrastructure after oil production ends, when financially at-risk companies fail to do so, taxpayers may face the burden of those costs.
Read the Press Release
View the full Dirty Drilling infographic
Infographic sections:
Media Contact: Loryn Baughman, 202.467.1909, 269.760.0316 (cell), lbaughman@oceana.org