Oceana Sues Federal Government to Rebuild Overfished Sardines
Press Release Date: July 14, 2021
Location: San Jose, CA
Today Oceana, represented by Earthjustice, sued the National Marine Fisheries Service (NMFS) over the agency's faulty rebuilding plan that will neither recover the Pacific sardine population nor take into account the importance of a healthy sardine population as food for other marine fish, birds, and animals. Pacific sardine numbers have dropped by more than 98% since 2006 and according to a 2020 federal assessment the current population is only 28,276 metric tons. Historically the population was measured in the millions of metric tons when it was healthy.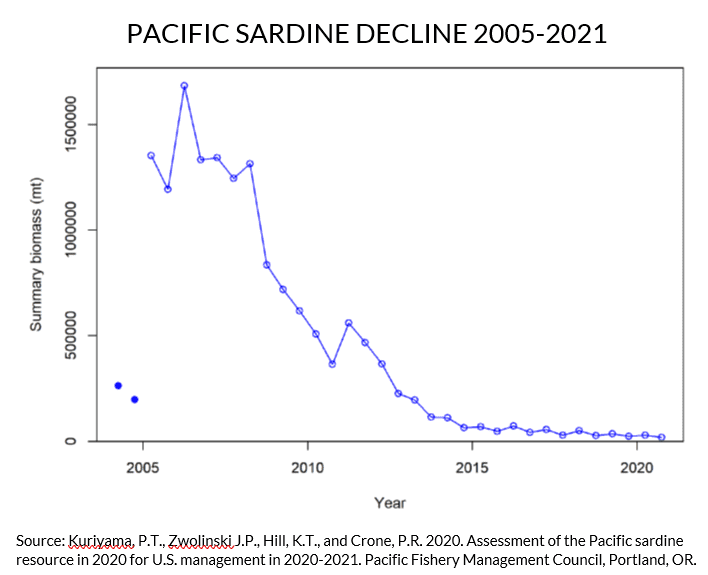 Sardines are small schooling fish that are essential food for humpback whales, dolphins, sea lions, brown pelicans, marbled murrelets, and other animals. Low sardine numbers are directly responsible for widespread seabird colony failures as well as starvation of marine mammals where adults cannot find enough food for themselves or their babies, and the babies starve.
"A rebuilding plan that does not rebuild the sardine population is nonsensical, irresponsible, and violates the law. It's astonishing how again and again fishery managers fail to learn the lessons of history and seem committed to burying their heads in the seafloor rather than taking action to rebuild this incredibly important source of food for whales, sea lions, pelicans and other animals," said Dr. Geoff Shester, senior scientist and California campaign director for Oceana. "Fishery managers plainly ignored best available science indicating an impending collapse and allowed catch levels that have caused yet another collapse of Cannery Row era proportions. We need immediate action that gives the population every chance to recover. Unfortunately, the Fisheries Service is committed to business as usual: the same management regime that has brought us to this point. If we don't reverse course, we could once again be watching sea lions and other animals starving off our shores and a sardine population that doesn't rebuild for decades, resulting in long-term impacts on coastal communities."
Pacific sardines were officially declared "overfished" in 2019, which legally requires the development of a rebuilding plan within two years. Yet despite repeated urging from Oceana to fix the problems that exacerbated the crash of sardines and adopt reasonable catch limits that allow some continued fishing while rebuilding the population within legal timeframes, fishery managers approved a faulty "rebuilding plan" that makes no changes to existing management, which their own analysis shows would allow catch levels that prevent rebuilding for decades. Current projections and management approaches mirror the infamous and disastrous "Cannery Row" collapse of sardines in the 1950s. Continued fishing during the collapse further depleted the population, resulting in a full moratorium on fishing in 1974. Because the population was so low, it did not recover until the 1990s.
Pacific sardine are critical to the ocean food web, and low sardine numbers in recent years have resulted in dramatic hardship for some ocean predators. Between 2013-2016 more than 9,000 starving California sea lion pups and yearlings washed up on beaches, and from 2010 to 2015, brown pelicans experienced unprecedented reproductive failures in the U.S. Pacific due to lack of adequate sardines and anchovies. Pacific sardines are also important prey for threatened and endangered species, including Chinook salmon, marbled murrelets, and humpback whales. In addition, they are essential food sources for commercial and recreationally caught fish species like marlins, tunas, sharks, and halibut, yet NMFS failed to consider the impact that a decades-long collapsed sardine population would have on marine predators, which is in violation of the National Environmental Policy Act.
By refusing to adopt new management measures to rebuild sardines the National Marine Fisheries Service continues to not only ignore best available science—often from their own studies—but also is in clear violation of their legal obligations under the Magnuson Stevens Fishery Conservation and Management Act, our nation's federal fisheries law. The law requires NMFS to implement measures to rebuild overfished fish populations to healthy levels in as short a time as possible that can support a sustainable fishery in the long-term and that does not unduly harm ocean food webs.
NMFS also arbitrarily shifted the baseline for what constitutes a rebuilt sardine population by adopting a rebuilding target that is ten times lower than previous estimates.
"The legal failures are clear. Pacific sardine are a public resource and essential part of ocean food webs," said Danika Desai, Associate Attorney for Earthjustice. "It's baffling that the National Marine Fisheries Service thinks the same measures that led to their collapse will somehow rebuild sardines to healthy levels. West coast wildlife can't wait decades for NMFS to provide the protection the law requires.''
While sardines naturally have "boom and bust" population cycles, excessive fishing pressure has exacerbated natural declines and delayed recovery. During the "Cannery Row" collapse in the 1950s managers acted too slowly while continuing to allow incidental catch and bait fishing as sardine declined.
In an eerie parallel to the failures of the 1950s, fishery managers continue to allow commercial harvest of sardines as "live bait," allow hundreds of tons of sardines to be caught by the commercial fleet under the guise of "research," and allow sardines caught in other commercial fisheries like squid and mackerel to be sold. Fishermen in Baja California, Mexico also catch the same stock of Pacific sardines, but there is no international coordination to promote sustainable coastwide management.
Please use this link to share the release: https://bit.ly/36DBkX0
—
Oceana is the largest international advocacy organization dedicated solely to ocean conservation. Oceana is rebuilding abundant and biodiverse oceans by winning science-based policies in countries that control one-third of the world's wild fish catch. With more than 225 victories that stop overfishing, habitat destruction, pollution, and the killing of threatened species like turtles and sharks, Oceana's campaigns are delivering results. A restored ocean means that 1 billion people can enjoy a healthy seafood meal, every day, forever. Together, we can save the oceans and help feed the world. Visit www.usa.oceana.org to learn more.
Earthjustice is the premier nonprofit environmental law organization. We wield the power of law and the strength of partnership to protect people's health, to preserve magnificent places and wildlife, to advance clean energy, and to combat climate change. We are here because the earth needs a good lawyer.